Never leave your hair wet during the monsoon, advises hair expert Sareena Acharya.
The monsoon has arrived and we Are all loving the little joys of the rainy season.
All that humidity brings loads of scalp infections and hair problems.
While we must all enjoy a good drenching in the rain now and then, it's important not to forget to upgrade your monsoon hair care routine.
5 simple habits for good hair health:
1. Gently massage your hair
Before you go to sleep, comb your hair gently and remove all the knots.
Apply some warm oil and massage your scalp thoroughly.
My best combo hair oil is avocado, castor and argan oil, but you can use any based on your hair type.
Leave it overnight or at apply it least for 2 hours before your bath.
2. The right way to wash your hair
While washing your hair, make sure it is completely wet before applying shampoo.
Now take some shampoo and mix it with water before applying.
Opt for a shampoo that strengthens your hair from the root to the tips.
Use circular motions to get a squeaky clean scalp.
Don't go too harsh and massage gently for a minute.
Make sure the oil on your scalp as well as on hair is removed completely.
3. Don't forget the conditioner
The next step is to apply conditioner; choose a nourishing conditioner or hair mask, and do not apply on your scalp.
Remember conditioner is always applied on the hair and not scalp.
If you have thick hair you can use a wide-tooth comb to distribute the conditioner evenly on your hair. Leave it for 5-7 minutes and then rinse it off.
4. Never leave your hair wet
Take a microfibre hair wrap or a cotton t-shirt to absorb all the water from your hair.
Never leave your hair wet during the monsoon. You can also use the blot, squeeze, and press method to dry your hair.
If you are going to blow dry your hair, make sure to apply a heat protectant spray or leave-in cream.
5. Choose the right hairstyle
After your hair is mid dry, apply a hair serum to control the frizz.
Once your hair is completely dry, comb your hair using a wide-tooth wooden comb.
To avoid tangling, when the hair dries, wear it in a simple manner, like a high ponytail, a plain braid, or a neat bun.
These are easy hairstyles that are considered to be fuss-free.
Things to avoid during the monsoon
1. Do not use too many hair products
Avoid using too many hair products as they may irritate your scalp and damage your hair.
2. Avoid using heat styling tools
Say no to blow dryers and flat irons to style your hair. This will make your hair dry and frizzy.
3. Avoid hair treatments
Curb the urge of getting your hair chemically treated. That means avoid rebonding, perming or coloring during this season!
It may not give you the desired results and may even worsen the quality of your hair.
4. Don't leave your hair loose
During the monsoon, one must avoid leaving their hair loose.
Try a sleek pony tail or simply braid your mane and style it!
5. Never comb wet hair
Combing your hair while it is wet tends to make your tresses weak and prone to breakage.
Use a wide-toothed comb after your hair is dry.
Follow these simple hair care tips and enjoy the beautiful season of monsoon without worrying about your mane.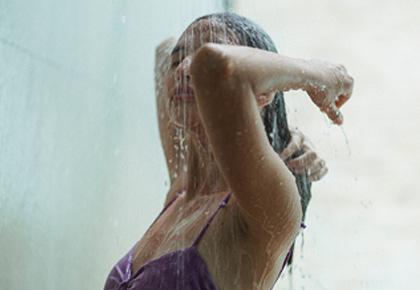 Source: Read Full Article