I think we can all agree that Katy Perry and Legolas Orlando Bloom are an even hotter couple than Gollum and his ring (you're welcome). The engaged couple has been through a LOT since they got together in early 2016—namely a nude photo scandal, cheating allegations involving Selena Gomez, and a cute new baby, so let's take a look back on the biggest moments in their relationship, shall we?
January 10, 2016
Katy and Orlando reportedly flirt up a storm at a 2016 Golden Globes after-party, where sources say they are "whispering to each other." For those of you who are all "pics or it didn't happen," here ya go: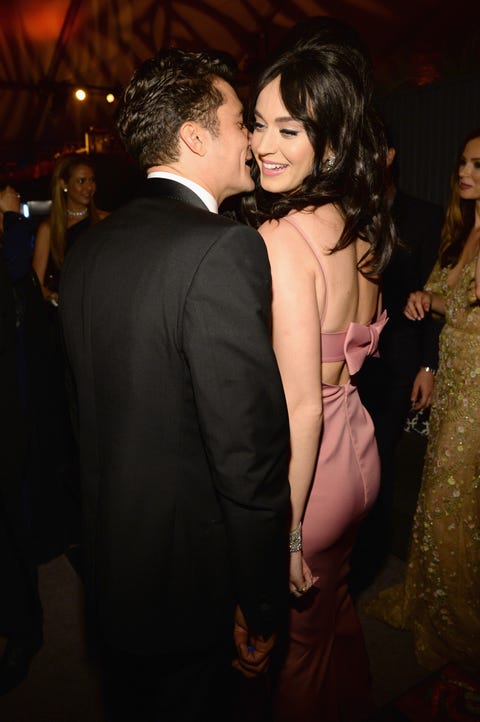 February 13, 2016
Katy and Orlando kiss at an Adele concert! AHHH! Head here for the pics.
February 29, 2016
Katy and Orlando hold hands on vacation in Hawaii (pics here). Double AHHHHH! "They looked very loved up and really into each other," a source tells ET. "They were comfortable letting everyone see them as a couple—lots of PDA and hand holding."
May 2, 2016
Orlando and Katy show up to the Met Gala wearing matching white Tamagotchis. You know, Tamagotchis? The tiny keychains/video games where you keep a digital pet alive? It's called fashion, lewk it up!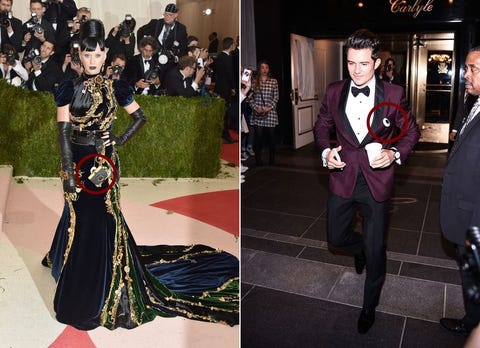 May 10, 2016
TMZ publishes photos of what appears to be (but isn't!) Orlando and Selena Gomez kissing at an after-party in Las Vegas. Fans erupt with theories, but it's all for naught because again, the pics really of Orlando and Selena.
May 12, 2016
Katy responds to the pics of Selena and Orlando allegedly kissing and basically confirms that it's no bigs at all.
Instead of giving energy & eyeballs to dumb conspiracy 🚮 check out how C👁👁L this is: https://t.co/ClmGlPMz3x #dontfeedthebeast
And yes, Sel retweets her:
🙌🏼 https://t.co/dnNEI4E16c
July 28, 2016
Katy performs at the Democratic National Convention and ORLANDO FILMS HER. Best Instagram Husband Boyfriend ever.
August 4, 2016
Orlando decides to strip naked for a paddle-boarding session while on vacay with Katy. New York Daily News releases the photographs, and the internet completely loses it.
*sees Orlando Bloom trending*
*clicks on the trend* pic.twitter.com/n7TESl8TtK
A year later, Katy explains what Orlando was thinking: "He wanted to show off for the people on the shore. He thought it was funny! Oh, oh, it was SO funny because I was explaining Twitter and social media to him for weeks because he had taken a break and then all of a sudden, he was, like, trending number one on Twitter!" Lol?
December 21, 2016
Katy and Orlando visit kids at the Children's Hospital Los Angeles dressed up as Mr. and Mrs. Claus. Sweet!
The kids at CHLA received a much-deserved visit from Santa & Mrs. Claus, aka @katyperry & Orland Bloom. More photos: https://t.co/uZ7BuF16Oa pic.twitter.com/66hYbG4eas
December 27, 2016
Orlando spends Christmas with Katy's family and plays an epic game of Pie Face Showdown. Yes, there are videos. Yes, they are amazing.
https://www.instagram.com/p/BOgc3JKD6rH/?utm_source=ig_embed&utm_campaign=loading
A post shared by Orlando Bloom (@orlandobloom)
https://www.instagram.com/p/BOganU1gjuF/?utm_source=ig_embed&utm_campaign=loading
A post shared by KATY PERRY (@katyperry)
January 15, 2017
Katy throws Orlando a surprise 40th birthday party in Palm Springs! Everyone wears Orlando Bloom–themed onesies, and Katy flies his mom in for the occasion. Cute!
#HappyBirthdayOrlandoBloom
Orlandobloom birthday party, Katy's Landoowl cake💏👀💘 pic.twitter.com/gxJbQ9PGJ5
https://www.instagram.com/p/BPRTKYRj1Gf/?utm_source=ig_embed&utm_campaign=loading
A post shared by Orlando Bloom (@orlandobloom)
February 28, 2017
Katy and Orlando officially split up, with their reps issuing a joint statement to People: "Before rumors or falsifications get out of hand, we can confirm that Orlando and Katy are taking respectful, loving space at this time."
March 2, 2017
Katy preemptively shuts down speculation that she and Orlando aren't getting along with one all-caps tweet:
HOW BOUT A NEW WAY OF THINKING FOR 2017⁉️U can still b friends & love ur former partners! No one's a victim or a villain, get a life y'all!😘
June 12, 2017
Katy ranks her ex-boyfriends and puts Orlando in second place behind John Mayer. "They're all amazing lovers and I would have sex with all of them after I get out of this place," she says, before confirming via head nod that the order goes (from worst to best) Diplo, Orlando, John.
August 13, 2017
Katy and Orlando hit up an Ed Sheeran concert together in Los Angeles and naturally, witnesses whip out their cameras at the speed of light.
Meanwhile, a source tells E! that the pair "definitely seemed like they're back together" and Katy sat on Orlando's lap and "shared kisses."
August 17, 2017
Rumors swirl that Orlando is dating Vampire Diaries star Nina Dobrev. According to a People source, "it's super casual."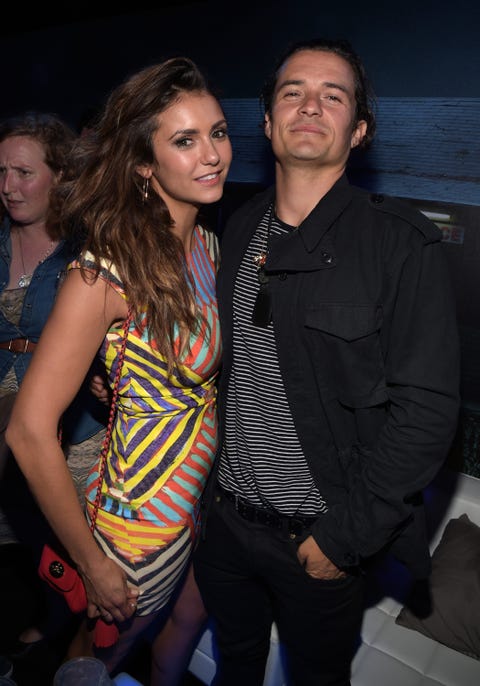 January 4, 2018
Orlando and Katy are spotted vacationing in the Maldives. Weirdly, he's not naked. Huh.
March 1, 2018
Katy and Orlando rendezvous in Prague—yep, another reunion abroad! At the time, Orlando was in the city shooting his fantasy TV series Carnival Row, which presumably means Katy flew in to visit him on-set. Awww.
March 10, 2018
Katy wears a onesie with Orlando's face printed all over it. A source tells People that "they are dating but not necessarily putting a label on it. They are not girlfriend and boyfriend. They do seem very happy together though."
https://www.instagram.com/p/BgG6qIfBLr_/?utm_source=ig_embed&utm_campaign=loading
A post shared by OnlyKatyPerry (@justkatycatssssss)
March 29, 2018
Katy and Orlando waltz around Tokyo dressed up as Mario and Luigi. We have lots of questions and zero answers.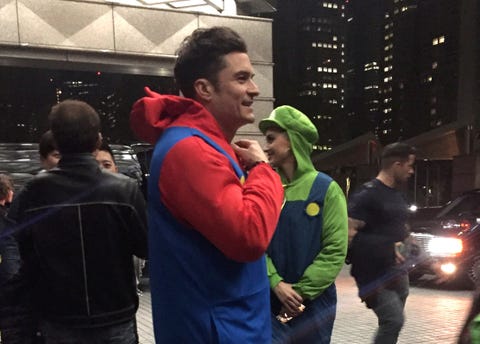 March 29, 2018
Katy falls headfirst into a blatant Orlando Bloom thirst trap. Basically, he posts this shirtless pic:
https://www.instagram.com/p/Bg7ijJRnItF/?utm_source=ig_embed&utm_campaign=loading
A post shared by Orlando Bloom (@orlandobloom)
And then Katy writes this in the comments:

April 28, 2018
Katy and Orlando casually hang at the Vatican…with the pope. THE FREAKIN' POPE.
https://www.instagram.com/p/BiJPmVNlGrt/?utm_source=ig_embed&utm_campaign=loading
A post shared by KATY PERRY (@katyperry)
May 21, 2018
Katy reveals that she is not, in fact, single—pretty much confirming that she and Orlando are back together. The moment goes down during a conversation with Bachelorette star Becca Kufrin on the season finale of American Idol, when Katy muses, "I'm not single, but I still like you."
June 1, 2018
Katy attempts to slide into Orlando's DMs to write "I need a season pass for that ass" and fails spectacularly. Instead, she hits up the comments section, letting everyone know in the most public way possible that they're very much together.
https://www.instagram.com/p/BjdSGdXF1RG/?utm_source=ig_embed&utm_campaign=loading
A post shared by Comments By Celebs (@commentsbycelebs)
September 26, 2018
Katy and Orlando make their red carpet debut at the Gala for the Global Ocean, where Orlando received an award for being a good samaritan. Oh, and they stand like this the whole time: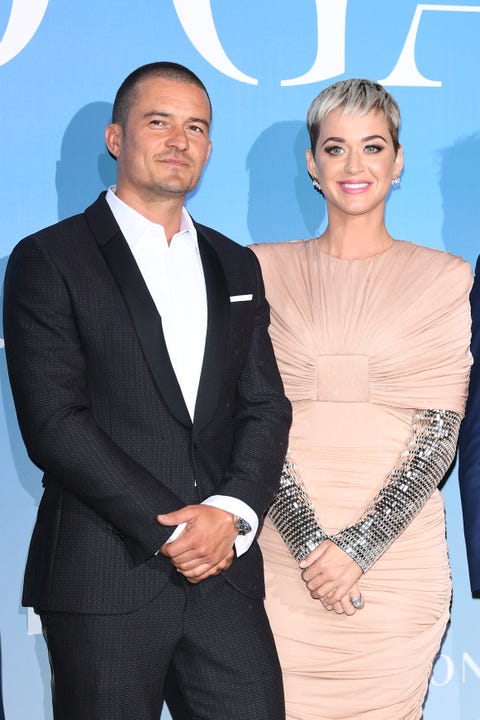 February 14, 2019
Orlando makes the biggest, probably most predictable gesture on Valentine's Day and proposes to Katy. The ring looks very on-brand with the holiday and has a giant ruby surrounded by a bunch of diamonds, making the shape of a flower. Katy posted a pic of the moment to Instagram, and she looks like she's legit tearing up. So adorable.
https://www.instagram.com/p/Bt5gRBDHNZl/?utm_source=ig_embed&utm_campaign=loading
A post shared by KATY PERRY (@katyperry)
March 26, 2019
A month after Orlando proposes to Katy, some details about their upcoming wedding come to light! A source tells People that Katy and Orlando are trying to have very different ~vibes~ from their last weddings (to Russell Brand and Miranda Kerr, respectively), so they're taking their sweet time to plan out all the details.
According to the source, Katy and Orlando are "slowly planning their wedding," but "they don't have a date yet."
"Their past weddings were, of course, very different," the source adds. "They are trying to find a middle ground now."
The source says Katy and Orlando are trying to keep the celebration small. "Orlando always shied away from anything flashy. He doesn't want a huge, celebrity wedding. But they also have many friends who are important to them. They are still figuring out the details. Katy will work with a planner."
June 6, 2019
In an interview with KISS Breakfast With Tom & Daisy, Katy admits she isn't in a rush to tie the knot with Orlando…not because of any trouble, but because they're doing their best to take things slow, especially since they were both in marriages before. "Well, yeah, one step at a time," Katy says when she was asked if they have a wedding date yet. "Definitely trying to, like, lay the good emotional foundation for the lifetime of commitment, which is, like, a big deal, you know?"
August 22, 2019
Orlando gets asked about his relationship with Katy during his appearance on Today and talks about how he's taking the time to make sure he and Katy are as connected as possible before walking down the aisle. "It's important to me that we are aligned—I've been married and divorced and I don't want to do it again," he says. "And we're both fully aware of that. She's remarkable, and so I'm always so impressed with that and I'm encouraged."
October 3, 2019
Us Weekly reports that Katy and Orlando's wedding will be taking place in December 2019, just before the end of the year.
December 4, 2019
Looks like those December wedding plans didn't work out, because Us Weekly says Katy and Orlando postponed their whole wedding. Apparently, location is to blame. "They changed the timing due to the location they want," the source says, adding that "they're going have one local wedding party and the other will be a destination wedding party."
"They wanted to get married quickly but scheduling and pulling everything together has proven to be difficult," a separate source tells E! News. "The wedding was supposed to be in September, then December, and now early next year. They have had to move things around because Katy has grand ideas of where and how she wants things to be."
The good news here is that the postponement has no effect on Katy and Orlando's relationship's health. "They're beyond in love," the Us source says. Love to hear it.
January 2, 2020
Katy graces the cover of Vogue India and discusses how Orlando has been helping her work on her mental health. "I've gone to therapy, been through the Hoffman Process, done plant medicine…and I have a partner who is also all about finding a balance," she says. "Orlando, who is on a spiritual journey of his own. He's an anchor who holds me down, and he's very real. He's not the number one fan of Katy Perry, but he's the number one fan of Katheryn Hudson."
https://www.instagram.com/p/B6zrRzWBnvq/?utm_source=ig_embed&utm_campaign=loading
A post shared by VOGUE India (@vogueindia)
And if that doesn't already sound amazing enough, Katy also says that being with Orlando has been so healing that she likens him to actual sage—yes, really! "Orlando is like a sage. When we first met, he said we would pull the poison out of each other, and we really do. It's exhausting, but we really hold each other accountable. I've never had a partner who was willing to go on an emotional and spiritual journey like Orlando," Katy continues. "It's challenging, because you're facing all the things you don't like about yourself. It's like a never-ending cleanse."
March 5, 2020
Not to alarm you or anything, but Katy! Is! Pregnant!!! She confirms the news in the music video for her song "Never Worn White" by cradling her baby bump at the very end. I expect that this moment will go down in pop culture history.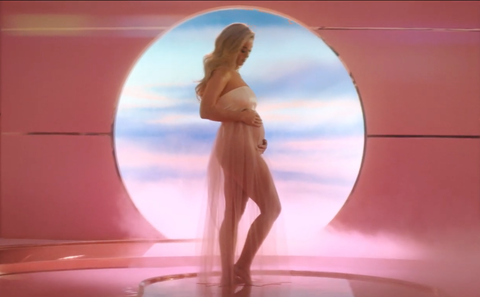 After the video's premiere, Katy answers her fans' questions on Instagram Live and says both her baby and her album are due sometime this summer: "There's a lot that will be happening this summer—not only will I be giving birth literally but also figuratively to something you guys have been waiting for."
March 7, 2020
During her On Air With Ryan Seacrest appearance, Katy fully admits she and Orlando have a ton of "friction" between them. But she's not looking at that as a bad thing, thankfully. She said:
Let's hope it stays as just that!
April 23, 2020
Bad news: Katy and Orlando's relationship "has changed since she got pregnant," according to an Us Weekly insider. "Orlando and her are having some ups and downs right now," the source said. "Katy is dealing with the nerves of being a first-time parent, and Orlando is stressing about having a baby in their lives at this time." 😬
August 20, 2020
Katy does a super-in-depth interview with Zane Lowe on Apple Music and shares that she was initially scared to become a mother, which is why she didn't try for a baby earlier.
August 27, 2020
Katy and Orlando welcome their baby daughter, Daisy Dove!
https://www.instagram.com/p/CEYL6Rwlpen/?utm_source=ig_embed&utm_campaign=loading
A post shared by UNICEF (@unicef)
October 21, 2020
The couple buys a casual $14.2 million mansion in Montecito near Prince Harry and Meghan Markle. According to Variety, the Mediterranean villa sits on nine acres of "manicured grounds" with ocean views and a hedge maze!
March 22, 2021
Orlando opens up about his sex life with Katy, telling The Guardian they aren't having "enough" ~intimate~ moments. Basically, a reporter asked, "How often do you have sex?" and Orlando mused, "Not enough—we just had a baby though."
August 15, 2021
Orlando gets naked and tags Katy in his nude. Casual.
https://www.instagram.com/p/CSnDLMdoXWo/?utm_source=ig_embed&utm_campaign=loading
A post shared by Orlando Bloom (@orlandobloom)
September 25, 2021
Orlando and Katy get their PDA on during a red carpet appearance: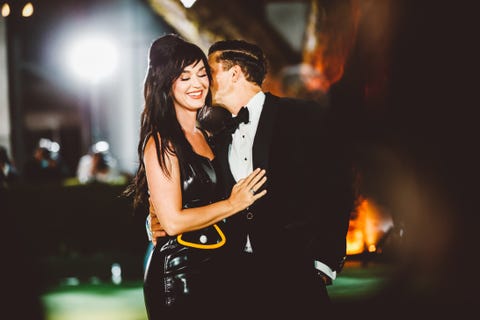 October 1, 2021
Orlando helps Katy out with a wardrobe malfunction, melting everyone's hearts in the process:
[email protected] got a little help from her fiancé Orlando Bloom before singing at Variety's 'Power of Women' event. 💖 pic.twitter.com/2mv14A3XPl
Katy also has plenty of sweet things to say about Orlando at the event, saying, "Lest we forget, behind every great woman, there is a great man. To my beloved partner and constant iron sharpener, whether I like it or not, Orlando, a man that is a friend and an ally to women all around the world. Thank you for handling the insanity of my life with such loving grace."
January 4, 2022
Katy and Orlando kiss and look all kinds of in love at the party for her Vegas residency:
https://www.instagram.com/p/CYPlHBiPUSl/?utm_source=ig_embed&utm_campaign=loading
A post shared by KATY PERRY (@katyperry)
April 20, 2022
Katy reveals she doesn't plan to have another baby anytime soon, telling E! News, "I'm in Vegas, and I can't do that show with anything in my belly, especially a human."
Welp, that brings us up to date! This timeline will be updated as Katy and Orlando continue their romance publicly.
Source: Read Full Article