The crowded Mumbai horizon gets a striking new landmark and Mumbaikars a new destination for its art, fashion and entertainment in a few more days.
Gone are the days when everyone had to drag themselves all the way across town to the southern edge of Mumbai to see a grand play, a live performance, and attend fashion shows.
By April, Mumbai will be able to view all of this under one intriguing-looking roof in a much more central and convenient urban location.
At the Jio World Convention Centre at the Bandra Kurla Complex, north west Mumbai, is the magnificent-looking Nita Mukesh Ambani Cultural Centre.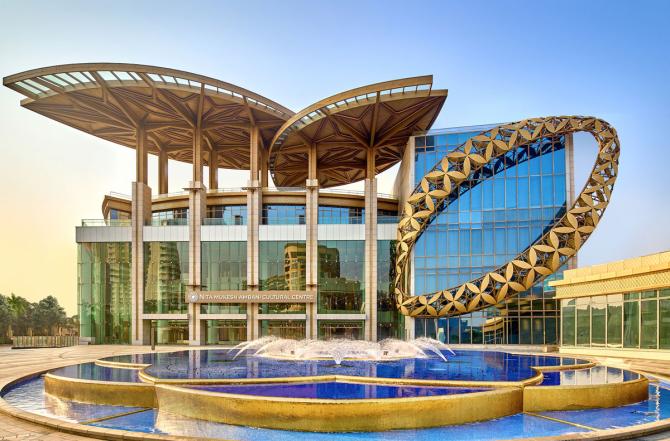 With a closed, reluctant, mind, I went to attend a walkaround tour of the spanking new NMACC.
Why reluctant? At the back of my head, it has always there that access to concerts and celebrations, especially in Mumbai at the Jio Gardens in BKC, was always for the rich and famous. And when one hears about a fancy opera house-style theatre coming up in the same area, it can only mean that this is going to be even more expensive. But I was wrong…
11 am: Reporting time for the tour. We have a short briefing from the very friendly PRs in charge and on we go.
There are a total of three auditoriums in this venue. And as you walk towards one of them, you just can't miss the huge immersive art pieces which adorn the walls in the foyer.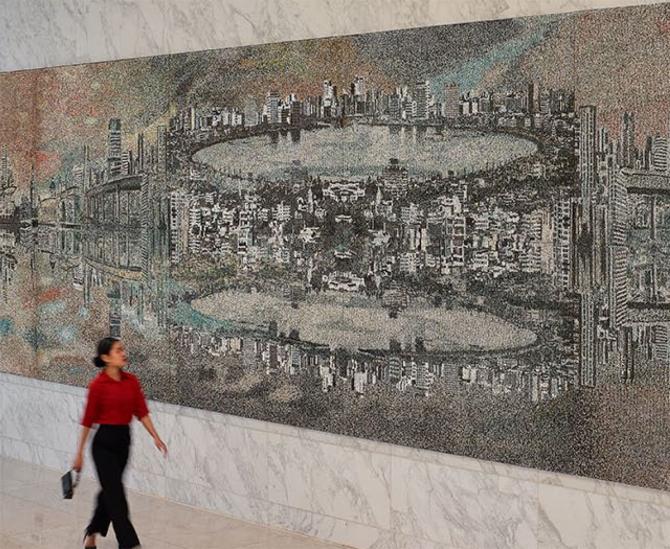 One look is not enough. The walls make you stop and stare at them!
There still is work going on. So we are told to not take any pictures. The work going on seems to be getting done with a lot of care and precision. Every worker is properly dressed, with a helmet and some even on hanging safety straps at a height. The shiny granite floorings are neatly covered with foam and tarpaulin at places, so as to not cause any damage to it.
As we walk towards the first auditorium, one notices that there are a lot of open spaces for visitors to hang around and mingle. And there are snack and refreshment kiosks right in the middle too. I presume this area will be filled with visitors during breaks in plays.
Now for the Grand Theatre…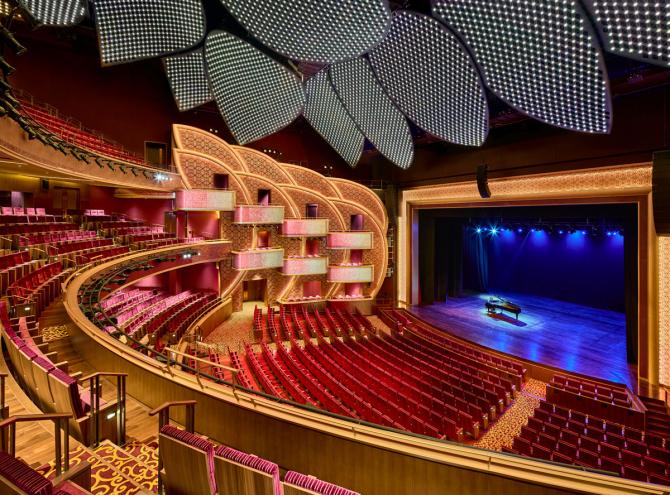 Enter, and wowza, your jaw drops at the sight of this state-of-the-art auditorium, which engulfs you from the rafters of its ubercool ceilings to the polished floors of the vast stage.
The ceiling has around 8,400 Swarovski crystals the size of one's fist, through which LED bulbs emit twinkling light to bathe the theatre in a soft glow.
The pit in front of the stage, which is mainly for a live orchestra, is a hydraulic one. And depending on the programme one is experiencing on stage, the floor of the pit can rise up and form a part of the stage itself. Cool.
The seating boxes on both the side walls are reminiscent of the private boxes one has seen at theatres on New York's Broadway or London's West End. These nine premium seating boxes on each side of the walls are called diamond boxes.
There are five seats in each box and each has a retiring suite — a lounge with complimentary butler service. Order your food. drink and relax!
The first show to open at the Grand Theatre will be Feroz Abbas Khan's The Great Musical: Civilisation to Nation, on Friday, March 31, for invitees. For the general public, the shows begin on Monday, April 3, 2023. Tickets for it start at ₹400 for the top balcony.
And well, the diamond boxes are at ₹15,000 per seat.
On to the Studio Theatre.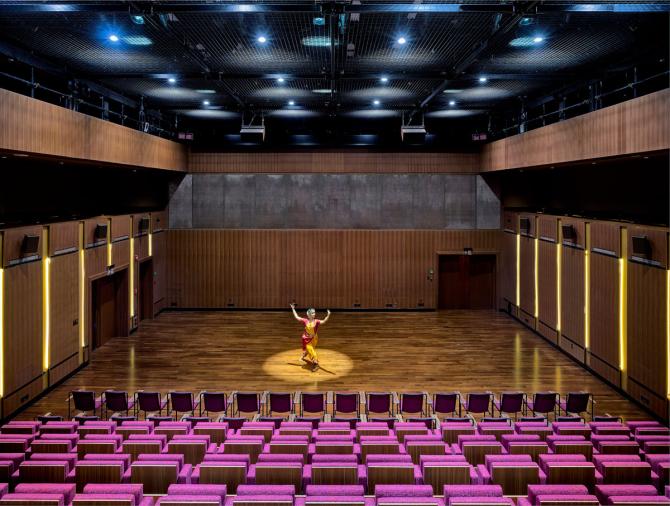 It's a small 'intimate' theatre space, meant specially for both emerging artists as well as established performers, who want to use the state-of-the-art acoustic settings to highlight their talent.
The Studio Theatre has a 250-seat, telescopic seating system, which is on rails. If there is no need for seats, they disappear, voila, into the walls which cover them up like drawers and they are gone.
Added to this is the calibrated acoustics. Even though the walls are made of laminated wood, they have small holes in them which give the viewer/listener a real sound experience.
Also present is a unique tension-wire grid ceiling (please see the picture above) that makes lighting and rigging during production easier than ever before in India.
Tickets to the performances at the Studio Theatre are ₹500 per seat. Performing here on Wednesday, April 5, 2023, which is the first show here, will be Ustaad Munawwar Masoom with his rendition of qawwalis of the legendary Amir Khusrau.
Next up is The Cube…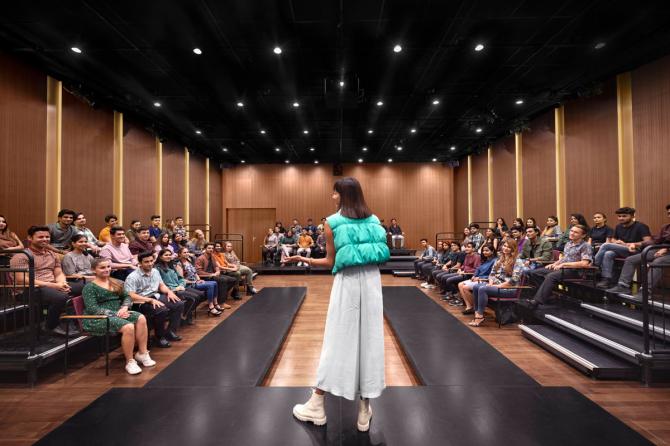 The Cube is a cosy, well-proportioned space, which will be 'an incubator of new art forms', to encourage and give a fillip to emerging Indian artists dabbling in ultramodern forms of theatre, spoken word, stand-up comedy, music, and more.
The Cube has a moving stage and a 125-seating capacity.
Also launching its first show on April 3 are Sarang Kulkarni and Shikhar Naad Qureshi, 'connoisseurs' of Indian classical fusion.
Tickets for The Cube are priced at ₹250 per seat.
The seating for both The Cube and the Studio Theatre will be on a first come, first served, basis.
Now comes the fashion extravaganza on display. What you will see here is no different from what you might view at the Metropolitan Museum in New York.
Curated by Hamish Bowles, global editor-at-large for Vogue and editor-in-chief of The World of Interiors, and designed by Opera Director and Designer Patrick Kinmonth with Architect Rooshad Shroff, the exhibition features iconic Western couture and ready-to-wear designs inspired by India, from the 20th and 21st centuries.
On display will be the extraordinary work of designers like Sabyasachi, Manish Malhotra, Abu Jani Sandeep Khosla, Anamika Khanna, Anita Dongre among many more. But what will stand out is that these will be enhanced by the works of their global counterparts like Christian Dior, Cristóbal Balenciaga, Elsa Schiaparelli, Gabrielle 'Coco' Chanel, Jean-Philippe Worth, Mainbocher, and Yves Saint Laurent.
A photograph would not do justice to this space, hence the video above.
The tickets for this tour of fashion are ₹199 per head and this will also include entry to the next area which is the Art House.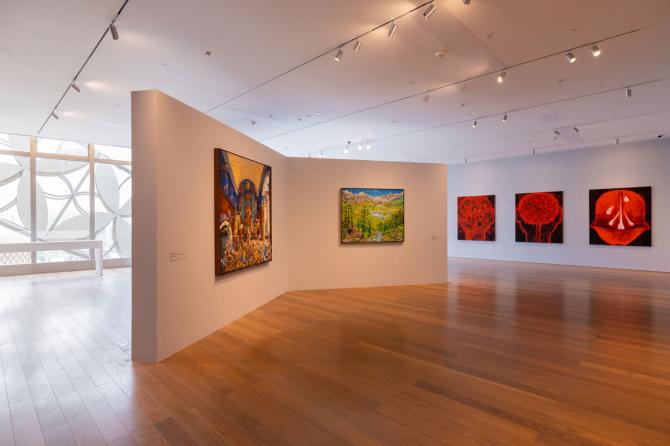 The Art House, as you expected, is a four-storey dedicated space for artists to put on display a shifting array of installations and exhibits that offer the richness of Indian and global art to the audience, making it one of the top venues to show art in the megapolis.
Opening to the public on April 3 at this space will be an art installation named The Sangam/Confluence.
Take the stairs here, instead of the elevators and as you walk up each floor you will gaze at words on the walls by Bharti Kher, Bhupen Khakhar, Ranjani Shettar, Ratheesh T and Shantibai, along with stalwarts like Anselm Kiefer, Cecily Brown and Francesco Clemente, exhibiting in India for the very first time.
Both the India In Fashion display which is at Pavilion 1 and The Sangam/Confluence have an audio guide in different languages, for anyone who wants to opt for it.
Again tickets for both together are priced at ₹199 per person.
As we wind up, there is a Fountain of Joy at the entrance of the NMACC.
This lotus-inspired Fountain of Joy, which is at the Dhirubhai Ambani Square, celebrates Mumbai's vibrance and indomitable spirit.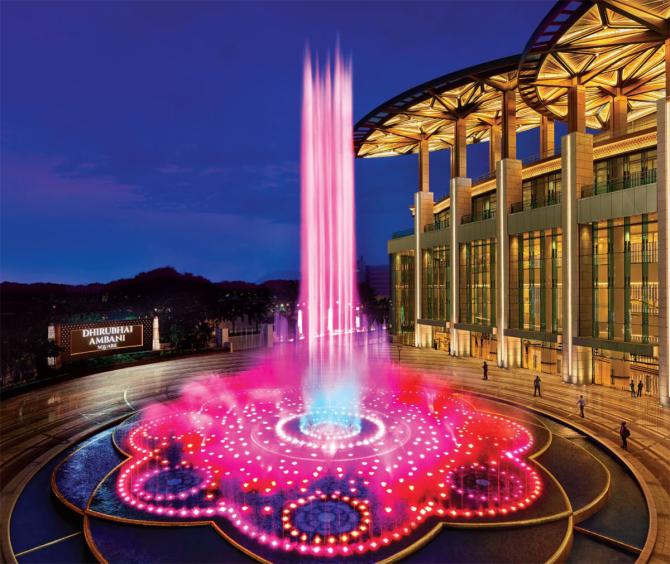 The soaring jets of water rise up to 45 feet as they pulse to music, mist, and colours.
Special shows will be hosted on national holidays and festivals, creating a beautiful display across the city's skyline.
And having a dekko at this not-to-be-missed fountain is free of charge.
All photographs and videos: Kind courtesy Nita Mukesh Ambani Cultural Centre.
Source: Read Full Article