ICYMI: Bachelor alum—and our resident Bachelor Nation recapper—Ashley Iaconetti is getting married! Ahead of her August wedding to former Bachelorette contestant and fellow Bachelor in Paradise star Jared Haibon, Iaconetti is writing a monthly-ish column for Cosmopolitan, chronicling the fittings, cake tastings, Pinterest-ing, and everything in between leading up to the big day. Oh, and the tears too.
One month into our engagement, Jared and I were sitting in a cafe on the edge of Lake Tahoe, jotting down names of people we wanted at our wedding. It was so fun! It's gotten a lot less cute since then.
At the time, we didn't have a venue with a maximum capacity of 185 people. Okay, even if that number were higher, I still wouldn't want a wedding guest list with more than 200 names. It's not just the price—real talk: I don't want to talk to that many people that day. I want to talk to Jared and share as many moments with him as possible on our wedding day.
The extroverted introvert that I am is stressed at the idea of the social chaos that will unfold. I want everyone we invite to experience our most important day with us…but I also am already overwhelmed by the thought of so many hellos.
https://www.instagram.com/p/BvSrDSbgREN/
Literally sitting in a pew in the church we're getting married in!! I'm being *that* girl decked out in @icingstores bridal gear during this wedding decor planning session. #sponsored #idowithicing
A post shared by Ashley Iaconetti (@ashley_iaconetti) on
Turns out, we had multiple people on that first list that never got an invite, because we've just lost touch sometime in the last 10 months. Here's the thing: The friendships you make on The Bachelor can be beautiful and lifelong. We have a lot of friends from the franchise, but when it came down to putting together the guest list, we wanted it to only include friends that we spend one-on-ones with.
We feel like if there's ever a time we can be selfish, it's our wedding.
We knew we wouldn't have room for the people that we just run into at events, press appearances, and show reunions. It doesn't mean that we don't really enjoy our time with those friends or care about them. We just have to cut it off somewhere, ya know? And we feel like if there's ever a time we can be selfish, it's our wedding.
And then there are the close friends from the franchise who have exes we decided (repeat: it was *our* decision) we didn't want to have in the same room as them. We didn't want anyone to feel uncomfortable at our wedding. Oh, and Jared and I didn't want anyone there we've kissed in the past…except Kaitlyn Bristowe, because I would kiss her too.
https://www.instagram.com/p/BxLr_gQgehc/
Two Almost Famous girls having Grape Therapy.
A post shared by Ashley Iaconetti (@ashley_iaconetti) on
There are friends you make on "the journey" that you feel so bonded to that you think, These women may be part of your bridal party one day. But then you live in different states and your paths never seem to cross—life happens and you find yourself on the fence on whether or not you should send them a wedding invite. Bachelor family or not, I'm sure you get it. Jade Tolbert is the only Bachelor friend in my bridal party, but we didn't have much of a relationship during Chris Soules season. We've gotten close off-camera.
Life happens and you find yourself on the fence on whether or not you should send them a wedding invite.
Okay, now let's talk about the crew you make in college. I have a best friend from college I haven't seen for 5 years. We DM on IG every once in a while. I could never have imagined her not being at my wedding when we bonded over Channing Tatum in She's the Man the day we moved into our freshman dorm or the time she yelled "Timber!" as she drunkenly fell off my top bunk.
I mean, just reminiscing about these memories makes me want to add her address to our guest list. BUT I HAVEN'T HEARD HER VOICE IN 5 YEARS! As Carrie Bradshaw would say, I can't help but wonder: Is a wedding guest list about who's been with you in the past or who you know will be there for you in the future? My answer: I think you want most people at your wedding to be both.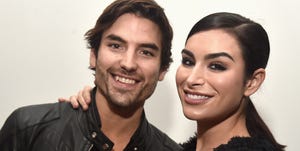 https://www.instagram.com/p/Bt4pRPtgMDC/
To the single people who are feeling lonely, left out, or longing for a special someone while scrolling on Instagram today. I promise you will be with your right person when it's meant to happen and then you'll realize you shouldn't have stressed so much about it because the wait so worth it! I know this is cliche, but it's also true and it take from someone who was single for almost 30 years. It just takes one person to change everything! I love you more than I could ever express, @jaredhaibon.
A post shared by Ashley Iaconetti (@ashley_iaconetti) on
The other thing about a wedding guest list that I didn't really think about until I was an engaged woman: plus-ones. Luckily, we're pretty friendly with most of our guests' S.O.s, but it's also weird that there will be some people at our wedding we've only met a couple of times. A maximum occupancy of 185 seems like a lot of people, until you realize that at least a quarter of those people are plus-ones that wouldn't have been on your guest list without their boo. Then there's the awkwardness of deciding who gets plus-ones. This has become our litmus test for most of our non-married guests:
What do you guys think about this strategy?
For example: On Easter, one of my longtime friends asked if his girlfriend was invited. His whole immediate family of five is invited to our wedding. He said, "If I don't have a plus-one, [REDACTED] is going to be crushed." UGH! Very lovely girl, but I've met her only two or three times. It's a rough answer, but her attendance will probably come down to how many "Declines with regrets" RSVPs we get by the due date.
https://www.instagram.com/p/Bso1dKaAX3s/
…Unless my friend turns into my fiancé because that would be pretty cool. 😉💍💗 @xfinity #xfinityrealityweek
A post shared by Ashley Iaconetti (@ashley_iaconetti) on
Speaking of…that's another awkward part of a wedding guest list. The backup list. These are the people you truly would love to invite, but maybe the friendship is fresher or maybe you haven't seen this person for years or maybe they're work friends who you really like but only see in a business capacity. The "B-list" is also compromised of giving those who don't already have a plus-one guest.
You know you're on the B-list when you get your invitation last minute and the RSVP date is like a week or two before the wedding. If you're on a couple's B-list, don't be offended. If they didn't want you at their wedding, they wouldn't have extended the invitation. In your heart, you probably know you're not super besties either.
In conclusion, take me back to that naïve day on Lake Tahoe.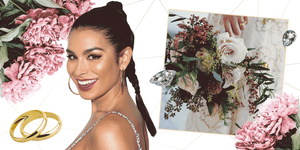 Source: Read Full Article