Bigg Boss 14 has been loved by the audience now. Initial episodes of the show were extremely boring but now the contestants have slowly started making the game interesting. Last week, Shardul Pandit got evicted from the show. He had entered as a wildcard along with Kavita Kaushik and Naina Singh. Shardul was playing a good game and on the first day itself, he had a fight with Kavita Kaushik. However, Shardul had kept his point properly. He was not visible a lot but did take efforts to entertain the audience in his own way. He played the tasks on his own and never let anyone's opinions to overpower him. Many believe that Shardul was not shown much in the game while some say that he did not play well. Shardul Pandit was nominated along with Rubina Dilaik and many were quite clear that he will be eliminated as Rubina was quite popular.
However, during the weekend ka vaar Salman Khan reminded the housemates that even in last season, Rashami and Devoleena were eliminated before Arti Singh. Before Salman Khan announced Shardul's name, said the number of votes both of them received were almost on a similar level. The megastar also reveals that Shardul Pandit's mother was not well when he entered the house and never shown that on his face. The evicted contestant thanked Salman, Bigg Boss and channel for motivating him and said though he might not have got noticed in the show but he has made a place in the audience's hearts. But still many felt that he should have been given another chance. Hence, we had asked fans if they feel that Shardul Pandit deserved to be eliminated. 56% of people feel that he did not deserve to be evicted while 44% feel he deserved to be eliminated. Check out the results here: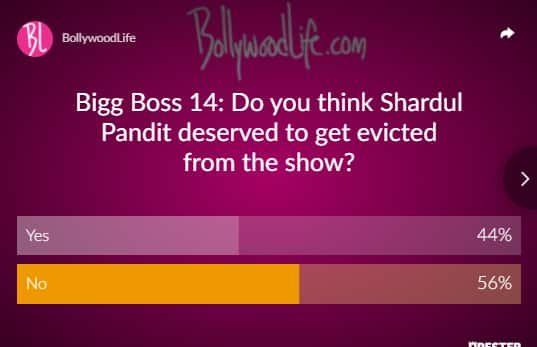 Well, many even thought that he would be sent to the secret room but that did not happen.
Source: Read Full Article