The queen of clap backs is at it again!
Chrissy Teigen has become known for her quick wit and sick burns in response to her many haters on social media, and gurl is never one to shy away from an argument. So after being accused of having her face "changed" or losing "50 lbs overnight," she dropped some knowledge.
On Monday night, the momma of two took to Instagram to share her highly requested skincare routine with fans, writing in a caption:
"For you kind folks asking me to drop the skincare regimen, I will admit I am def proud of my skin lately and feeling myself!"
But there's always one bad banana spoiling the bunch…
It wasn't long before a commenter questioned her "changed" face, writing:
"Ok…this isn't her or some app that changed her face. I had to look back and forth like 4 times…either she dropped 50 lbs overnight or has cancer…this isn't right."
Ugh!
The 34-year-old hit back:
"What would you prefer?"
Unsurprisingly, hate began to pour in from fans of Miz Teigen, but the user wrote again:
"Your bone structure is prominent and recognizable…this shot, looks like a completely different person. Did 2-3 double takes. How did you do it?"
ICYMI, you can ch-ch-check out the video (below):
The user apologized but continued to call out Chrissy as "unrecognizable" in a second reply:
"Apologies for the lack of tact fullness…should have thought ahead. But, why did I have to go back and forth 3-4 x to make sure it was you? Is it an app? It's not about skincare, but bone structure is completely different…you're unrecognizable."
Teigen replied after seeing the follow-up comments:
"Why are you carrying on with this?? Why do you think I owe you anything especially after what you've said? You know you don't actually know me in real life, right? Thank God."
She looks as beautiful as ever, TBH! But one thing which has changed lately is her chest due to her breast implant removal surgery. As you'll recall, the Sports Illustrated swimsuit model recently elected to have her implants removed, sharing ahead of the procedure:
"I'm getting my boobs out! They've been great to me for many years but I'm just over it. I'd like to be able to zip a dress in my size, lay on my belly with pure comfort! No biggie! So don't worry about me! All good. I'll still have boobs, they'll just be pure fat. Which is all a tit is in the first place. A dumb, miraculous bag of fat. ❤️ "
Of course all those changes were well below frame… No, this commenter was just on about some facial restructuring no one else seemed to notice…
Thankfully it didn't bother Chrissy –who gave us yet another fantastically cool, confident response!
Related Posts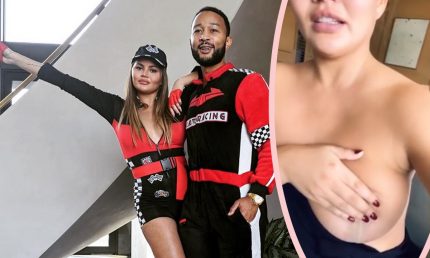 Source: Read Full Article