Remember the photo shoot Brad Pitt and Angelina Jolie participated in only months after the Ocean's 11 actor and Jennifer Aniston announced their split? The Mr. and Mrs. Smith co-stars posed for photos looking like a happy couple which only fueled rumors that Pitt and Aniston split because of the former's alleged affair with Jolie. But Aniston's friend, Courteney Cox didn't see it as a dig toward her Friends co-star. 
Brad Pitt played a behind the scenes role on the photo shoot
Pitt didn't just agree to do a photo shoot with Jolie. He actually collaborated with photographer Steven Klein on the "Domestic Bliss" concept, according to W.
Across 60 pages of the glossy magazine were images of Jolie and Pitt at a mid-century modern home in Palm Springs, Calif. They sat around the dinner table with kids, sat by a kiddie pool in the yard, and watched TV together. 
Pitt even retained the international rights to the photographs, according to Vanity Fair, meaning he profited from them. The couple confirmed their relationship a few months after the photo shoot and became known as "Brangelina." 
RELATED: Jennifer Aniston Has No 'Rules' for Food
Courteney Cox said Brad Pitt didn't think the photo shoot through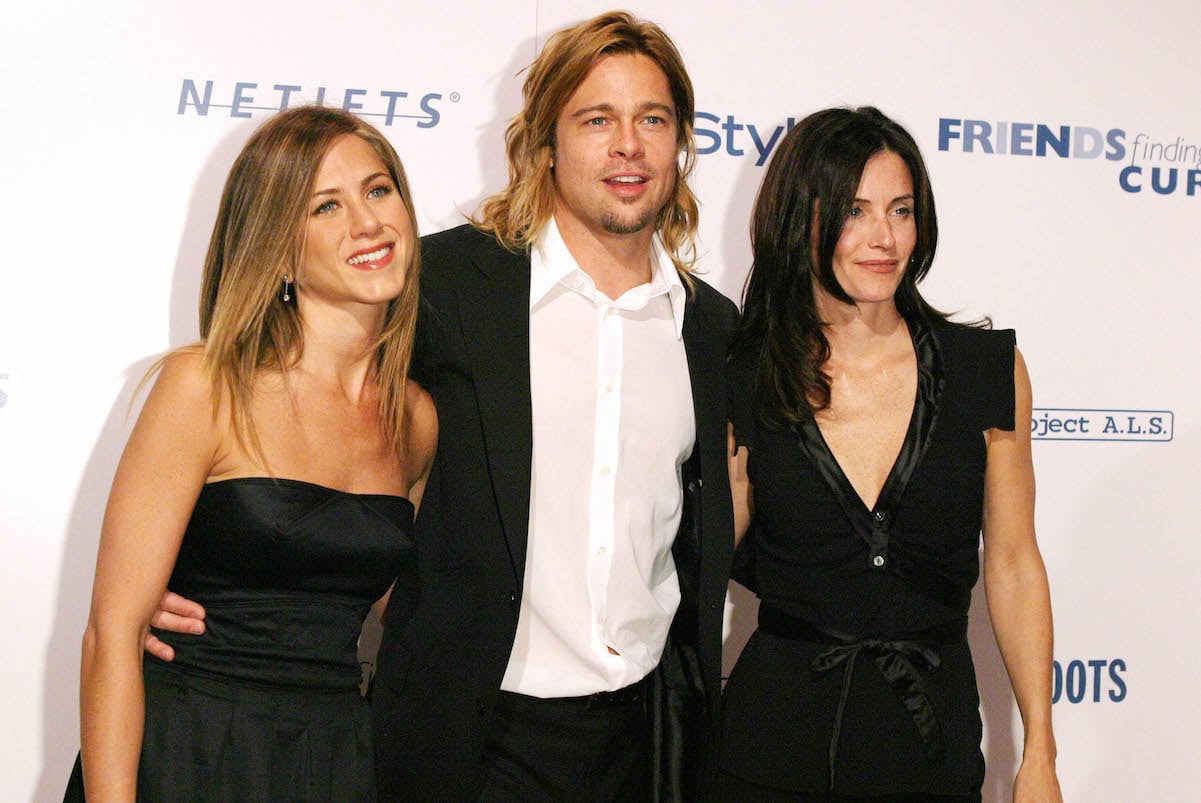 Asked by Vanity Fair about the photo shoot, Cox, a close friend of Aniston's who starred with her on Friends, said she didn't think Pitt was trying to intentionally "hurt" her.
"I don't think he was trying to hurt Jen," Cox told the publication in 2006. "I don't think that Brad is malicious, or a liar."
She continued, saying he probably didn't consider how other people would view the photo shoot.
"The W thing was his idea, but I don't think he thought that one through, about what it would look like to anyone else," Cox said. 
Jennifer Aniston said Brad Pitt wouldn't 'try to rub something in my face'
As for Aniston, she had similar feelings about what may or may not have been going through Pitt's head. A year after her divorce was finalized, Aniston spoke with Vanity Fair about Pitt, Jolie, and the photo shoot. She commented that the timing seemed weird.
"Is it odd timing? Yeah. But it's not my life," she said. "He makes his choices. He can do—whatever. We're divorced, and you can see why."
The We're the Millers star continued, saying something to similar to Cox. Aniston said she thought her ex-husband didn't do it to "intentionally" hurt her.
"I can also imagine Brad having absolutely no clue why people would be appalled by it," she said. "Brad is not mean-spirited; he would never intentionally try to rub something in my face. In hindsight, I can see him going, 'Oh—I can see that that was inconsiderate.' But I know Brad. Brad would say, 'That's art!'"
She went on to say Pitt had "a sensitivity chip that's missing."
Source: Read Full Article