Food blogger Sangita Agrawal's Chenna Payas is a dessert made out of curdled milk and rabri and is wildly popular in Bengal, Bihar, Odisha and Jharkhand. It is also called Chennar Payesh.
Mildly flavoured with saffron and cardamom, these soft chenna balls melt in your mouth.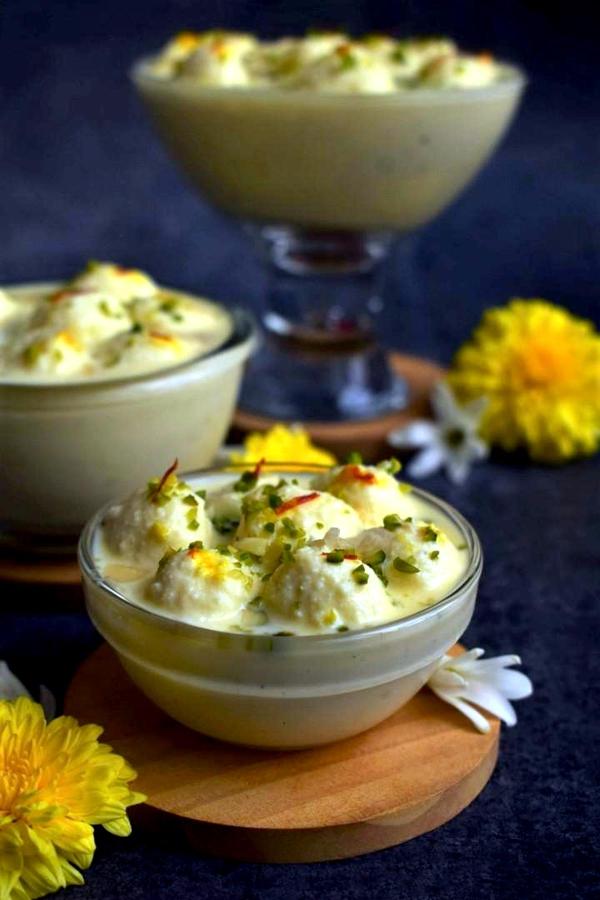 Chenna Payas
Servings: 15-20
Ingredients
For the chenna balls
1 l full cream milk
1 tbsp lemon juice
2 tsp sugar
For the rabri
2 l full cream milk
¾ cup sugar
Few strands of kesar or saffron, soaked in 1 tsp of milk
¼ tsp green elaichi or cardamom powder
6 to 8 almonds, sliced
6 to 8 pistachios, sliced
Method
Boil the 2 l milk for the rabri in a heavy-bottomed pot over low heat till it reduces to half, stirring often and scraping the milk off the sides of the pot.
Meanwhile make the chenna by boiling 1 l milk in a heavy-bottomed saucepan.
Once it comes to a boil, take off heat, add the lemon juice and stir and let it stand a few minutes. The milk will curdle.
Strain and wash the curdled milk in a channi or sieve under tap water to remove any traces of the lemon juice. Pat together the mass of curdled milk, with your hands, and form into a disc.
Wrap in a cheesecloth and keep the disc of curdled milk under a light weight for 20 minutes to drain excess water/whey.
Check on the boiling rabri milk. If it has reduced to a little more than half, add the sugar and let it keep boiling over very low heat. Take care to see that it does not burn. If need be place a tava or griddle uder the pot and keep simmering the rabri milk.
Place the curdled milk on a plate. Add 2 tsp sugar and knead it well to make inot a smooth and moist dough of sorts.
Divide into tiny portions and roll them into small 1-cm diameter balls.
Now add the chenna balls into the boiling rabri milk and continue to boil on low to medium heat for 6-8 minutes.
The balls will expand and become soft. Take off heat, add the cardamom, soaked saffron to the rabri and stir gently.
Cool to room temperature. Add half of the pistachios and almonds. Refrigerate a few hours.
To serve, garnish with remaining pistachios and almonds.
Note: Knead the curdled milk dough for the chenna for at least 10 minutes to ensure soft balls later.
You may consider adding 3/4 to 1 tsp cornstarch to the chenna dough you are kneading to prevent the balls from splitting apart in the rabri later.
Sangita Agrawal lives in Mumbai and publishes the food blog Bliss of Cooking.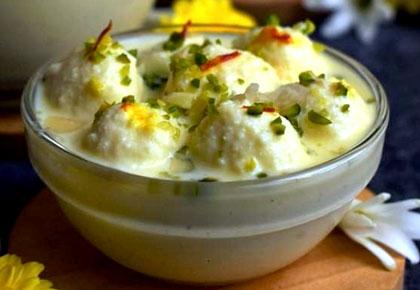 Source: Read Full Article