Kendall Jenner and Phoenix Suns star Devin Booker were first linked in April 2020 when they were spotted taking a road trip together. The supermodel usually tries to keep her love life under wraps as much as possible so fans were pretty surprised when she confirmed her relationship with the NBA player in February 2021.
Since then, people have been trying to find out as much as they can about Booker and if the reports about him having a couple of kids by two different women are true. Here's more on that and a few other things you probably didn't know about Jenner's boyfriend.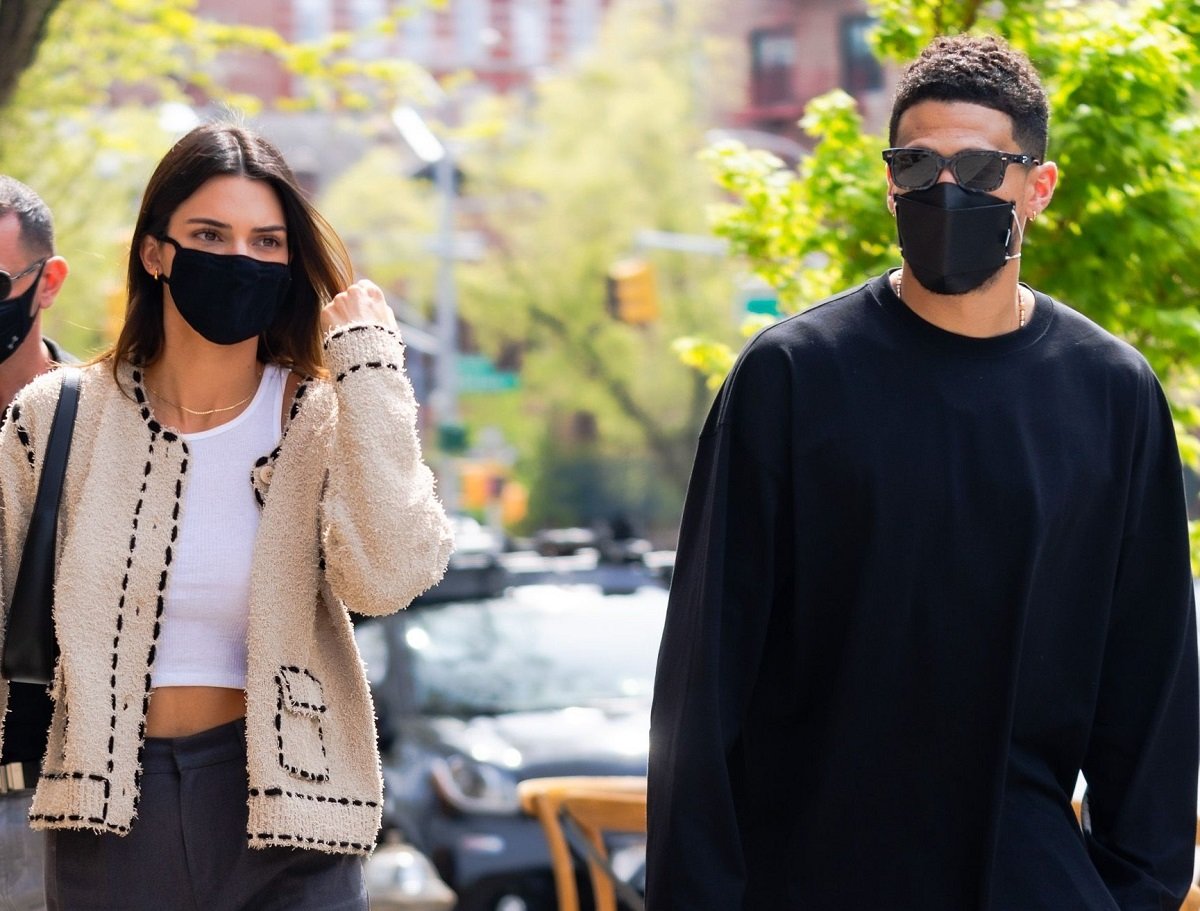 Is Booker an only child?
Booker was born on Oct. 30, 1996, in Grand Rapids, Michigan, to Melvin Booker, who is African-American, and Veronica Gutiérrez, who is Mexican and Puerto Rican.
Booker's mother worked as a cosmetologist and his father played point guard at the University of Missouri before entering the 1994 NBA Draft. He went undrafted but did play in the league with the Houston Rockets during the 1995–96 season, and with the Denver Nuggets and Golden State Warriors during the 1996–97 season.
Booker's parents were never married but have been co-parenting him since he was an infant. He is their only child though he has two half-siblings: an older half-brother Davon Wade and a younger half-sister named Mya Powell. Fanbuzz noted that his little sister has microdeletion syndrome, which is a genetic chromosomal disorder. In 2020, Booker became a Special Olympics Global Ambassador.
Does Jenner's beau have a couple of children by a couple of different women?
Now that Booker is dating one of the most famous reality stars in the world his name has made headlines for more than just what he does on the basketball court. But even before he began seeing the model he was found himself making news for a reason he likely wasn't too happy about.
In 2019, Gossip in The City put out a story about Booker getting model Aaleeyah Petty pregnant. The outlet also claimed that at the same time his high school sweetheart was also expecting. Moreover, while these two women were allegedly having his baby he was in a relationship with Kylie Jenner's former best friend Jordyn Woods.
Those stories turned out to be false. Booker does not have any children and reports later confirmed that the actual father of Petty's baby is New Orleans Pelicans small forward Brandon Ingram.
Booker wants to continue to be an inspiration for young kids
Booker's maternal grandfather was an immigrant from Nogales, Mexico. The basketball star has referenced his background and culture a number of times since he was drafted by the Suns in the first round of the 2015 NBA Draft. Booker has stated that he hopes to continue to inspire the many youngsters who look up to him.
"Some of my favorite times as a child was my mom whipping up her original Mexican dishes that she learned from her father, or when we got the chance to visit my grandpa on the weekends in his city and having him cook for us," Booker said via Suns.com. "I think the moment everybody found out that I had Mexican in my bloodline, I got on social media and started seeing younger kids of the Hispanic descent reaching out to me and saying, 'You're my favorite player. If you're Mexican and you made it to the NBA, I can too.' So, just trying to inspire in that type of way and keep representing the heritage. Let these kids know that, especially with the NBA today, it's not one race. It's not one culture."
Source: Read Full Article