Fire up your grills this week and impress the folks at home with Chef Pradeep Joshi's Indian-style Barbeque Chicken.
The cayenne pepper adds extra vibrancy and heat to the grilled chicken, the tamarind puree with sugar adds a lovely sweetness, balanced by the white vinegar.
The ketchup is a tad much. Cut back if you like.
You can use the same marination on cubes of paneer or tofu.
Chef Joshi has a message for all budding chefs: 'Cook food with your whole heart'.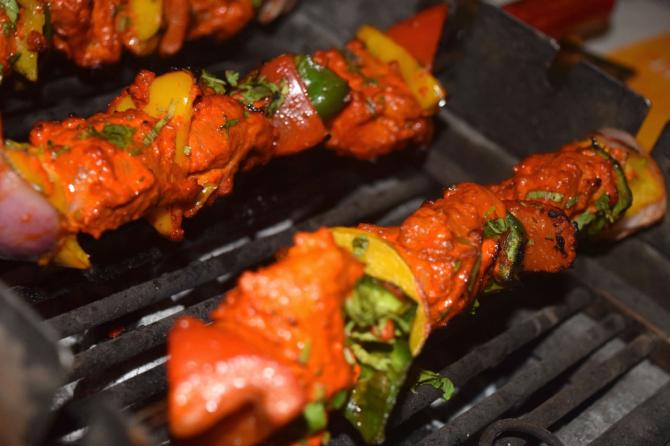 Hindustani Barbeque Chicken or Paneer
Time: 35 minutes
Serves: 4
Ingredients
500 gm skinless, boneless chicken breast, cut into small pieces or 500 gm paneer (please see the note below)
1 Shimla mirchi or green bell pepper or green capsicum, cut into cubes
1 red bell pepper or red capsicum, cut into cubes
1 yellow bell pepper or yellow capsicum, cut into cubes
1 medium onion, finely diced
3-5 garlic pods, minced
3 tbsp minced fresh ginger
1 cup ketchup or tomato puree
1/3 cup white vinegar
1/3 cup tamarind puree
Pinch sugar
3 tbsp rai or mustard seeds
¼ tsp cayenne pepper, available for purchase online or in gourmet grocery stores
2 tsp garam masala
Salt to taste, about 2 tsp
1 lime
Fresh green dhania or coriander or cilantro, chopped, to garnish
Freshly ground black pepper
3 tbsp vegetable oil + extra
Method
Heat the oil in a skillet or frying pan.
Add the diced onion and cook over moderate heat for about 4-5 minutes or until translucent
Add the minced garlic and the minced ginger and cook until fragrant.
Add the ketchup or tomato puree, vinegar, tamarind puree, sugar, mustard seeds and cayenne pepper.
Simmer over low heat, stirring, until reduced, for about 5 minutes.
Stir in the garam masala and season with the salt and the black pepper.
Take off heat and keep aside.
Light a grill.
Rub the chicken/paneer with oil and season with salt.
Skewer the chicken.paneer pieces along with the bell peppers, leaving some gap between the pieces so it cooks evenly.
Grill over moderately high heat, turning occasionally, until almost cooked on both sides, for about 7-8 minutes.
Brush with the sauce and grill over low heat, brushing and turning, until glazed, for 4 minutes or till cooked.
Squeeze the lime and garnish with chopped coriander.
Serve hot with chapattis, naans or tandoori rotis.
Editor's Note: If there are vegetarians/vegans in the gathering, use 500 gm firm paneer or tofu instead of chicken. Use a bit of sauce for pre-marination. Paneer takes a little less time to cook on a grill and can be basted with a little ghee.
For those who don't eat garlic, ginger or onion or prefer extra spice, increase spices by adding red chilly powder, haldi or turmeric powder, ground ajwain or carom seeds, mustard paste, whole kallonji or nigella seeds while making the sauce.
If you don't have a grill, use an oven or place a grill rack over your gas burner and cook on low turning quickly. Frying pan barbecue can also work, especilly if you place a piece of lighted charcoal in the middle as you fry and cover. Or add liquid smoke (available for purchase online) to the marinade.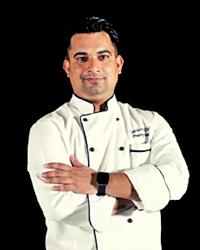 Chef Pradeep Joshi is the head chef at Barbeque Company that has several branches across India in New Delhi, Noida, Ghaziabad and Jaipur.
Source: Read Full Article