Hailey Bieber just opened up about her recent hospitalization, and explained that she's since had a follow-up surgery that she's recovering well from. Hailey talked about everything she's been going through in a lengthy video posted to Youtube, saying "I had a very scary incident on March 10, basically I was sitting at breakfast with my husband, having a normal day, normal conversation and we were in the middle of talking and all of a sudden, I felt this really weird sensation that kind of like traveled down my arm from my shoulder all the way down to my fingertips. And it made my fingertips feel really numb and weird."
Hailey went on to say that she noticed the right side of her face drooping, and she was unable to form words. Fortunately, there was a medic where she and Justin were eating breakfast, who was able to evaluate Hailey. And by the time she was admitted to the ER, she was "pretty much back to normal."
"They were able to see that I had suffered a small blood clot in my brain, which they labeled and categorized as something called a TIA [….] Basically it's like having a mini-stroke," she said, adding that her body was able to resolve it pretty quickly and "I felt really thankful and grateful that it wasn't worse and I wouldn't have any permanent issues."
Hailey was diagnosed with a Grade 5 PFO (a small opening between the two upper chambers of the heart) during a follow-up appointment, and has since had surgery to close it.
"It went very smoothly and I'm recovering really well, really fast," she said. "I feel great. The biggest thing I feel, honestly, is I just feel really relieved that we were able to figure everything out, that we were able to get it closed, that I will be able to move on from this really scary situation and just live my life."
Hailey first opened up about her experience in March, saying "On Thursday morning, I was sitting at breakfast with my husband when I started having stroke-like symptoms and was taken to the hospital. They found I had suffered a very small blood clot to my brain, which caused a small lack of oxygen, but my body had passed it on its own and I recovered completely within a few hours. Although this was definitely one of the scariest moments I've ever been through, I'm home now and doing well, and I'm so grateful and thankful to all the amazing doctors and nurses who took care of me! Thank you to everyone who has reached out with well wishes and concern, and for all the support and love. —Hailey"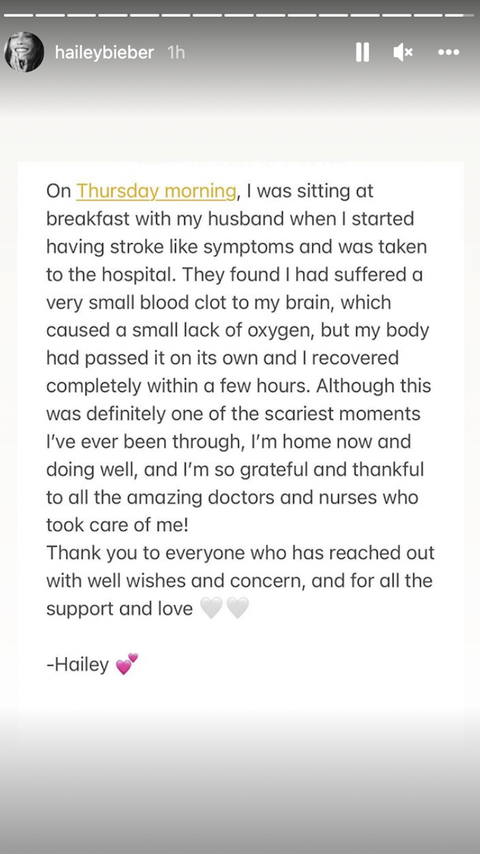 So glad Hailey is recovering well after this scary situation.
Source: Read Full Article