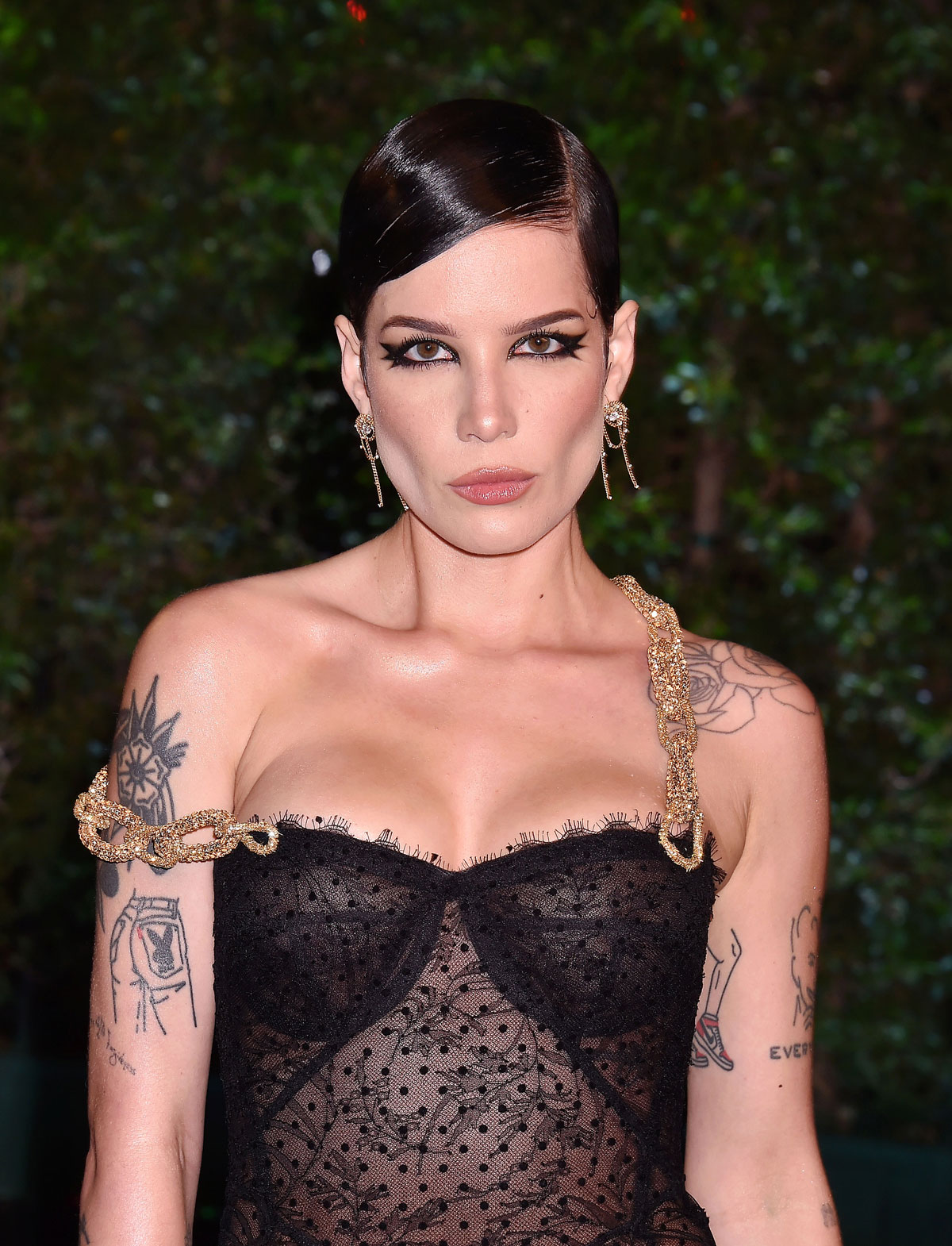 Halsey has been quite open about their struggles with endometriosis over the years. She's also spoken about her miscarriages and desire to have kids. As much as I'm a fan of theirs, I admit I cynically thought all the talk of wanting to be a mom was a bit of a family-friendly talking point to be expressing at such a young age and at the height of their career. I believed it was true (they seem very honest), but thought maybe the frequency of the mentions were to offset the perceived "edgier" aspects of their image. Plus some of their previous boyfriends did not seem like great candidates for that. But then in January 2021, Halsey shocked fans who didn't even know she was dating anyone by announcing she was pregnant by partner Alev Aydin. Baby Ender, who is so cute, was born in July.
Shortly after Ender was born, Halsey's fourth studio album and its accompanying film, If I Can't Have Love, I Want Power, were released. They skipped the Met Gala because they were still breastfeeding and then started getting back into work by appearing as the musical guest on SNL, going to the Vanity Fair Oscar party, and attending the Grammys, which they left early because it was just days after an endometriosis surgery. They also attended Coachella (bring back belly button rings). Halsey is scheduled to tour this summer and is letting fans know she may need to slow down before that happens due to endometriosis-related health complications.
Halsey is letting fans know they may need to take some time off.

In a new post shared to their Instagram Story on Sunday, the 27-year-old singer opened up about potentially needing to scale back their workload due to ongoing health complications related to endometriosis.

"I have been in and out of the hospital for the past few weeks dealing with some new challenges. Trying my best to keep things normal; Grammys, Coachella etc.," read the caption, posted alongside a selfie of Halsey holding up a peace sign while laying in bed.

"But my body is putting up a strong protest. And ultimately demanding that I slow down or stop foreal this time. Especially so I can be in the best shape for tour."

"Chronic illness is a complex mystery. If I am or have been MIA please don't take it personally," continued the post. "I am doing the best I can under difficult circumstances. Sharing this for my fellow spoonies. All that glitters… 🥄"

Halsey is currently gearing up to embark on the Love and Power Tour in support of their latest album, If I Can't Have Love, I Want Power. Featuring opening acts Beabadoobee, PinkPantheress, The Marías, Abby Roberts, and Wolf Alice, the tour launches May 17 in West Palm Beach, Florida and continues through Sept. 22 at Firefly Music Festival in Dover, Delaware.

Earlier this month, the "You Should Be Sad" performer revealed they had surgery three days before attending the 2022 Grammys, where If I Can't Have Love, I Want Power was nominated for best alternative music album, in an Instagram post. "The last time I attended the Grammys was 2017 and it was 3 days after I had my first endometriosis surgery," wrote Halsey. "I walked the carpet with my stitches still in 😅"

"As luck would have it, I'm attending tomorrow for the first time in years and I had surgery again (you guessed it) 3 days ago," continued the post. "Only posting this to say, if you see me be gentle lol I'm fragile. Fragile but excited."

Halsey has long shared details of their experience with endometriosis. In a since-deleted Instagram post shared on Jan. 6, 2017, they wrote about undergoing multiple surgeries in one day.

"Today I braved multiple terrifying surgeries," wrote the singer. "The most important of which being the surgery that would hopefully treat my endometriosis. For those of you who have followed this battle of mine or who may suffer with it yourself, you know the extremes to which it can be mentally exhausting and physically painful."

"I'm in total agony right now… (and I'm going to be in excruciating pain for a while cause I had quite the cocktail of procedures today)," continued their post. "In my recovery I am thinking of all of you and how you give me the strength and stamina to power through and prosper."

"If you suffer from chronic pain or a debilitating disease please know that I have found time to live a crazy, wild, rewarding life AND balance my treatment and I hope so much in my heart that you can too," they concluded.
[From People]
I guess Halsey realized they were trying to do too much and needed to slow down if they wanted to be feeling their best for tour. Touring seems tiring enough its own, even without the addition of a chronic illness. I have no idea what endometriosis is like and I've never even had surgery, but from what I hear it sounds exhausting and debilitating and I'm always impressed with what people who suffer from this aliment are able to do. I'm such a baby about regular cramps and can't even imagine what it's like to suffer from chronic pain like that. I think it's a good thing that Halsey is shining a light on what it is like to live with endometriosis. She's being transparent about her condition and how it may affect touring and public appearances, while at the same time ensuring that fans know they are not alone and don't have to suffer in silence because periods are "unseemly" or whatever.
Halsey's last tour in support of the Manic album in 2020 ended abruptly due to covid, so she hasn't toured in awhile in general and not post-baby, so maybe she overestimated how she would be feeling and able to handle the preparations. I was actually supposed to attend that tour in July 2020 and found out in May 2020 that it was rescheduled for July 2021. Then it was outright canceled in January 2021 and I was bummed when I got the cancellation email because it made me feel so gloomy, like covid was so bad that even with vaccines an outdoor concert was too risky. Then a week later, I saw the happy baby news and was like nvm, this is good! I saw Halsey once in 2017 and they were a great live performer. I really want to see them again so I'm hoping to get to Governors' Ball this year, the only New York tour date.
https://www.instagram.com/p/Cb2sKI1LvRt/
https://www.instagram.com/p/Cb7-WM-pclB/
https://www.instagram.com/p/Cbs9xZJPmt_/
Photos credit: Avalon.red and via Instagram
Source: Read Full Article