Ever since the general public became acutely aware of the royal rift between Prince Harry and Prince William, experts, unnamed insiders, and desperate royal fans on social media have speculated about what it would take to spark a reconciliation between the brothers. Said speculation has included family tragedies, like the death of their grandfather, Prince Philip, and other sad moments, like the 25th anniversary of Princess Diana's death. Unsurprisingly, when news broke that the Queen had passed away, the "maybe *this* will be the thing that brings Harry and Will back together" chatter started again.
"I think there is every hope that this will hopefully trigger some sort of reconciliation between these two brothers, who for the past 18 months have really been brothers at war," royal expert Katie Nicholl told Entertainment Tonight the day after the Queen's death, acknowledging that William and Harry's feud "has become a very important part of the narrative" of the royal family.
While we can't go so far as to declare the royal feud over and done with, William and Harry did come together in a very public way on Saturday when they stepped out, along with their wives, Kate Middleton and Meghan Markle, to greet well-wishers gathered outside Windsor Castle.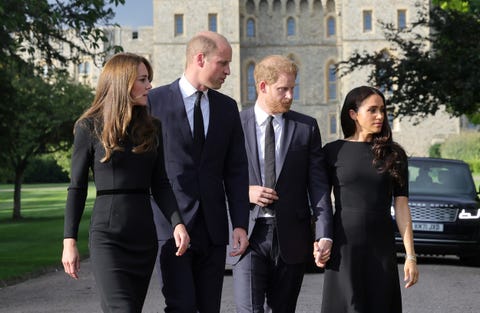 The outing marks the first time the (former) Fab Four have interacted together in public since Harry and Meghan's royal exit in early 2020. In photos from the impromptu appearance, Harry and William can be seen walking close together and appearing to talk—which, TBH, is a big step on its own.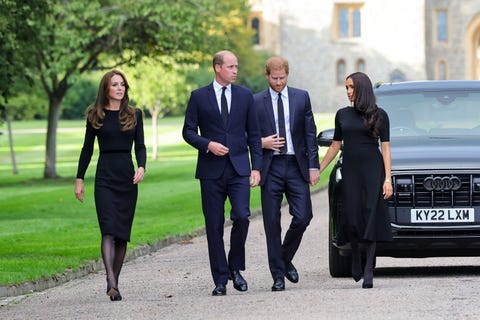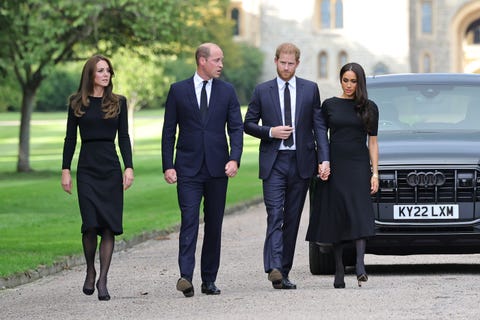 The Windsor walkabout (and making it a Fab Four affair) was reportedly Will's idea. People reported that Kensington Palace said William invited Harry and Meghan to join him and Kate in greeting the crowds at Windsor and that a royal source said the new Prince of Wales felt it "was an important show of unity at an incredibly difficult time for the family."
Will, Harry, Kate, and Meghan viewed the tributes left by mourners and well-wishers in Windsor and were clearly emotional at times during the outing.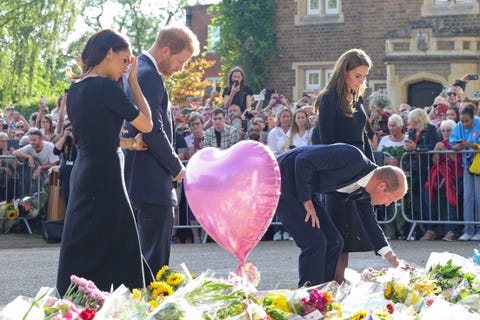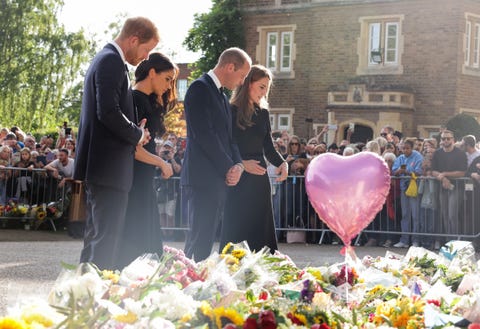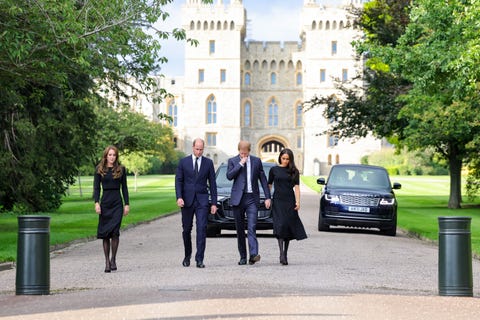 But, amid their grief, the royals also clearly drew some strength from the outpouring of support for the Queen and the pictures of those moments are genuinely heartwarming, hard stop.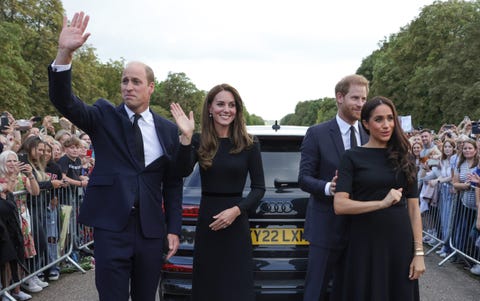 Source: Read Full Article