Could Prince William and Prince Harry be ready to put the past behind them? The brothers have been at odds for a couple of years now, and with Harry's recent interviews outing some of the personal details of his life, many believed that William would just never be able to forgive him. In fact, royal expert Nick Bullen told Fox News that it would be "incredibly tough" for Harry and William to bury the hatchet, so to speak. "I am told William is absolutely furious at how Harry and Meghan have shared their views about the royal family, about their own immediate family, with the world's press," Bullen said.
And while other royal experts have voiced similar concerns about William and Harry's broken relationship, there very well be an end in sight. Royal watchers couldn't help but notice how calm and collected both brothers were at the Princess Diana statue unveiling on July 1, and this has made many wonder if tensions have eased up. Read on to find out what a source had to say about the current status of William and Harry's feud.
Prince William and Prince Harry bonded over their mother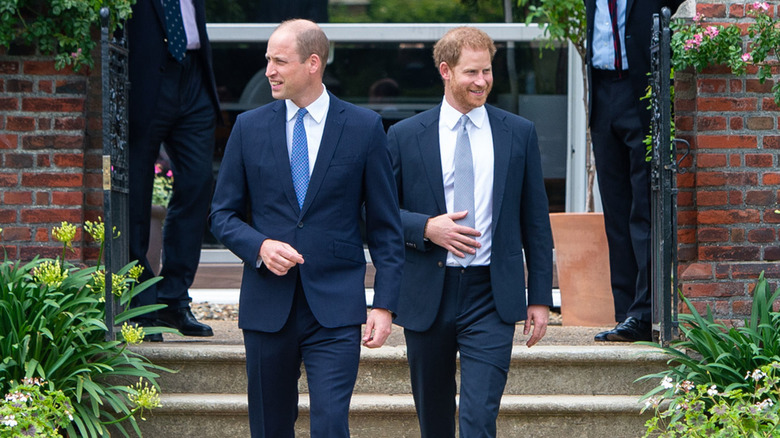 Prince William and Prince Harry came together to honor their mother on July 1, and just about everyone was watching their every move as they made their first official appearance together — as a unit — in more than a year. And while there was some chatter about the two putting on a front for the cameras, the truth of the matter is, the Duke of Cambridge and the Duke of Sussex may have turned the page when it comes to their long-standing rift. 
A source told Us Weekly that the two brothers actually bonded on the morning of the statue unveiling, and that it may have brought them closer than they've been in recent years. The source said that William and Harry were "looking through old keepsakes, notes from Diana and bonding," and added that they "have absolutely turned a new page in their relationship and have started the healing. Everyone around them was thrilled to see how close they were on the day of the statue unveiling."
It's unclear where William and Harry will go from here, but many hope that the two can find some common ground and begin to rebuild their close relationship. According to Marie Claire, Harry may be heading back to the UK in September for another event honoring his mother. All good things, right?
Source: Read Full Article