With Holi just around the corner, we bring you special recipes to celebrate the festival of colours.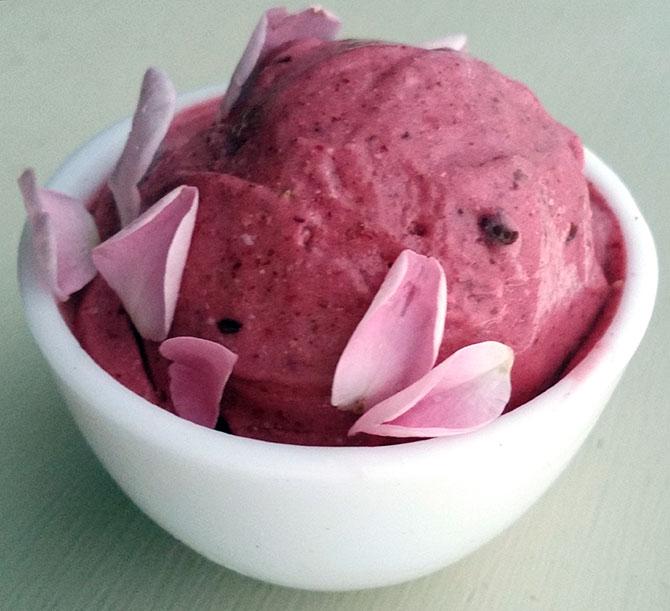 Rose Petal and Pomegranate Ice cream
(serves 6)
Ingredients
4 large pomegranates
500 ml fresh cream
2/3 cup sugar
1 cup fresh rose petals, chopped
Method
De-shell the pomegranate, reserving just the seeds and discarding the rest of it.
Place the pomegranate seeds in a blender and blend well. Sieve this juice using a strainer. It works even better if a muslin cloth is placed over a strainer. Discard the seeds and reserve the pomegranate juice.
Pour the juice in a heavy bottomed saucepan.
Bring it to a boil, then simmer for 10 minutes till it has reduced to about one cup. Take it off the flame and let it cool completely.
In a separate bowl, whisk the fresh cream for a few minutes, until smooth. Pour in the pomegranate juice, sugar and rose petals.
Whisk for 7 to 10 minutes till all the ingredients are well blended.
Pour this mixture into a freezer container with a lid and freeze for 4 – 6 hours.
Then scrape thru the semi set ice cream and refreeze it for 4 – 5 hours or till it has completely set. Scoop out and serve in individual dessert bowls.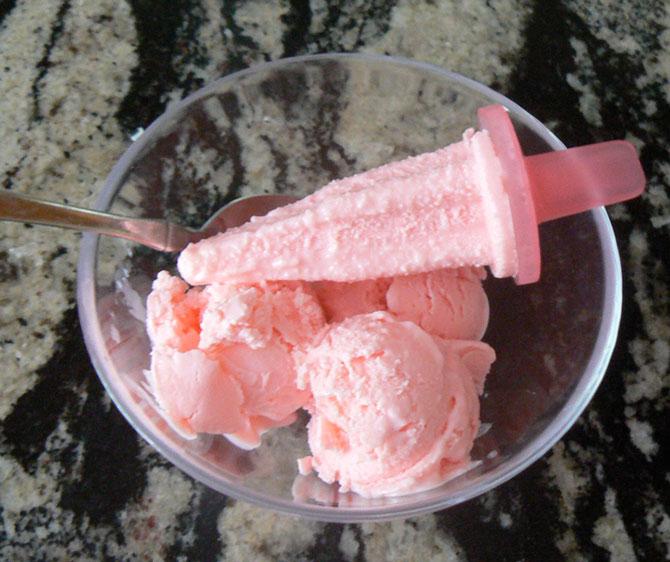 Photograph: Courtesy John Fladd/Creative Commons
Rose Petal Kulfi
(serves 8)
Ingredients
1 litre double toned milk
200 gm condensed milk
1 ½ cup fresh rose petals (shredded)
3 tbsp skimmed milk powder
100 ml fresh cream
1 tbsp rose water
A pinch of salt
1 ½ tbsp rice flour
Method
Pour the milk into a heavy bottomed sauce pan. Bring it to a boil over medium heat.
Place the rice flour and the skimmed milk powder in a cup. Pour a little warm milk over it. Mix it well.
Pour this into the boiling milk and stir continuously for a minute till the milk has thickened. Take it off the flame.
Pour in the condensed milk along with rose water and a pinch of salt. Mix well for a few minutes.
When it has semi-cooled, stir in the rose petals. Mix well.
Pour this into 8 kulfi moulds or into a freezer container with a lid.
Place it in the freezer for 5 – 6 hours or till completely set. Unmould and serve cold.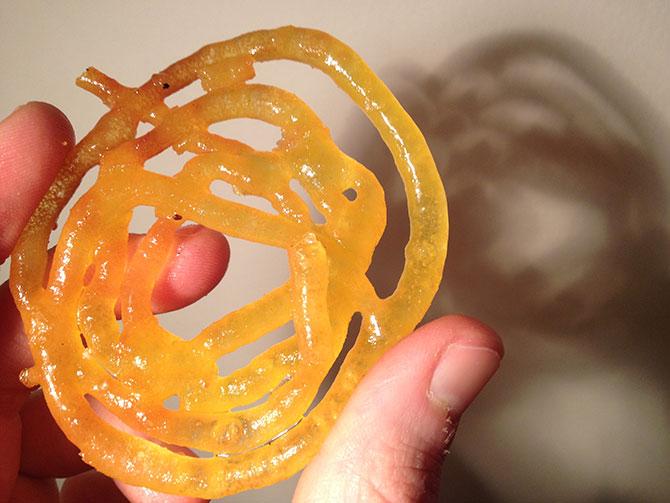 Jalebi
(serves 16)
Ingredients
225 gm refined wheat flour
20 gm besan (1 heaped tbsp)
1 ½ tsp corn starch
1 tsp dry yeast
60 ml natural yogurt
60 ml water for making the batter
50 ml lukewarm water
1 ½ tbsp oil for the batter
Oil for deep frying
For the sugar syrup:
300 ml water
400 gm sugar
2-3 drops orange food colour
Method
Place the yeast in a small bowl. Pour half of the lukewarm water over it. Mix well, cover and set aside for 5-7 minutes till it gets activated.
Once the froth comes on top, the yeast is activated and ready to use.
Add in the remaining lukewarm water and mix well.
In a separate bowl, place the refined wheat flour, besan, corn starch, diluted yeast mixture. Mix well.
Add in the yogurt and blend well to ensure that there are no lumps.
Pour in a little water at a time and beat it well to make a smooth batter. Cover and set this aside for 10-15 minutes.
In the meantime, place the sugar and water in a pan. Bring it to a boil, and then simmer for 12-15 minutes stirring from time to time till you get a one string consistency.
Add in the orange food colour and mix well. Now heat oil in a pan.
Place the jalebi batter in a piping bag or a zip lock bag and gently cut the end of the piping bag to make a small hole to enable a thin stream of the batter to come out.
Hold the bag over the hot oil and begin to pour it in a clockwise or anticlockwise direction to get evenly round jalebis.
Let these cook over low flame for 3-4 minutes on each side until light brown in colour. Drain them off the oil and place them directly into the warm sugar syrup.
Ensure that you dip each jalebi into the sugar syrup fully and drain out after a minute. Serve warm.
Gitanjali Gurbaxani is a well-known author and food consultant. Email her at [email protected] and view her website at www.gitanjaligurbaxani.com.
Click here for interesting recipes and food features
You can share your favourite recipes too.
Write in to us at [email protected] (subject: My Fav Recipes) with your name, hometown and any interesting details about the origin of the recipe, along with a photograph if possible.
We'll publish the best preparations right here on Rediff.com and in India Abroad.
Source: Read Full Article