More people working in India's technology industry have lost their jobs in the first six months of 2023 than in the corresponding period in 2022.
A tweet by Kartik Mandaville, founder and CEO of HR-tech start-up Springworks, has re-opened the debate on India's employment health.
In his tweet, Mandaville said he had received more than 3,000 resumes within 48 hours of job openings being posted on his company's Web site.
He added that the firm had so far received close to 13,000 applications across 15 to 20 positions, which included roles in sales and marketing, the founder's office, tech etc.
Besides the astounding number, Mandaville's tweet came laden with a question: 'How bad is the job market?='
Pretty bad, if you ask applicants.
Business Standard spoke to several young IT professionals in Gurugram, Bengaluru, Mumbai and Ahmedabad, all of whom said they had started applying to a lot more jobs in the last few months than ever.
Gurugram-based Gagan Batra (name changed on request), who was a junior data analyst in one of India's tech majors, was laid off in the last week of June. In the past 20 days, he has applied for more than 300 jobs.
"I have applied for any job even remotely connected to my past roles, including those for which I am overqualified in terms of experience or education," he says.
Batra has three years of experience across two companies, but has applied for many freshmen positions too.
More people working in India's technology industry have lost their jobs in the first six months of 2023 than in the corresponding period in 2022.
A total of 10,774 people have been laid off in the first six months, according to Layoffs.fyi, a Web site that tracks job cuts in the tech sector. This is nearly two-thirds more than the 6,530 jobs lost over a similar period in 2022.
Tanya Singh, an employee at a Bengaluru-based health tech start-up, has already started applying for jobs in other firms in the sector.
"While we enjoy handsome pay packages and perks, the start-up recently saw a cut in its funding and we are anticipating either a mass layoff or massive pay cuts," she says.
"It's better to move on now. Several of my colleagues and friends working in other start-ups have adopted this strategy."
Recruitment agencies are a prime witness to this trend.
Amitabh Mukherjee, a senior talent scout at a recruitment and professional counselling firm based in Saket, New Delhi, says that the number of applicants seeking their services has tripled over the past six weeks.
These services include polishing CVs, identifying the right job fit, and interview preparation.
"Candidates are quite panicked by the current job market," he says.
"And with an increase in the volume of applications, rejection letters are also piling up."
Sumit Sarabhai, business head of the Emerging vertical at TeamLease Services, agrees that despite the significant expansion in various sectors, competition for jobs has increased, as has the attrition rate.
"A significant factor contributing to candidates' challenges in securing positions is the prevailing skill gap," he says.
Among industries, the IT sector stands out with the highest attrition rate at 29.17 per cent, according to the TeamLease Employment Outlook Report Q1 FY24.
"The Indian IT industry faces a high attrition rate due to various reasons: limited career growth; lack of recognition and rewards; unhealthy work environments; and better paying options in other sectors," Sarabhai explains.
Other sectors, too, are experiencing two-digit attrition rates.
The TeamLease report noted, for instance, that e-commerce and allied start-ups are facing 16.20 per cent attrition rate, while telecommunications follows closely at 10.59 per cent.
Healthcare and pharmaceuticals grapple with 14.11 per cent attrition rate and education services 20.09 per cent.
A few industry experts, however, believe that the turbulence in the job market is mostly at an end and things are settling down.
Prashant Singhal, Global TMT Emerging Markets Leader at EY, says, "We don't foresee a major effect on the larger employment picture.
"Even attrition rates seem to be stabilising. While there was a bit of a lull in the last year, we are gradually getting out towards a more robust job market."
Anandorup Ghose, partner at Deloitte India, agrees: "The last few months have seen the businesses adopting a more cautious approach with a large number of tech players right-sizing their organisation.
"The overall attrition for this year is effectively lower by 3-5 per cent, fuelled by the dip in demand and the workforce restructuring that is currently underway."
Meanwhile, with candidates struggling to stay ahead of the rising competition and the changing demands of jobs in their sectors, recruitment agencies, talent acquisition firms and hiring professionals are seeing a high demand for their services.
"High attrition results in a larger pool of candidates seeking new job opportunities," says Sarabhai.
"This allows recruitment agencies and talent acquisition firms to access a more diverse range of potential candidates to match with the job openings."
Organisations, too, would be spoilt for choice. Mandaville's experience is a case in point.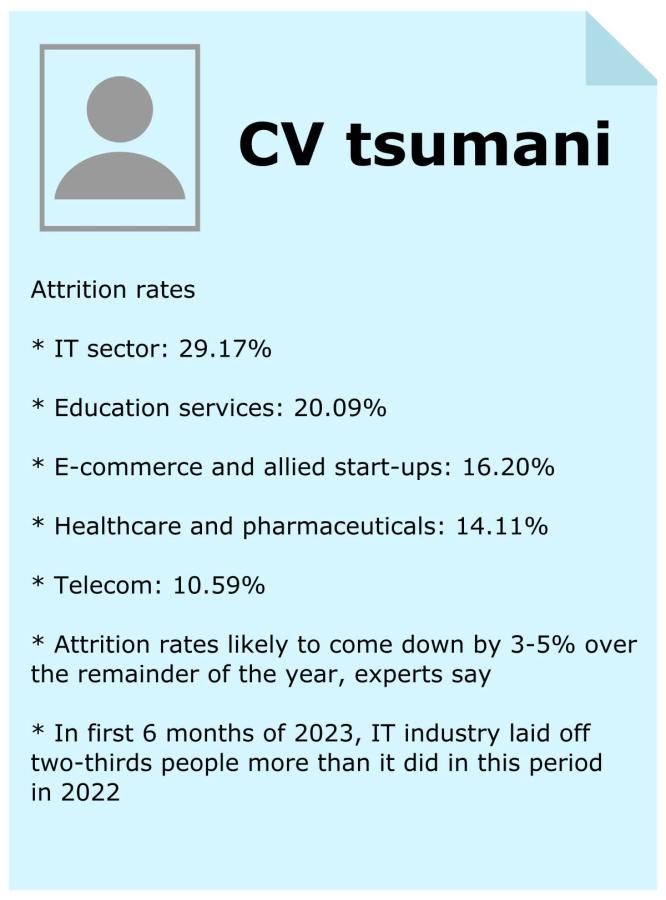 Feature Presentation: Ashish Narsale/Rediff.com
Source: Read Full Article