The Spanish baritone of the classical crossover group, who had been vaccinated against the virus, passed away at the age of 53 in Manchester Royal Hospital after his life support machine was turned off.
AceShowbiz –Carlos Marin has passed away. The Spanish baritone of the classical crossover group Il Divo died after being placed in a medically induced coma during his hospitalization due to COVID-19 diagnosis. He was 53 years old.
Announcing the heartbreaking news was the singer's band via its official social media accounts on Sunday, December 19. Along with a photo of the late musician, the statement read, "It is with heavy hearts that we are letting you know that our friend and partner, Carlos Marin, has passed away. He will be missed by his friends, family and fans. There will never be another voice or spirit like Carlos."
"For 17 years the four of us have been on this incredible journey of Il Divo together, and we will miss our dear friend," the statement continued. Carlos' bandmates, David Miller, Sebastien Izambard and Urs Buhler, concluded the post as saying, "We hope and pray that his beautiful soul will rest in peace. With Love — David, Sebastien and Urs."
Among those who have paid tribute to the "Right Here Waiting" singer was "Good Morning Britain" host Lorraine Kelly. Taking to her Twitter account, she wrote, "This is so sad. I had the joy of interviewing Carlos and @ildivoofficial many times over the years. He was such a class act. Thoughts with everyone who loved him x."
"Strictly Come Dancing" judge Bruno Tonioli also mourned Carlos' death. "Devastated @ildivoofficial @carlosmarin_ passed away," the Italian choreographer wrote. "We had the best time putting together the first @ildivoofficial performance 17 yeas ago great voice great man a true passionate Spirit with wicked sense of humor we will miss you so sad."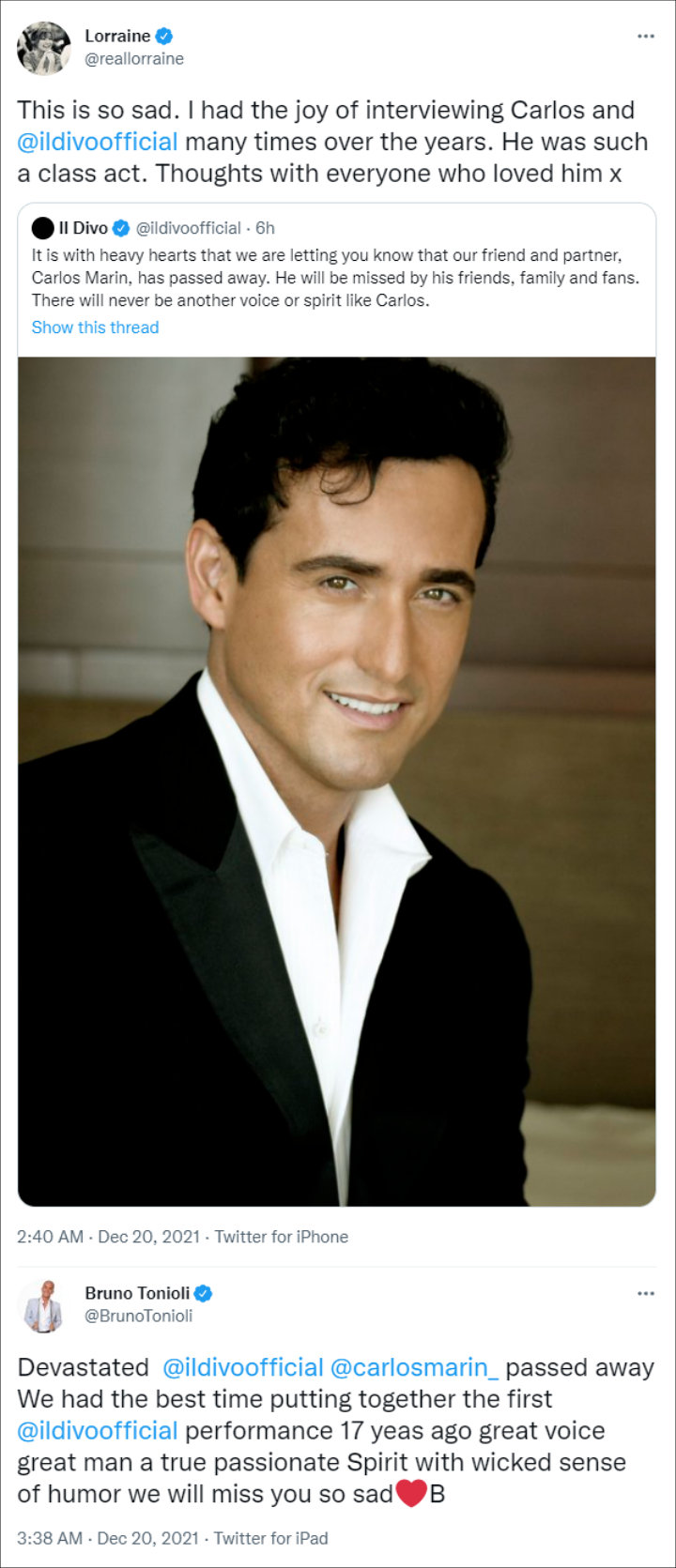 Lorraine Kelly and Bruno Tonioli mourned Carlos Marlin's death.
The announcement also prompted an outpouring of grief from Il Divo fans. One person reacted to the sad news on Twitter, "What devastating news! Carlos was such a huge character, his voice magnificent and so key to many of Il Divo's amazing songs. My sincere condolences to you all. May he rest in peace."
Another fan penned, "Wow can't believe it. Such terrible news. My thoughts and prayers are with all his friends and family." A third mourned Carlos' passing, "OMG I can't believe this sad news, myself and @mrsseags were only at Brighton on Sat 4th December watching their amazing show and Carlos being his usual charismatic self. Our thoughts are with his personal family and his work family at this very sad time."
Carlos, who was reportedly vaccinated against the coronavirus, was reportedly in a serious condition as he was placed in a medically induced coma in Manchester Royal Hospital on December 8. He had been in the intensive care unit and was intubated after having his oxygen "compromised."
His last post on Instagram was on December 6. At the time, the "Unchained Melody" singer shared a photo alongside his bandmates to announce that they just added two more shows for their "For Once in My Life" tour.
Just days later, the vocal group announced a delay to all performances until 2022 due to "illness" but gave no further details. In a statement, the group said, "Unfortunately, due to illness, the remaining dates for Il Divo's December 2021 UK tour have been postponed until December 2022. Il Divo are deeply sorry to their fans, but look forward to returning to the road in the new year and seeing you all in the run up to next Christmas."
Source: Read Full Article