We'd asked you, dear readers, to share your family's Christmas recipes.
Here Anita Aikara/Rediff.com shares her mother's special recipe. You can share yours too!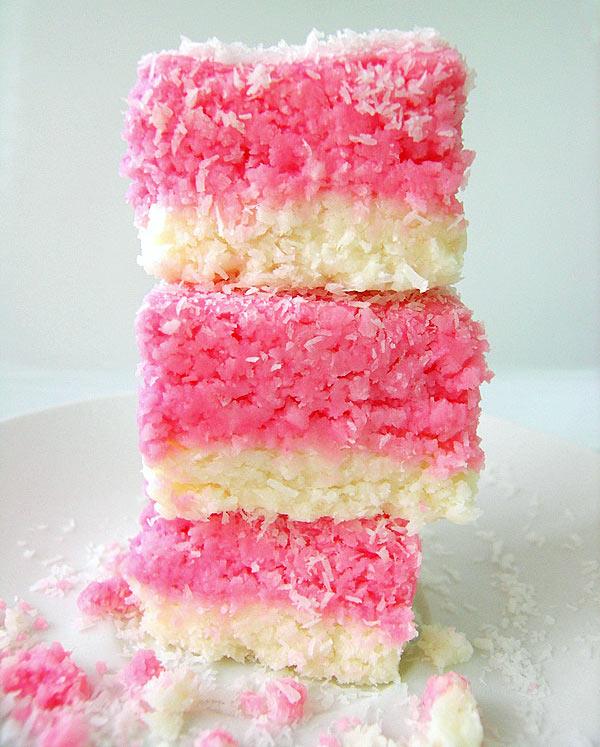 "No Christmas celebration in my Malayalee home is complete without the coconut sweet," says Anita.
"This recipe has been handed down by my mother. It's really simple and easy to make."
Here's the recipe for Coconut Ice Squares:
Ingredients
2 cups freshly grated coconut/ desiccated coconut
2 cups sugar (powdered)
2 cups milk
Rose essence
Food colour (preferably pink)
Method:
Heat milk in a pan.
Add sugar in the pan and keep stirring till it dissolves. Add grated coconut and stir well.
Reduce the flame and keep stirring till the mixture thickens.
Remove from flame. Add few drops of rose essence.
At this point, you can make two equal batches of this mixture and add food colour to just one batch to get a layered effect. Let it cool.
Take a flat-bottom plate and grease it with butter/ghee.
Pour the mixture on the plate and even it out with the back of a greased spoon. You can sprinkle icing sugar on top.
If you are using two batches, first pour the mixture without the food colour and then pour the coloured batch over it.
Allow to set for a few hours by refrigerating it.
Once it has cooled, remove it, cut into small squares and serve.
Dear Readers, you can share your special Christmas recipes with us!
Tell us what's special for Christmas in your hometown, home state and how you celebrate with your loved ones.
Ask your mother, dad, husband, aunt, uncle, grandmother or maybe your food-loving neighbour to share those yummy, nostalgia-filled recipes.
Share your traditional Christmas recipe along with a small write-up on what the preparation means to you.
E-mail the recipes and a picture of the dish, if you have one, to [email protected] (subject: Christmas Recipes) with your NAME and HOMETOWN, and we'll feature the best ones right here on Rediff.com.
*Lead image used for representational purposes only.
Source: Read Full Article