IDK about you, but whenever I frequent my local McDonald's, the only thing that's illuminated by those welcoming golden arches are the dark circles under my eyes that are begging for sleep, one of those tasty iced coffees, and some nuggs and fries. And that's precisely why we have to give it up for Kim Kardashian, who just stunned the paparazzi with her glowing makeup-free skin and turned Mickey D's into her own personal runway on Saturday night.
That's right, in true Kim K. fashion, she made making a quick McDonald's run look supremely cool. Decked out in a cloud-colored sweatsuit that one can only assume is a Yeezy or Fruit of the Loom original (they look the same, TBH.), Kim skipped the drive-thru and actually went inside the fast food chain to get a vanilla ice cream cone, which she was seen carrying along with her phone. By the looks of her otherwise empty hands, she decided to skip the 2 for $4.50 Sausage McMuffin with Egg deal.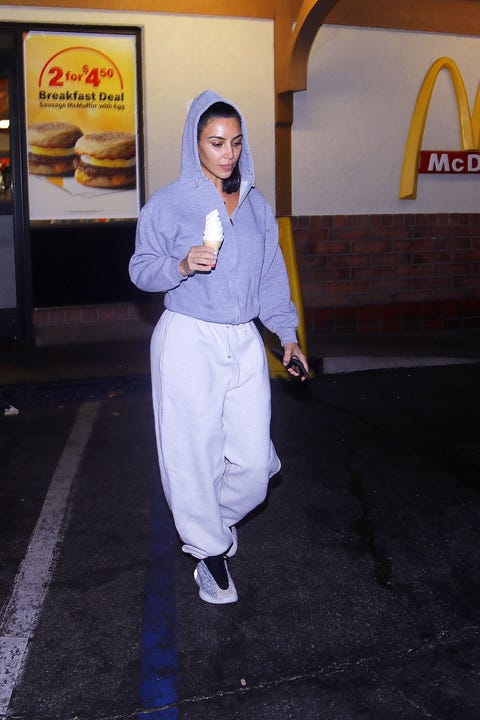 Kim was also wearing some not-yet-released Yeezy Quantam shoes that don't look anywhere near as divisive as those Yeezy Crocs did. One important thing to note about this interesting McDonald's run is that Yeezy is known to use paparazzi shots as a way to promote new products, so this could very well be staged. For all we know, Kim may not have even eaten that ice cream. A shame, if that's the case.
But honestly, I really just need to know what skincare products and fancy treatments she uses to make her skin that glowy.
Source: Read Full Article