Kourtney Kardashian has revealed her doctor told her to drink Travis Barker's semen to help improve her chances of falling pregnant.
Opening up about her fertility journey on the latest episode of The Kardashians, Kourtney – who recently wed Travis in a lavish Italian ceremony – explained that they've been trying out different techniques in the hopes of welcoming a baby.
Speaking about her thyroid levels – which can interfere with the release of eggs – and a recent conversation she had with her doctor about this, the reality TV star said: "I can't remember what he said, if it [her thyroid level] was low or high."
But, she went on, "he told us, well, he told me, that the thing that would help it was drinking [Travis'] come, like, four times a week."
"I love this doctor," Travis jokingly replied, although neither he nor Kourtney confirmed whether they'd tried the technique out.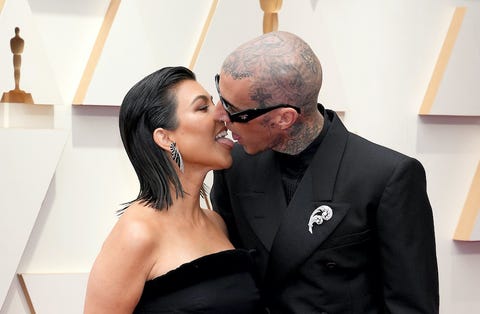 So, does drinking semen actually improve fertility? Dr Verity Biggs, a women's health GP at H3 Health, isn't convinced. "If semen is ingested, it is processed very much like any other food or drink we ingest. It enters the stomach and is broken down and digested," she tells Cosmopolitan UK, reminding us that infections can be spread no matter what route they enter the body. "The composition of semen can be affected by diet and lifestyle," Dr Biggs adds, pointing out that: "Semen contains chemicals like melatonin, oxytocin and progesterones and even anti-oxidants [which] in turn could possibly help to improve mood or have stress-relieving properties."
Semen, she adds, "has even been documented to reduce the risk of pre-eclampsia."
As for the question on all of our minds. "Could it help with fertility? I'm not sure," Dr Biggs notes. "Lifestyle and healthy living would have a bigger impact."
And lifestyle changes are exactly what Kravis are going for in their quest to have a baby. "Our last egg retrieval was not successful," Kourtney later revealed in an on-screen confessional. "So, our new thing that we're going to be trying is a Panchakarma cleanse, which is Ayurvedic. It's like 3,000 years old."
Explaining how the cleanse works, the 43-year-old said it would, "get all of the toxins that are deep within our tissue out of our bodies [to have] better-quality eggs."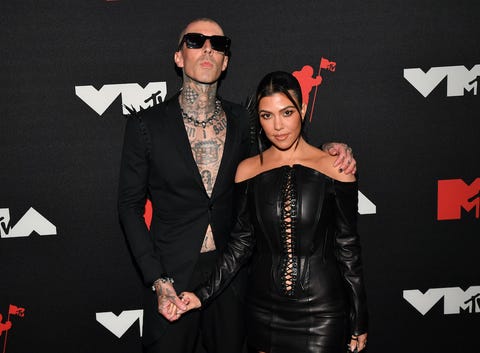 "I'm super grateful that Travis is doing this with me," the reality TV star added. "I don't think I could do it on my own. I just feel like it's something we have to do together. We're making a baby together, we have to be on the same page."
Earlier in the series, Kourtney updated fans on her and Travis' IVF journey, saying: "It's the most exciting thing ever. I'm so happy. Family is everything to us. To be able to make something together would be just incredible."
The Poosh founder has three children with her ex of ten years, Scott Disick, whilst Travis has two with his ex wife, Shanna Moakler, as well as a step daughter with whom he's still close.
Source: Read Full Article