The Queen of Pop makes use of her social media account to share photos of the gushing note and floral bouquet Queen Bey sent her following the release of their collaboration.
AceShowbiz –Madonna is letting the world know how Queen supports another Queen. Taking to her Instagram account, the Queen of Pop showed off a personal sweet from Beyonce Knowles following the release of their collaboration "Break My Soul (The Queens Remix)".
On Tuesday, August 9, the 63-year-old music icon turned to her Story to unveil a heartfelt note the "Halo" singer sent her along with a bouquet of flowers. "Thank you, Queen. I'm so grateful for you," the message read.
"You have opened so many doors for so many women. You are a masterpiece genius," Beyonce further gushed. "Thank you for allowing me to sing in your song and thank you for naming the remix!!!! Love always and forever, B."
Returning the favor, Madonna subsequently thanked the former Destiny's Child member for the thoughtful gesture. "[red heart emojis] thank you!! from one [queen] to another [queen]. I love the Re-Mix! @beyonce [red heart emojis]," Madonna captioned the photo, before sharing a second snap of the flowers, which included lilies and white roses.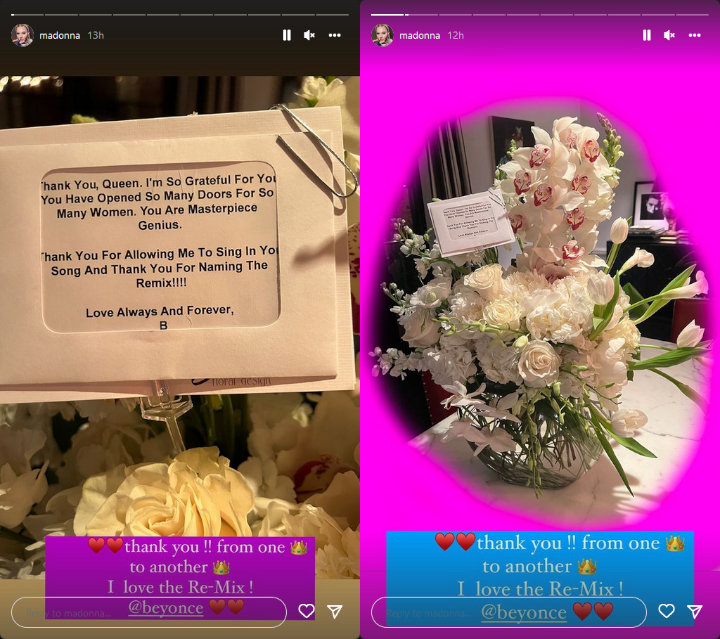 Madonna showed off gushing personal note from Beyonce following their collaboration 'Break My Soul (The Queen Remix)'.
Beyonce's latest remix, which is her fifth collaboration for the song, samples Madonna's hit pop anthem "Vogue". The track also pays tribute to legendary black female musicians, including the likes of Aaliyah, Whitney Houston, Aretha Franklin, Missy Elliott, Lauryn Hill, Janet Jackson, Rihanna, Nicki Minaj, Alicia Keys, Chloe x Halle, Santigold, Rochelle,Lizzo, Tierra Wack, Solange Knowles, Kelly Rowland, Rosetta Tharpe, Bestie Smith, Nina Simone, Betty Davis, Diana Ross and many more.
Following the release of "Renaissance" in July, Beyonce took to social media to thank her fans for their unfaltering loyalty. "Thank you for your unwavering support," she wrote via Instagram at the time, "Thank you for being patient. We are going to take out time and Enjoy the music. I will continue to give my all and do my best to bring you joy. I Love You Deep."
While the record quickly earned both fan and critical acclaim, it has also garnered its fair share of controversy. One day prior to the album's release, Kelis claimed that the "Formation" singer used a sample of her 2003 hit "Milkshake" without permission.
"My mind is blown too because the level of disrespect and utter ignorance of all 3 parties involved is astounding," Kelis said via Instagram at the time. "I heard about this the same way everyone else did. Nothing is ever as it seems, some of the people in this business have no soul or integrity and they have everyone fooled."
Beyonce has since removed "Milkshake" sample from her song "Energy", but the album, which is her seventh studio release, once again came under fire as fans began to criticize the "Single Ladies" hitmaker for using the word "spazz" in her song "Heated". Spazz is a slang term derived from the word "spastic" and considered to be derogatory toward people with spastic cerebral palsy.
The "Love On Top" singer, however, quickly responded to the feedback. "The word, not used intentionally in a harmful way, will be replaced," read an August 1 statement from the songwriter's team.
Source: Read Full Article