Miley Cyrus has some opinions about Pete Davidson and Kim Kardashian West. The singer dedicated a song to the Saturday Night Live star amid rumors that he is dating Kardashian West, and she made some very pointed references to their romance.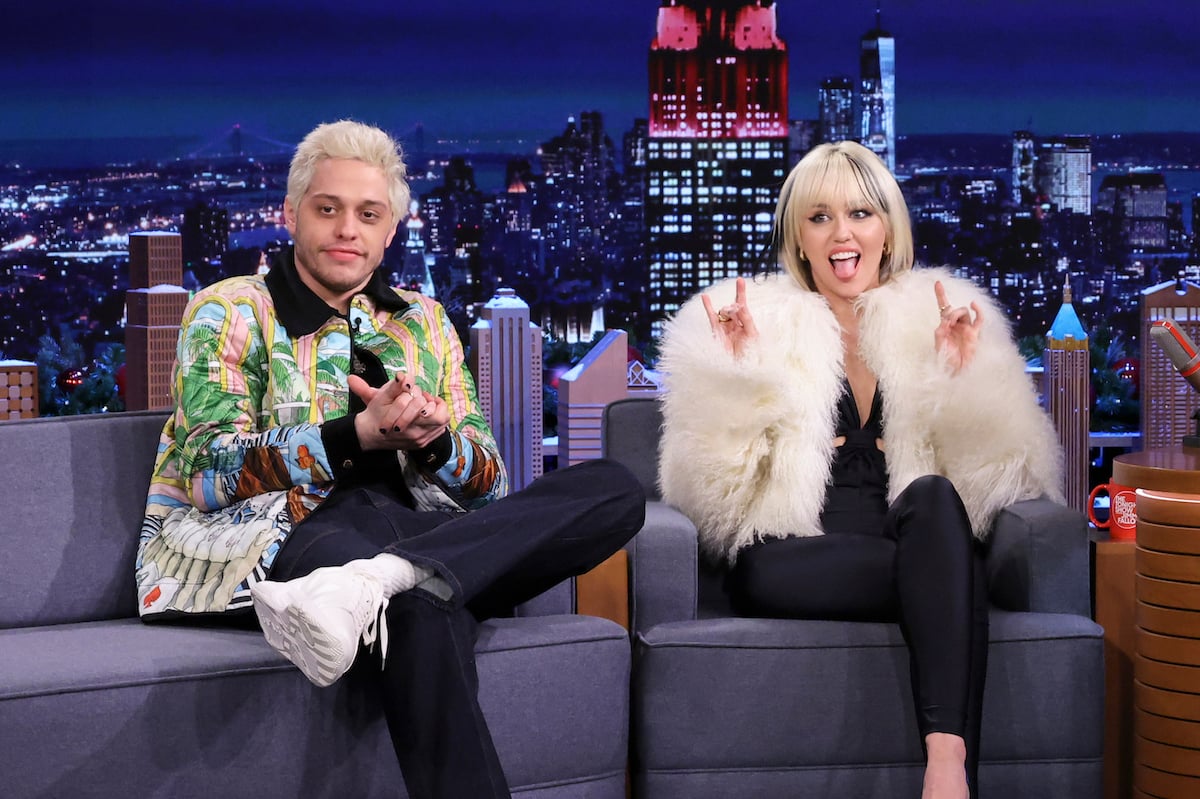 Pete Davidson is rumored to be dating Kim Kardashian West
Davidson has dated several famous women, including Ariana Grande and Kate Beckinsale. Recently, the SNL star has been spotted out with the billionaire reality star Kim Kardashian West. 
The comedian was photographed holding hands with Kardashian West over Halloween weekend. Then he spent his 28th birthday wearing matching SKIMS with the Keeping Up with the Kardashians star.
Although neither celebrity has commented publicly on their relationship, it certainly looks like they are a couple.
Miley Cyrus sang "It Should Have Been Me" to Pete Davidson
On Thursday, Dec. 9, Davidson and Cyrus appeared on The Tonight Show with Jimmy Fallon. Cyrus performed a cover of Yvonne Fair's "It Should Have Been Me," and she dedicated it to Davidson. 
"Pete Davidson, this song is for you," Cyrus announced before her performance. "When I saw those photos, this is what I played." The singer may have been referring to the paparazzi photos of Davidson and Kardashian West holding hands.
Cyrus continued to call Davidson's name throughout the song, and she sang while staring at him and making hand gestures in his direction. She also added her own lyrics to reference Davidson's date with Kardashian West in his hometown by singing, "It should've been me … in that Lamborghini leaving that nice a** restaurant! I'm going to see a movie in freaking Staten Island!"
Davidson laughed and covered his face during the performance.
Miley Cyrus and Pete Davidson have matching tattoos
Although Cyrus was likely joking when singing to Davidson, the two stars have been close for years. They are such good friends that they even once got matching tattoos.
During their appearance on The Tonight Show with Jimmy Fallon, Davidson and Cyrus shared the story of their matching ink. In November 2017, the "Wrecking Ball" singer was the musical guest on Saturday Night Live. She and Davidson played rapping babies in a sketch, in which they rapped the words, "We babies. Cyrus and Davidson ended up getting the phrase tattooed. 
"We were dressed as babies, everything seemed fun and fine," Cyrus shared. "And for some reason, we looked at each other and were like, 'That's a great tattoo… we're doing this.'" Davidson explained, "I got my tattoo guy to come to 30 Rock."
But while Cyrus still has her tattoo, Davidson has since gotten his ink removed. Cyrus found out when she saw the SNL star in a Smart Water ad. In the commercial, David drinks water while getting his tattoos lasered off.
"I'm like, wait a minute, that's right where 'We babies' was," Miley described. She showed off the ink on her inner left ankle. Davidson showed the faded remains of his tattoo, which is on his right wrist.
Source: Read Full Article