When it rains, it pours, and that's just the time you feel like munching on deep-fried snacks.
It's the occasion, therefore, to experiment with Corn Cheese Balls.
Corn and cheese are the stars of Chef Sohail Karimi's recipe, which is ready under an hour, and tastes awesome with just ketchup.
A graduate of the Rizvi College of Hotel Management and Catering Technology, Mumbai, Chef Sohail gained experience at the Taj Mahal Palace and Tower, Mumbai; the Jeddah Marriot Hotel, Saudi Arabia; the Doha Marriot Hotel, Qatar and the Hotel Al Jubail, Saudi Arabia.
Corn Cheese Balls
Serves: 3-4
Ingredients
½ cup grated processed cheese
½ cup grated mozzarella cheese
1 medium-sized potato, boiled, peeled and mashed
1 cup corn kernels, boiled and mashed
1 tbsp chopped fresh parsley
2 tbsp chopped jalapeno pepper
1 tsp red chilly flakes
½ tsp dried oregano
1½ tsp black pepper powder
1 tsp garlic paste, optional
1½ tbsp corn flour
Salt to taste, around 1 tsp
2 tbsp maida or all-purpose flour + extra to coat the cheese balls
Water, as required
2 cups breadcrumbs
Oil for deep frying + little oil while making the balls
Method
In a mixing bowl, add the grated processed and the grated mozzarella cheese, mashed potato, sweet corn, chopped parsley/coriander and jalapeno, red chilly flakes, dried oregano, pepper powder, garlic paste, corn flour and the salt.
Mix well.
Grease your palms with a little oil and take a portion of the mixture and roll it into a ½-inch ball.
Repeat the process for the rest of the mixture.
Keep aside.
In a bowl, add the all-purpose flour with just enough water to get a batter of pouring consistency.
Heat the oil.
On a flat plate, spread some dry maida on one side and breadcrumbs on the other side.
Roll each cheese ball in the flour, dip it in the maida batter and then roll it in the breadcrumbs.
Repeat the same process with all the cheese balls.
Fry the cheese balls in the oil, in batches, over medium heat.
Drain onto paper towel or tissue-lined plate.
Serve hot with ketchup.
Editor's Note: For a vegan version of these cheese balls, substitute the two types of cheese with 1 cup vegan cheese. For a Jain version, skip the alu and use 1 green banana, peeled, chopped, boiled and mashed.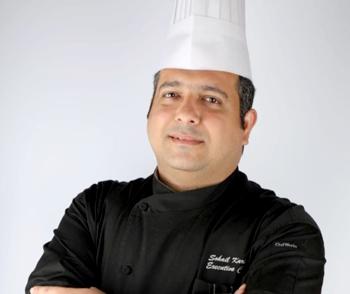 Chef Sohail Karimi is the executive chef at the Radisson Blu Resort and Convention Centre, Karjat.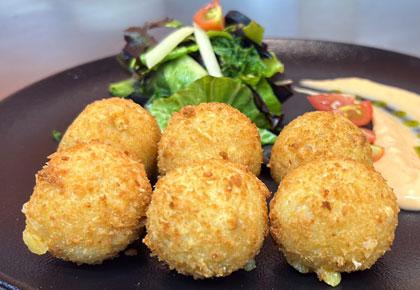 Source: Read Full Article