'His expression was like a million dollars!'
At 6 am on Tuesday morning, as the sun's dawn rays streaked the sky, Sajid Moinuddin, design head at Internet strategy consulting firm Sigmoid Frogs found himself, sleepy-eyed, standing at the Bandra Kurla Complex, north west Mumbai.
With him were a couple of other big-time Apple freaks like himself, all waiting for India's first Apple store to be inaugurated by Apple CEO Tim Cook five hours later.
Several reasons and people had propelled him to that precise but odd spot at this unlikely time.
His wife Rupa Manek had talked him into it.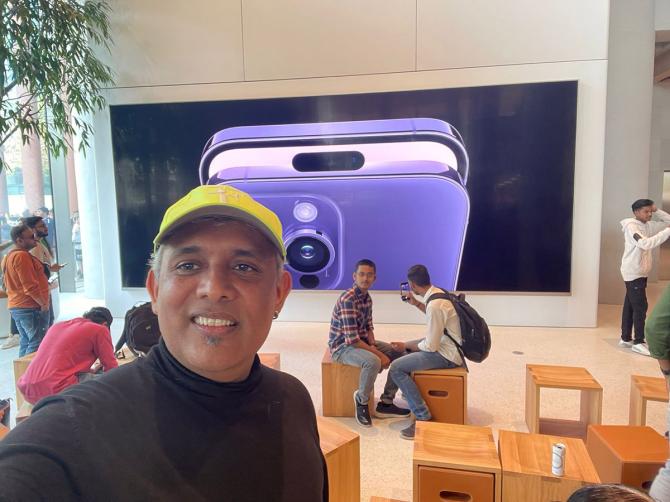 Memories of the father he admired so much, M G Moinuddin, the celebrated designer of the most striking newspaper mastheads India has seen, who had always worked, tinkering with typography, on a Mac and believed in Apple, probably, had brought him there too.
A solid catalyst was his own love for Apple gizmos and equipment.
His first PC had been a 1984 Apple SE, and that little guy, who he had purchased in Dubai, where he had worked for six years (as an art director at FCB Advertising) and who weighed a chunky 10 kg or so, was there standing in line with him, making Sajid the toast of the crowd and eventually catching Cook's amazed eye.
Sajid recalls to Vaihayasi Pande Daniel/Rediff.com the day his much-loved 10-pounder brought him fame: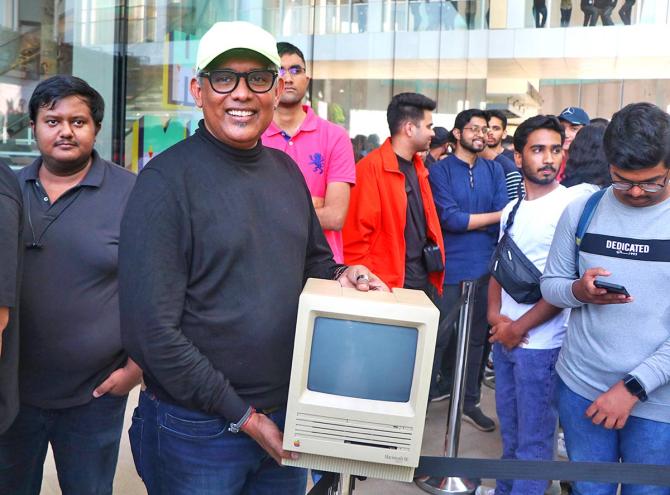 It was not even planned. It was just the night before.
I was talking to my wife: 'Should I go or not?' because I had so much work in the office and I knew this would take up an entire day or half a day.
'Should I take my iPad or my Mac SE with me, if get a chance to get his autograph?' Honestly, I was not sure. I was not even 10 per cent sure that I will get this done, that he will sign it. I thought it would be super crowded and he is such a big man, he will not have time to do all this.
My wife pushed me.
'No, no you are a big Apple fan, you should go' (she persuaded).
So, I said, 'Okay'.
I woke up at 5.30 am, right, reached there at 6 am. I stood for five hours in the queue, because the store opened at 11 am.
I was lucky enough, because the first few who reached there early, there were 15 or so of us, we were put in a separate queue. We got a chance to meet Tim Cook. Afterwards (after meeting them) he went inside. We got very lucky.
The whole media was there, all the news channels, and somebody would (come by and request) 'Sir, can you please lift this (the Mac) so we can take a picture?'
It's quite heavy because it's very old, around 8-10 kg. And my hands were paining. I got tired holding and posing with it and giving pictures to everyone. It was the star attraction, my Mac SE model.
I used to use it, once upon a time and then it conked off. just died. I said then (to myself), 'I am not going to trash this, it's such a (special) piece. I am just going to keep it for posterity and one day, probably, if I get a chance, I will get it signed by somebody from Apple'.
And the day came, the dream came true! I didn't realise it would be Cook himself.
It's priceless now (post the autograph). Amazing value — 10 x the amount (laughs).
I was number 16 when I reached BKC at 6 am. (You couldn't go out to get water or food) because you could not leave the queue. You had to stay. There were guys who had been camping since the previous night. They came at 7 pm the night before and they camped there and they slept.
And when they saw my Mac (they exclaimed) 'Oh god you are the original. You are the OG. You should have come last night. We would have had so much fun and all'.
Then everyone started taking pictures with it. Immediately. All those Apple fans.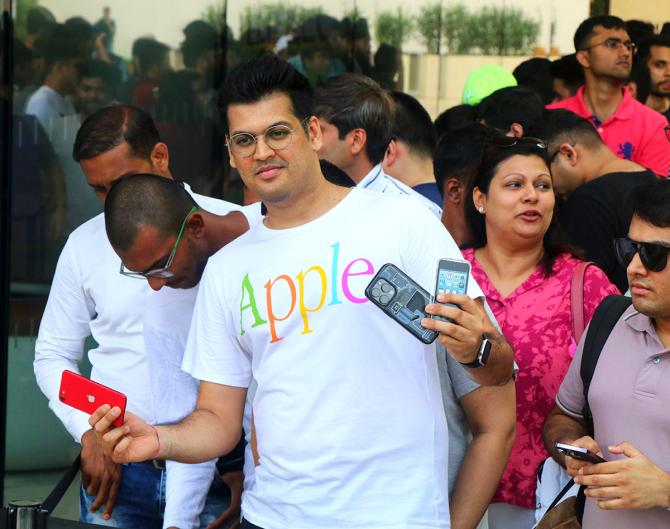 Pranav, the guy who was standing first (in the queue) he got an old iPod and then he took Tim Cook's signature on his phone.
People got some stuff. The 2G phone, the first generation phone. I saw it. Of course, they didn't get it signed. Everyone took pics with me and the Mac.
I was waiting patiently (to meet Cook) because there was one very small child of seven or eight years and her mother — they were in front of me. The girl had made some card. She gifted it to him. He (Cook) was very happy and he was very appreciative of the efforts and all. It was a small girl. She walked and then I walked in.
I was standing right behind. But he had not noticed me. So, I go there with my Mac — juggling it because it is heavy — and his expression was like a million dollars! That was what caught the imagination of everyone because he was honestly shocked.
He said, 'Oh my god, you still have this!'
(I told him) 'I preserved it and once upon a time I was using it so I am your true Apple fan. For 30 years I have been using Apple products'.
I told him, 'I want this to be autographed'.
He said, 'Ya, ya. Sure!'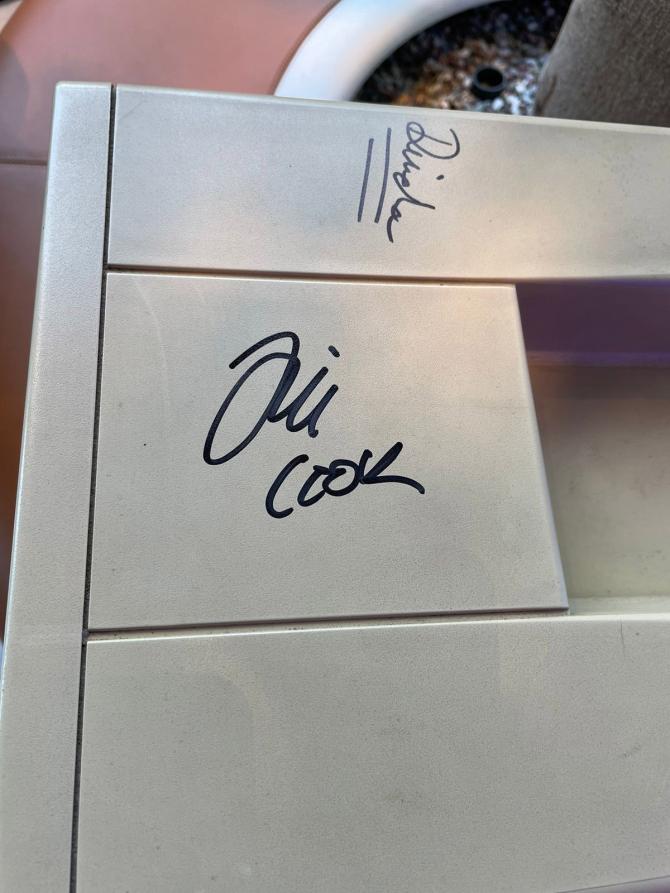 Then the assistants came and they took the Mac from me and took it inside. They said, 'Don't go anywhere we will get this autographed and give it back to you. Don't you remove the cap (so they could find him).'
My green cap was a hit. It was a neon Roger Federer cap. I am also a big fan of Roger Federer.
They actually signed the Mac and gave it back to me. The bonus, the icing on the cake, was that there was another lady, the vice president of Apple retailing, Deirdre O'Brien, I didn't know of her honestly. When I walked in and I finished with Tim Cook and shook his hand and all, she comes up to me, 'Do you mind if I take pictures with you?'
Then she said 'I was the one who worked on this product. I was the product person at that time'.
I said: 'Oh wow I didn't even know that'.
'Do you mind if I also sign it?'
I said, 'Please go ahead'. She also signed. I have got two signatures!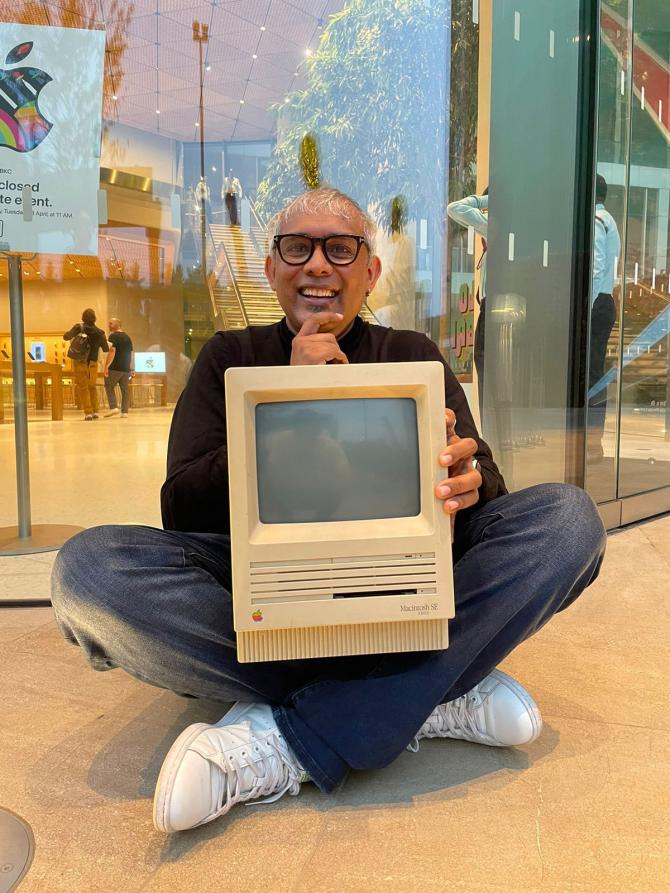 When I went inside the Apple store I just sat down because I had been was standing for five hours (laughs heartily).
Then all the media people came up started taking pictures and they wanted bites. When I walked in all these Apple employees in green T-shirts, they had made an aisle, like a corridor and everybody was going to me — the original OG, the god has arrived types. I was holding it up. That was like a good moment.
It was my dad who introduced me to Macs. My father was a legendary designer, M G Moinuddin… He would come home and work on these Apple computers.
I was a kid, a school kid about to go to college and I got fascinated.
He said this is the new software design. I would just watch him play with typography. He was a big fan of typefaces.
He was doing all the masthead designs for different newspapers.
There was a software called Ready Set Go. It was black and white.
I can't imagine how he used to do mastheads on this particular model. There were hardly any fonts available. There were only 8-10 fonts. But he was an early adopter of the Mac.
He was brilliant with tech. Loved using a Macintosh.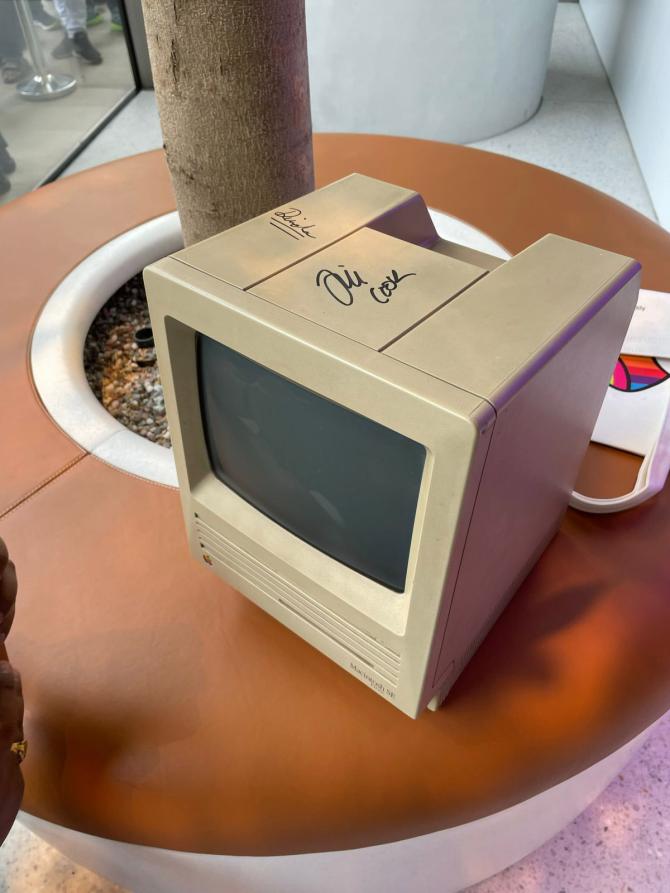 I am going to make a very special glass case for my Mac now and protect it and make sure the signature doesn't evaporate or vanish.
I will make it like a proper temple!
Feature Presentation: Ashish Narsale/Rediff.com
Source: Read Full Article