More and more excerpts of Spare are hitting the internet, showing just how determined Prince Harry was to expose his family for their supposed wrongdoings!
In the latest sneak peek shared by Us Weekly on Thursday, the Duke of Sussex claims his father King Charles III and brother Prince William treated him horribly after he defended Meghan Markle against racism!
Here's the deal. We all know the Deal or No Deal alum was mistreated by the UK media when her romance with the prince was first revealed. Things got so bad, headlines like "Harry's new girl is (almost) straight outta Compton" started hitting the press, deeply upsetting both the actress and her new man. They even discussed this in their Netflix docuseries out last month.
Well, in Spare, Harry claims he wasn't "ready for the racism" his future bride faced as news of their romance broke, and when he saw the headline noted above, he felt "ashamed" and "angry." He reflected in the book:
"My Mother Country. Doing this? To her? To us? Really?"
Then he recalled seeing a Huffington Post article calling his silence on the matter "unforgivable," which prompted him to speak out. At the time, he released a strongly-worded statement via his reps, saying:
" worried about Ms. Markle's safety and is deeply disappointed that he has not been able to protect her. It is not right that a few months into a relationship with him that Ms. Markle should be subjected to such a storm. He knows commentators will say this is 'the price she has to pay' and that 'this is all part of the game.' He strongly disagrees. This is not a game — it is her life and his."
The statement added:
"He knows that it is unusual to issue a statement like this, but hopes that fair-minded people will understand why he has felt it necessary to speak publicly."
It was largely seen as the right thing to do at the time — but not to Charles and William! The statement actually "generated a whole new onslaught" of drama from his fam, he detailed:
"Pa and Willy were furious. They gave me an earful. My statement made them look bad, they both said. Why in hell? Because they'd never put out a statement for their girlfriends or wives when they were being harassed."
Wow. The royals always seem to be looking out for themselves instead of others! SMH.
Harry shared a similar sentiment in his Netflix series when he revealed some members of his family weren't open to standing up for Meg since other wives had faced similar attacks from the press when they joined the family. But he argued it was different because of "the race element." Still, it wasn't enough to convince the others. How awful to think Harry supporting his partner would be such a problem! They all should have come out condemning racism, we mean HOW HARD IS IT??
There's more craziness to unpack, too…
In another excerpt, Harry reveals Prince William was actually a big fan of the Suits alum before they met! Wait, what??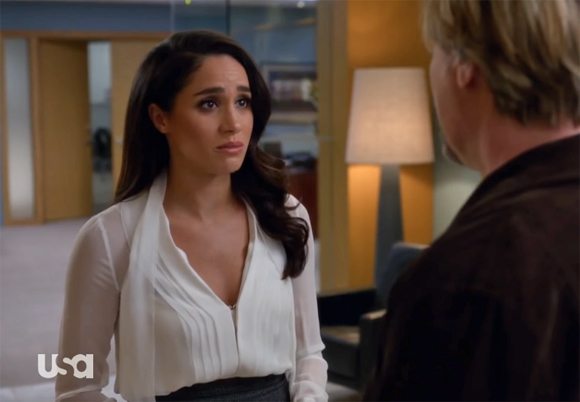 According to the Archewell founder, the Prince of Wales and his wife Princess Catherine (AKA Kate Middleton) were "religious" fans of the legal drama. Because of this, he thought he had no reason to worry about them getting along with his significant other — but, boy, was he wrong! While discussing Meghan's introduction to William, Harry revealed the American went in for a hug which "freaked" out the heir. He explained:
" completely freaked him out. He recoiled. Willy didn't hug many strangers. Whereas Meg hugged most strangers."
A curtsy is usually "protocol" for meeting a member of the royal family for the first time, which the Cali native followed through with when meeting Queen Elizabeth II. But Harry didn't think it was necessary to enforce the rules with his own brother — which was probably his first mistake. He said:
"When meeting my grandmother , I'd made it clear — this is the queen. But when meeting my brother, it was just Willy, who loved Suits."
"Willy" being a big fan of Suits just cracks us up! If you've ever wondered who watches these USA shows that all go eight seasons, the answer is apparently the British royal family!
The Invictus Games founder went on to reveal when he first told the Duke and Duchess of Cambridge about his romance, they were shocked — with Will even claiming it was "impossible." Harry noted:
"I was baffled, until Willy and Kate explained that they were regular — nay, religious — viewers of Suits. Great, I thought, laughing. I've been worrying about the wrong thing. All this time I'd thought Willy and Kate might not welcome Meg into the family, but now I had to worry about them hounding her for an autograph."
Seeing as the pair were already so fond of his girlfriend (or, at least, her TV show), the father of two was hopeful they could all bond as a "foursome," he wrote:
"I'd said this to Willy so many times, and he'd always replied: 'It might not happen, Harold! And you've got to be OK with that.' Well, now I felt that it was going to happen and I told him so — but he still said to slow down. 'She's an American actress after all, Harold. Anything might happen.'"
He was somewhat right about that! We bet William wasn't expecting Harry to eventually run off to America with Meghan! If only his and Kate's love of Suits could have been enough to pull them all closer… Thoughts?! Sound OFF (below)!
Source: Read Full Article