The 'West Side Story' actress reminds everyone that 'this world needs you,' while Angus' 'Euphoria' co-star Colman Domingo tells his social media followers to 'check on loved ones' as they pay tribute to the late actor.
AceShowbiz –Rachel Zegler has shared a poignant message in the wake of Angus Cloud's shocking passing. Paying tribute to the late actor, the actress made use of her Twitter account to remind everyone that they are "loved" regardless how the world makes them feel.
The "Shazam! Fury of the Gods" star tweeted on Monday, July 31, "please remember how loved you are. this world is so quick to make you feel otherwise. there are reasons to stick around. and this world needs you." She ended it with a nod to Angus, writing, "oh, angus. we celebrate you."
Chloe Bailey also took to the micro-blogging site, which was recently rebranded to X, to mourn the death of the "Euphoria" star. "wow angus cloud gone too soon.. rest in peace angel," the singer/actress posted.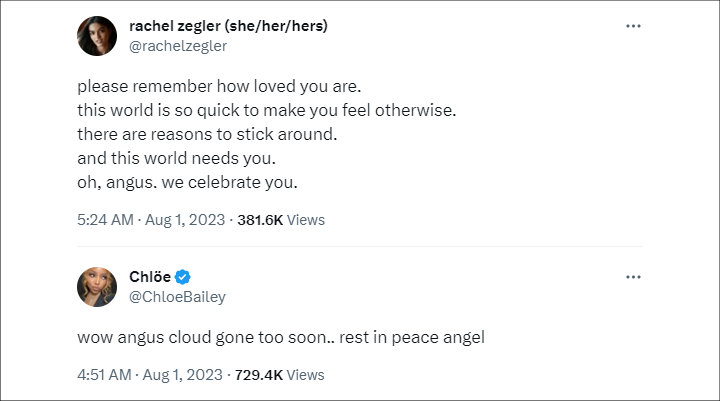 Rachel Zegler and Chloe Bailey paid touching tribute to Angus Cloud.
Angus' "Euphoria" co-star Colman Domingo remembered him on Instagram, "Couldn't be more real, original and sweet," while posting a group photo of the show's cast. "Loved this kid. Always smiles. I hope this sensitive soul is at rest. Check on loved ones. Check on them."
He also posted on his Story a picture of him, Angus and Jacob Elordi. "And that was his smile. That was him. May he rest sweetly in peace," the 53-year-old captioned the snap.
Javon Walton, who plays the younger brother Ashtray of Cloud's character Fezco, posted a picture of him sharing a hug with his on-screen brother. "rest easy brother," he wrote in the caption. He also posted on his Story, "forever family."
Storm Reid shared a clip of one of Angus' most touching scenes on "Euphoria". The 20-year-old admitted, "the tears just won't stop." Drake simply said, "good soul," along with a picture of the late 25-year-old star.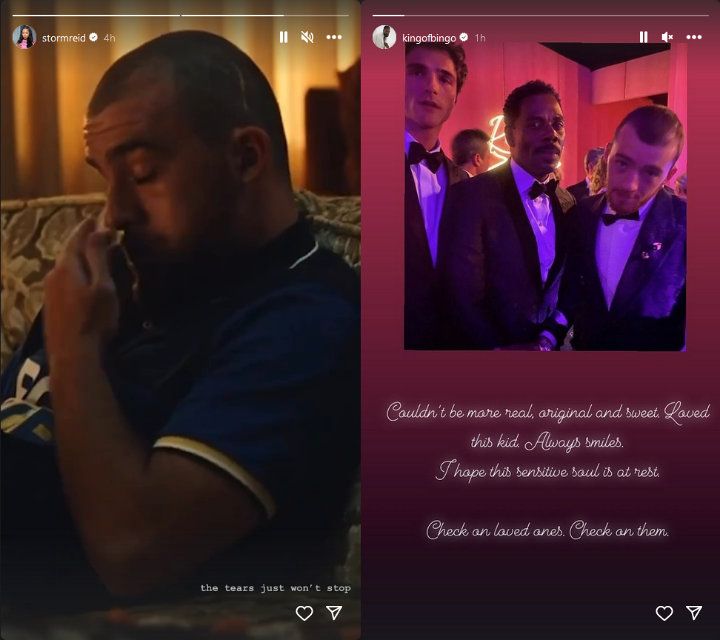 Storm Reid and Colman Domingo mourned the death of the 25-year-old actor.
Meanwhile, series creator Sam Levinson said in a statement, "There was no one quite like Angus. He was too special, too talented and way too young to leave us so soon. He also struggled, like many of us, with addiction and depression. I hope he knew how many hearts he touched. I loved him. I always will. Rest in peace and God Bless his family."
Angus' death was confirmed by his family on Monday. "It is with the heaviest heart that we had to say goodbye to an incredible human today. As an artist, a friend, a brother and a son, Angus was special to all of us in so many ways. Last week he buried his father and intensely struggled with this loss," his family said in a statement.
They added, "The only comfort we have is knowing Angus is now reunited with his dad, who was his best friend. Angus was open about his battle with mental health and we hope that his passing can be a reminder to others that they are not alone and should not fight this on their own in silence."
"We hope the world remembers him for his humor, laughter and love for everyone. We ask for privacy at this time as we are still processing this devastating loss," the family concluded.
The cause of death is not immediately known as police have launched an investigation into it. Meanwhile, a 911 call revealed his mom reported his "possible overdose" prior to his passing. She made the call around 11:30 A.M. on Monday, July 31 after finding him unresponsive at his family's home in Oakland. She told the dispatcher that the actor did not have a pulse. He was eventually pronounced dead on the scene.
You can share this post!
Source: Read Full Article