Upma lovers, Bethica Das has a diabetic and heart-friendly recipe for you. It's a tasty substitute for rava or sooji or semolina.
Millets, according to WebMD.com, are high in niacin, vitamin A, potassium, calcium, iron and antioxidants (that ward off the effects of free radicals in the body, an excess of which can cause heart disease, cancer, high BP etc).
Millets also have a 'low-glycemicindex' and happily take much longer to be processed by the stomach and digestive system.
Therefore Bethica's Foxtail Millet Upma is a special food. Fortunately, because of its high GI, the dish is very filling and makes for a wholesome meal to be had, if you prefer, with coconut chutney and/or pickle.
Bethica is a self-trained homechef, who started cooking from rather young, maintaining a notebook of recipes. She once ran Bengali food classes in Chennai.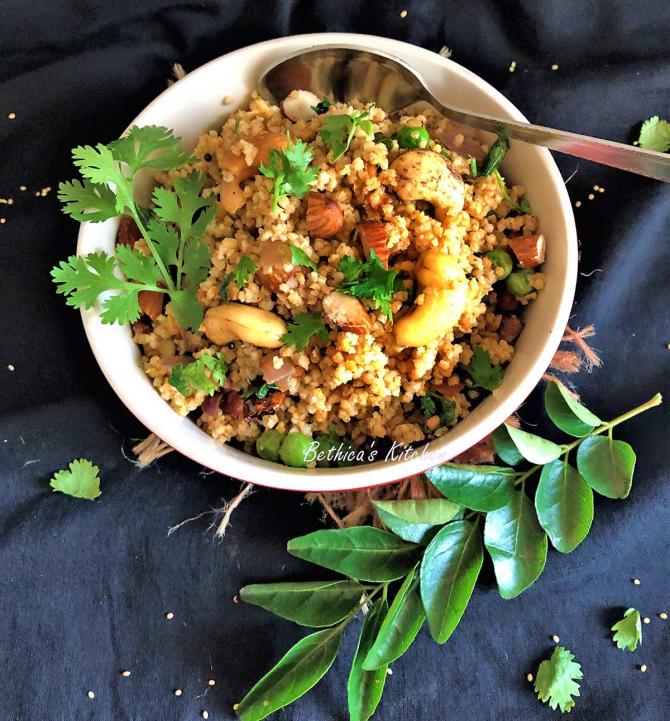 Foxtail Millet Upma
Serves: 2-3
Ingredients
1/3 cup kangni or kodu or foxtail millets
½ tsp rai or mustard seeds
2 dry red chillies, broken
8-10 black peppercorns
1 tsp urad dal or split white gram
1 sprig curry pattas or curry leaves
2 green chillies, chopped
1 tsp chopped ginger
1 onion, chopped
¼ cup green peas, frozen or fresh
¼ tsp black pepper powder
Salt to taste, about 1 tsp
1 tsp sambar powder
1 tsp ghee
2 tbsp oil
1 tbsp chopped fresh green dhania or coriander or cilantro leaves
Handful whole nuts, like cashews, almonds and pecans, optional
Water
Coconut chutney, to serve
Pickle, to serve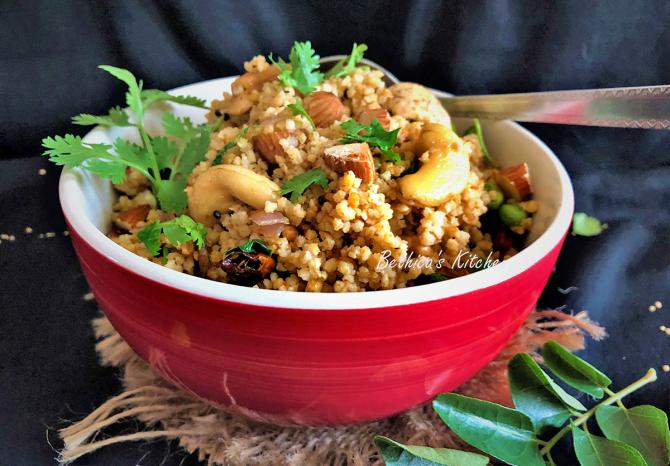 Method
Soak the millets in sufficient water for 15-20 minutes.
Drain and transfer into a pressure cooker.
Add water in the ratio of 1:2, cover, and pressure cook for 3 whistles.
When cool, fluff up with a fork.
Keep aside.
Heat the oil in a heavy-bottomed kadhai or saucepan over medium heat.
Add the mustard seeds and let splutter and then the dry red chillies.
Add the curry leaves, urad dal, chopped green chillies, ginger, onion and the peppercorns.
Saute till the onion turns translucent.
Add the nuts, green peas and the black pepper powder.
Saute for a few seconds and add the cooked millets and the salt.
Mix and fry for 2 minutes or so more.
Add the sambar powder and mix.
Take off heat.
Add the ghee and the chopped coriander leaves.
Serve hot by itself, or with a coconut chutney or pickle.
Editor's Note: To veganise this recipe, replace the ghee with cashew butter. For a Jain version skip the onions and use 1 tsp saunth or ginger powder instead of fresh ginger.
For coconut chutney, try Mayur Sanap's Peanut-Coconut Chutney Recipe.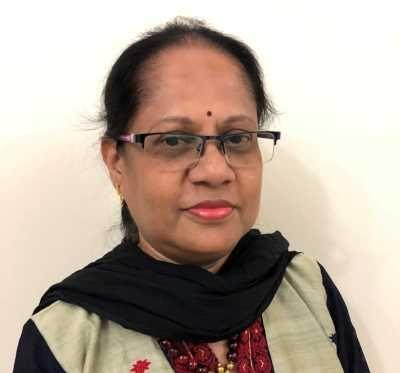 Bethica Das is a Sharjah-based food blogger.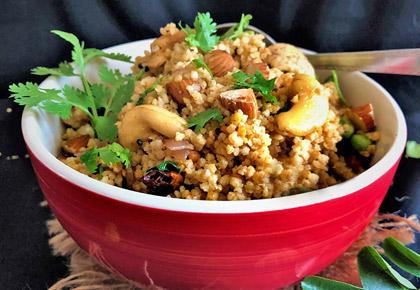 Source: Read Full Article