Nothing spells friendship better than a bowl of cheesy pasta shared between four pals. It also serves as the top excuse to enjoy Friendship Day at home.
Nadiya Sarguroh's Cheesy Tomato and Basil Pasta is a cinch to whip up and doesn't require much cooking skills.
So, don your chef's apron and hat, as your besties and you bond while putting together some delicious grub that can be enjoyed with garlic bread and your favourite drink.
Nadiya is a dab at making Italian food. Try her Creamy Mushroom And Peas Risotto too.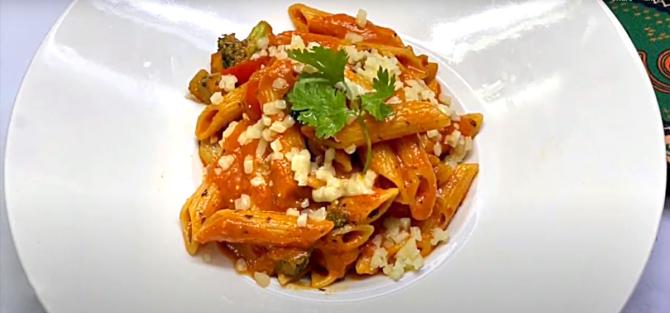 Cheesy Tomato and Basil Pasta
Serves: 4
Ingredients
250 gm uncooked penne or tubular-shaped pasta
150 gm cream cheese
2 medium-sized onions, roughly chopped
6 large tomatoes, roughly chopped (please see the note below on substituting paste for tomatoes)
1 red capsicum or bell pepper, roughly chopped + 1 red capsicum, cut into long strips
½ green zucchini, skin on, cut into cubes
½ yellow zucchini, skin on, cut into cubes
150 gm broccoli, cut into small florets and blanched
100 gm baby corn, slit lengthwise
5 pods garlic, finely diced
½ tbsp red chilly powder
1 tbsp sugar
1 tsp haldi or turmeric, optional
1 tbsp finely chopped fresh basil leaves
½ tsp oregano
1 tsp red chilly flakes
Water
Milk, if required
5 tbsp extra virgin olive oil
Salt to taste, around 2 tsp
To serve
Chopped green dhania or coriander or cilantro, optional
Grated mozzarella cheese
Garlic bread
Method
In a large saucepan bring 3-4 cups water to boil.
Add 1 tsp salt and the pasta.
Stir and cook until the pasta is done al dente — ideally use a timer so it does not overcook.
Al dente means 'to the tooth' or pasta that has a bite to it — not too soft.
Well-made pasta always has a bite to it.
Packets of pasta usually have their cooking time listed on them.
To make a pasta al dente, subtract 1 minute or 1½ minutes from the cooking time given.
Drain the pasta in a colander or strainer and return to the saucepan.
Drizzle 2 tbsp of the extra virgin olive oil on the pasta and lightly toss to prevent it from sticking or clumping together.
Keep aside.
Heat the 2 more tbsp of the extra virgin olive oil in another saucepan for less than a minute over medium heat.
Add the strips of red bell pepper,, chopped green and yellow zucchini, broccoli florets and the baby corn.
Add the oregano, red chilly flakes, 1 tsp salt.
Keep tossing the vegetables as they cook and fry for 5-7 minutes over medium heat.
Keep aside.
Grind the tomatoes, onions, red bell pepper in a blender/mixer till a smooth paste.
Keep aside.
Heat the remaining 1 tbsp oil in a medium-sized frying pan over medium heat.
Add the chopped garlic and fry until golden brown.
Reduce the heat and add the ground tomato-onion-red bell pepper mixture.
Stir and let the mixture simmer.
Add the red chilly powder, sugar, turmeric powder, and a little more salt only if required.
Mix and simmer till the mixture turns bright red.
Add ¼ cup water and cook the mixture for 5-8 over low heat.
Add the cream cheese and let it melt into the mixture, cooking for another 5-7 minutes.
If the sauce is too thick after adding the cheese, add a little milk and cook further for another 4-5 minutes.
Add the finely chopped basil and stir.
Add the cooked pasta and toss so well-coated with the sauce.
Let the pasta soak in the sauce for a few minutes and warm up.
Take off heat
Garnish with chopped coriander leaves, grated mozzarella cheese.
Serve hot with garlic bread.
Editor's Note: Since tomatoes are expensive, opt for canned or pre-pureed tomatoes by brands like Kissan or Dabur which is cheaper. Substitute 6 tomatoes with 200 gm tomato paste and skip the sugar in the recipe, because the paste will be probably be sweet.
For vegan pasta skip the cream cheese and use plenty of grated vegan cheese while serving.
To cook this pasta Jain-style, omit the onions and garlic.
For low-fat, low-carb version of this dish skip the cheeses altogether or use vegan cheese and swap penne for wholewheat penne.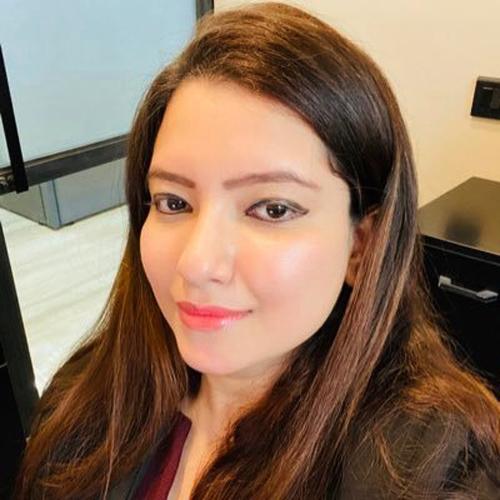 Nadiya Sarguroh lives in Mumbai and publishes the food blog HautePot.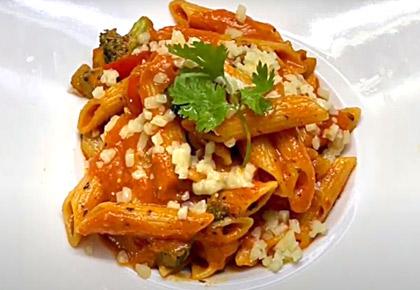 Source: Read Full Article