Upgrade the weekend with Chef Sabyasachi Gorai's pungent Mutton Gosht that's high on heat and pretty easy to put together.
A beautiful combination of Indian masalas, you can rustle up an Indian feast at your home with this dish that goes well with steamed Basmati rice and naans or any Indian flatbread.=
Pair it with Chicken Kebabs, Malay Chicken, Chicken and Noodles Samosa and Fig Phirni or Cottage Cheese Milk Pudding.
Asansol-born Chef Saby feels that post-COVID-19 we all should look at eating healthy, staying away from processed food and locate the freshest produce for our cooking.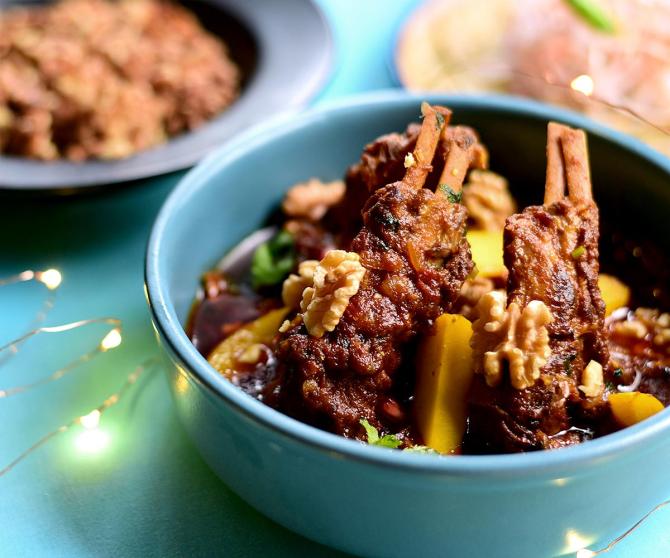 Mutton Gosht
Serves: 3-4
Ingredients
500 gm muttion, curry pieces with bones
2 large onions, thinly sliced
2 large tomatoes, thinly sliced
1 tbsp ginger-garlic paste
3 green chillies, slit
2 tbsp Kashmiri chilly powder
2 tbsp coriander powder
2 tsp garam masala powder
¾ cup grated fresh coconut
½ cup walnuts halves
½ cup walnuts chopped
Green dhania or coriander or cilantro leaves, chopped, for garnish
4 tbsp oil
Salt to taste, about 2 tsp
Water as needed
Method
Heat the oil in a pressure cooker.
Add the onions and cook until golden.
Once the onions are browned, add the ginger-garlic paste and saute for a minute or so more.
Add the tomatoes and the slit green chillies.
Cook till the tomatoes turn mushy.
Add the spice powders along with the salt and the chopped walnuts.
Mix well.
The masala should be thick and almost like a paste.
Add the mutton.
Toss well till the masala coats the mutton pieces.
Keep cooking the mutton mixture till the masala turns a little darker brown in colour.
Add 1 cup of water.
Cover and pressure cook for 4 whistles.
Reduce the heat and let the mutton simmer in the cooker for 15 minutes.
Open the cooker.
While the mutton is cooking, dry roast the grated coconut in a pan till it is golden brown.
Transfer it to a blender and blend into a fine puree.
Once the mutton is cooked, add the coconut paste.
Let it simmer for another 10 to 15 minutes till the oil begins to separate.
Garnish with the whole walnuts.
Add the chopped coriander leaves and take off heat.
Serve hot with rice or flatbread.
Editor's Note: Dining with vegetarians too? Substitute the mutton with an equivalent amount of paneer and voila you have a masala paneer dish.
For a little extra taste drizzle a tbsp of ghee over the mutton before serving.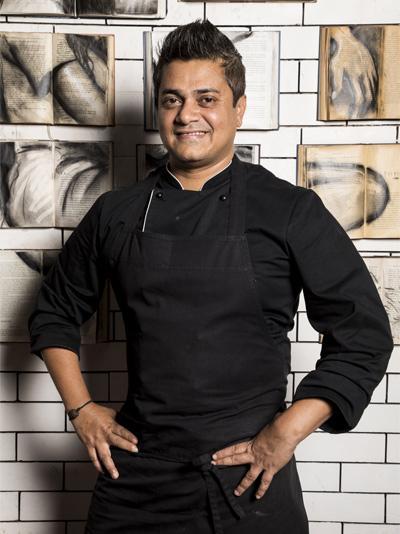 Chef Sabyasachi Gorai is a consultant chef and mentor.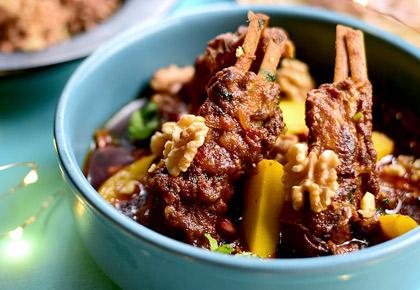 Source: Read Full Article