Chickpeas, herbs and spices are combined to create the falafel, a popular vegetarian Middle Eastern snack served with warm pita bread, hummus and salad.
Chef Gunjit Singh Chawal goes on an experimental spree and adds minced chicken as a worthy addition to the ground chickpeas mixture, to create a desi-Middle Eastern fusion kebab he calls a Chicken Falafel.
Chef Gunjit, who once ran his own cafe in Shimla, has worked in Shimla, New Delhi, Pune, Ranthambore, Pune and Mumbai.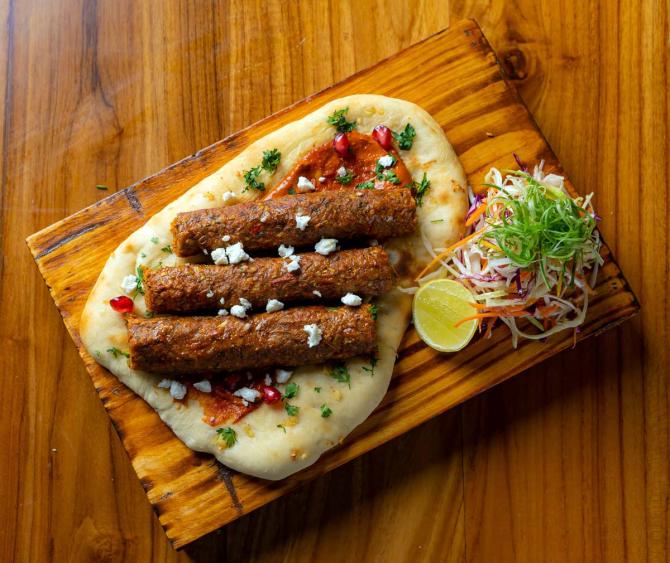 Chicken Falafel
Serves: 2-3
Ingredients
For the chicken mixture
200 gm minced chicken, washed and drained
4 gm jeera or cumin powder
4 gm dhania or coriander powder
2 gm salt
2 gm Baharat Middle Eastern/Arabic spice blend, available for purchase online please see the note below
For the falafel mixture
200 gm kabuli channa or chickpeas, soaked overnight or for at least 12 hours
25 gm ginger
25 gm garlic
50 gm onions
3 lines, juiced
Small bunch dhania or coriander or cilantro
Small bunch parsley
5 gm jeera or cumin powder
5 gm chaat masala
3 gm garam masala
3 gm haldi or turmeric powder
2 gm green chillies
Salt to taste, about ½ tsp
Water
Oil
To serve
1 pita bread
Hummus, please see the note below
Harissa, a hot Moroccan sauce, please see the note below
Tzatziki, a cucumber yoghurt dip, please see the note below
Sumac powder, a tangy, lemony spice used in Middle Eastern cooking, available for purchase online (you may, not very satisfactorily, substitute with 1 tsp lemon zest)
Green dhania or coriander or cilantro, finely chopped
2-3 tbsp or more crumbled feta cheese, optional
2 tbsp pomegranate arils (seed pods), optional
A green salad of julienned carrots, ribboned spring onions, shredded iceberg lettuce or cabbage, purple cabbage and julienned capsicum
Lime wedges
Method
For the chicken mixture
In a bowl, mix the minced chicken with the jeera powder, dhania powder, Baharat spice blend.
Add the salt.
Mix well so the salt and the spices are well combined.
Keep aside.
For the falafel mixture
Rinse and drain the pre-soaked chickpeas.
Keep aside.
Roughly chop the ginger, garlic, onion, parsley, coriander leaves and green chilly.
Transfer to a mixer/blender along with the chickpeas and blend till fairly smooth, with very little or ideally no water.
Add the lime juice, jeera powder, chaat masala, garam masala, turmeric powder, salt and blend again.
Keep aside.
For the chicken falafel
In a bowl, combine the chicken mixture with the falafel mixture.
Make sure the proportions are equal.
Mix well until you have a coarse mixture.
Divide into three equal portions and, using your hands, shape each portion into a kebab-shaped logs, about 1-inch in diameter and 4 inches long.
Heat the oil in a frying pan over medium heat.
Shallow fry the falafels, flipping, till golden brown and the insides are cooked.
Drain onto a tissue or paper towel-lined plate.
To serve
Place a warmed pita bread on a plate.
Spread 1-2 tbsp of the harissa sauce and 1-2 tbsp hummus.
Place the fried falafels over it (please see the pic above).
Sprinkle a dash of sumac powder on each kebab.
Garnish with the crumbled feta cheese, chopped coriander, pomegranate arils.
Add a side of shredded green salad and the lemon wedges.
Serve with the tzatziki dip.
Editor's Note: Baharat spice blend can be purchased online or you can opt to make it at home using this recipe (external link).
To make your own hummus at home, follow Vrushali Kulkarni Negandhi's recipe for Creamy Rich Hummus.&
To make your own harissa sauce at home, follow Arthur J Pais' recipe for Harissa Sauce.
To make your tzatziki cucumber dip at home, follow Vindhya Karwa's recipe for Tzatziki.
Gunjit Singh Chawla is the corporate chef at the Independence Brewing Co, that has outlets in Mumbai and Pune.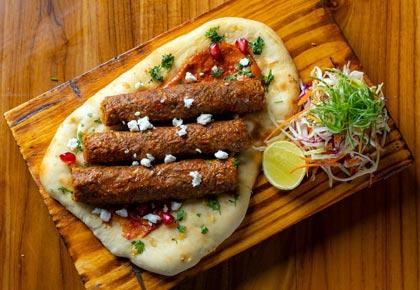 Source: Read Full Article