I would make dosa with store-bought batter until I realised how easy it is to make it at home.
The best thing is that you can easily store this in the refrigerator without it going bad for up to two days. The making process is fairly easy too. And it comes handy when you are short of time in the kitchen.
I really like how you can make something utterly delicious out of fermented millets, rice and/or pulses. Be it dhokla, idli, vada, chilla and dosa — there are variety of dishes to be found in our rich food diversity.
What also makes batter special is how they are your natural source of probiotics, which is so essential to gut health.
I am drawn to food recipes that are batter-based and one such encounter happened when I tasted Davanagere Loni Dosa in Pune.
There are many moving carts in the city that make this dosa on the spot and serve it hot with batata bhaji and red tamarind/tomato and white coconut chutney.
This dosa is small in size, but thick as an uttapam, and has a super soft texture with a generous amount of loni or fresh white butter sprinkled on it. I love it!
I quickly realised this dosa was not Pune's discovery but finds its origin from the city of Davanagere in Karnataka. And hence the name.
The other half of the name, 'Benne Dosa' literally means butter dosa in Kannada. Its batter is similar to the regular dosa, with murmura or puffed rice being the only unique addition. The soaked puffed rice is added in the mixture before it is blended to smooth paste. This gives the dosa its signature cotton-like softness.
A pinch of baking soda is also used in the batter, but I usually skip it because it isn't really required.
Benne Dosas are traditionally served with potato sabzi and chutney, but they also taste divine with gravy-based dishes. My favourite choice of accompaniment is a peanut-coconut chutney (the recipe is provided below), which literally takes less than two minutes to whip up.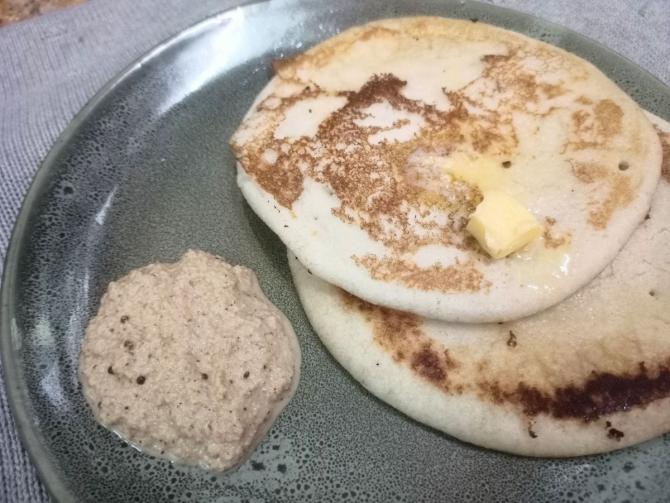 Benne Dosa
Servings: 10-12
Ingredients
For the dosa
2 cups idli or dosa rice or any short-grained rice, washed and soaked for 5-6 hours
½ cup urad dal or split white gram, washed and soaked for 5-6 hours
½ tsp methi daana or fenugreek seeds, washed and soaked for 5-6 hours
1½ cups murmura or puffed rice, washed and soaked for 30 minutes
Pinch baking soda, optional
Butter, preferably saphed makhan or white butter, as required
Salt, to taste, about 2 tsp
Water, as required
Method
In a grinder, blend the rice, urad dal, puffed rice and methi seeds to a smooth paste.
Use water sparingly or only as required.
The batter needs to be of thick consistency.
Transfer the batter into a bowl and give it a good mix.
Let the batter rest in a warm spot for 6-8 hours or overnight.
Once the batter is well set, add salt, baking soda, if desired and mix gently.
Heat a cast iron tava griddle or non-stick pan.
Smear it with the butter.
Spread out the batter in a circular motion, keeping it slightly thick.
Let it cook for 2 minutes over medium heat.
Add a dollop of white or yellow butter on top.
Flip and let it cook for a minute more.
Add more butter if you wish.
Take off heat and serve the dosa with more butter on top.
For the peanut-coconut chutney
Ingredients
½ cup thinly sliced fresh coconut
¼ cup peanuts, roasted and skinned
1 tbsp channa dal or roasted Bengal gram
2 green chillies, preferably the light-green variety
½ inch-piece ginger, peeled
1 pod garlic
1 tbsp fresh green dhania or coriander or cilantro leaves, along with the tender stalks
1 sprig curry leaves
1 tsp jeera or cumin seeds
1 tsp rai or mustard seeds
1 tsp sugar or jaggery
2 tbsp coconut oil, for tempering
Pinch hing or asafoetida
Salt, to taste, about 1 tsp
3 tbsp mineral or filtered or boiled water
Method
Heat 1 tbsp oil in a pan and roast the peanuts, coconut, garlic, ginger, chillies for about a minute.
Take off heat and let the mixture cool.
In a grinder, blend the mixture along with rest of the ingredients (except the asafoetida, curry leaves, salt, cumin seeds, mustard seeds) to a fine paste.
Add the water, if and as required.
Transfer it into a bowl.
In a pan, heat another tbsp of oil.
Add the asafoetida.
Add the cumin seeds, mustard seeds and the curry leaves.
Let the seeds splutter and crackle.
Pour this hot tadka on the chutney.
Add salt and mix well.
Serve the peanut-coconut chutney with the Benne Dosa.
Editor's Note: If vegan, use cashew butter.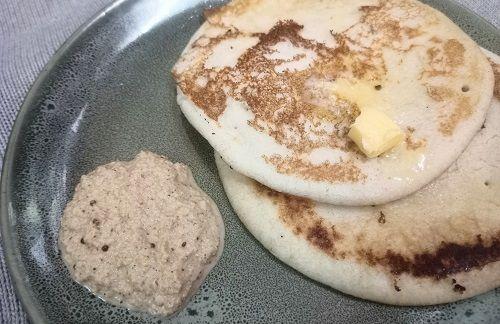 Source: Read Full Article