Hundreds of Twitter employees exit the company after the new CEO asks them to choose between committing to an 'extremely hardcore' culture that involves 'long hours at high intensity' or leaving.
AceShowbiz -In response to Elon Musk's Thursday, November 17 deadline that was given to Twitter employees, the social media company's staffers allegedly start resigning. According to a new report, hundreds of workers at the social media company rejected its new owner's ultimatum.
Earlier this week, the tech mogul asked Twitter employees to choose between committing to an "extremely hardcore" culture at the company that involves "long hours at high intensity" or leaving the company with severance. They had to make a decision by 5 P.M. Eastern Time on Thursday and those who didn't respond would be considered to have quit.
By the time of the deadline, it was reported that hundreds of Twitter employees appeared to have decided to depart with three months of severance pay. Among those who exited the company was Tess Rinearson, who was tasked with building a cryptocurrency team at Twitter. The departures also included many engineers responsible for fixing bugs and preventing service outages.
In the wake of the massive resignations, Twitter allegedly told the remaining employees that the company's office buildings would be temporarily closed, effective immediately. Obtained by BBC, a message sent to workers stated that the offices would reopen on Monday, November 21.
"Hi, Effective immediately, we are temporarily closing our office buildings and all badge access will be suspended. Offices will reopen on Monday, November 21st," the alleged message which was sent to staff read.
It continued, "Thank you for your flexibility. Please continue to comply with company policy by refraining from discussing confidential company information on social media, with the press or elsewhere. We look forward to working with you on Twitter's exciting future. Twitter."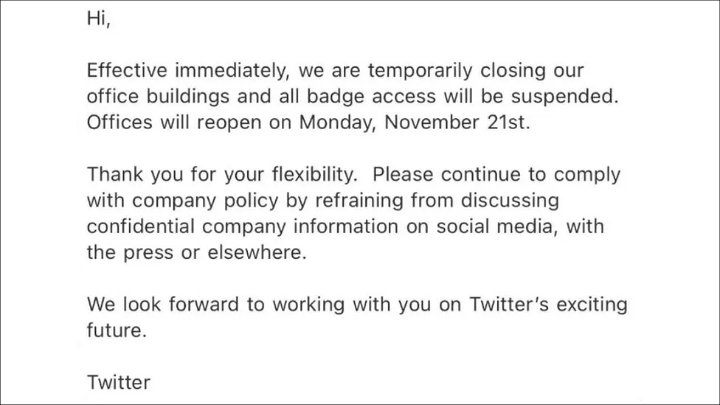 A message sent to Twitter employees following the wave of resignations.
As news that Twitter closed its offices hit the web, Twitter users started trending #RIPTwitter and #TwitterDown with many criticizing Elon for ruining their favorite social media app. "Musk turned one of the biggest sites on the internet into a crater within a month. I never want to hear anyone call him other than a dipshit ever again. Twitter HQ RIP Twitter," one person wrote in a viral tweet. "Goodbye twitter, been a good run. #RIPTwitter," another user added alongside a meme with an edited Elon's face in it.
"Elon always thinks he's the smartest person in the room. He's about to be standing in an empty room and it still won't be true. #RIPTwitter," one other said. Someone also mocked users who paid for verification as saying, "People who paid for the verification last week watching how twitter is going to die tonight #RIPTwitter," alongside a Drake meme.
Another report, meanwhile, claimed that after seeing that many employees opted to leave the company, Elon tried to persuade some workers to stay. He and his advisers held meetings with some Twitter workers whom they deemed "critical" to stop them from leaving in addition to sending out confusing messages about the company's remote work policy.
Source: Read Full Article