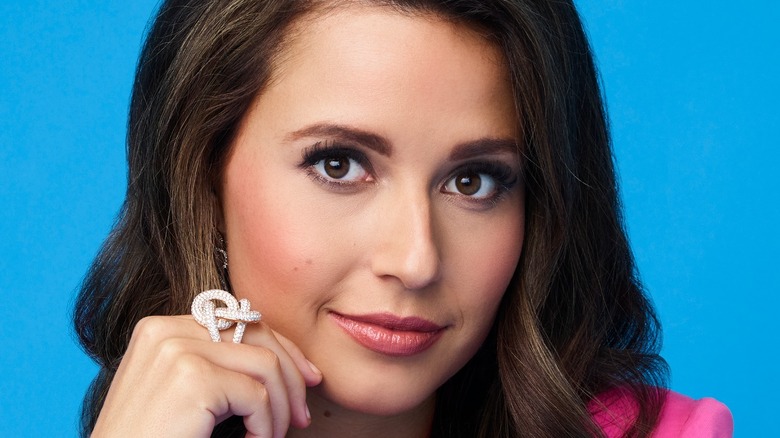 It's time for champagne flutes, roses, and date cards as the newest season of "The Bachelorette" premieres. And as the weather starts to heat up this summer, so does Season 17's star Katie Thurston. The 30-year-old from Washington is not holding back when it comes to finding her soulmate, and we are in for — wait for it — possibly the most dramatic season ever.
The marketing manager made a name for herself on Matt James' season by standing up to bullying in the "Bachelor" mansion and stepping out of the limo holding a vibrator. Fans of the franchise know that we're in for a treat with Katie's unapologetically confident attitude that's sure to shake things up. "I'm embracing who I am and if a guy can't accept me being sex-positive or talking about sex, it's just not gonna work out," she told ET. 
And we can't discuss this season without first talking about that fact that a much-needed dynamic duo is taking over hosting duties: former Bachelorettes Tayshia Adams and Kaitlyn Bristowe. (Chris Harrison stepped back from the show after a racially insensitive interview with Extra TV.) "Everything just kind of fell into place to where the world needs something fresh and new," Tayshia said on the "Going to Bed with Garcelle" podcast. "And I think that we are going to provide that this season." Here's what else we can expect as Katie searches for "The One" with all of us in Bachelor Nation along for the ride. Warning: Spoilers ahead!
Katie Thurston's Bachelorette season ends a week early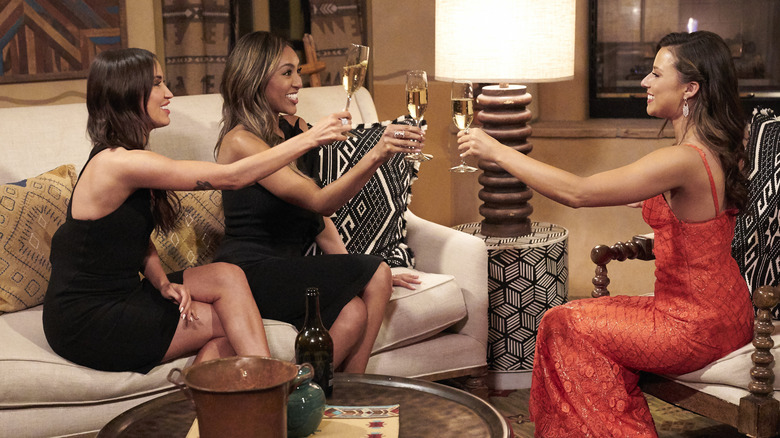 All good things must come to end, sometimes even earlier than expected, and for Katie Thurston, that included her "Bachelorette" season. To put it simply, the reality star knew what she was looking for in a partner, and didn't waste her time keeping men around whom she wasn't into or who were there for the wrong reasons. "Katie was in control and made sure the men she wanted were there and the men she wasn't interested in, she sent packing," a source told Us Weekly. 
Fans got a taste of what's in store from a shocking teaser, where we saw Katie, in tears, telling the men, "A bomb was dropped on me about multiple people still here for the wrong reason. … If you are not here for an engagement, then get out." Things reportedly got so bad that she even considered walking away completely. "At one point, she threatened to quit the show. It really got to her and she couldn't take it anymore," a source revealed to Life & Style.
Katie's season began filming in a resort in New Mexico in late March 2021, as Reality Steve reported, and filming halted on the weekend of April 24 (via Women's Health).
Katie Thurston said she didn't hold back when it came to physical attraction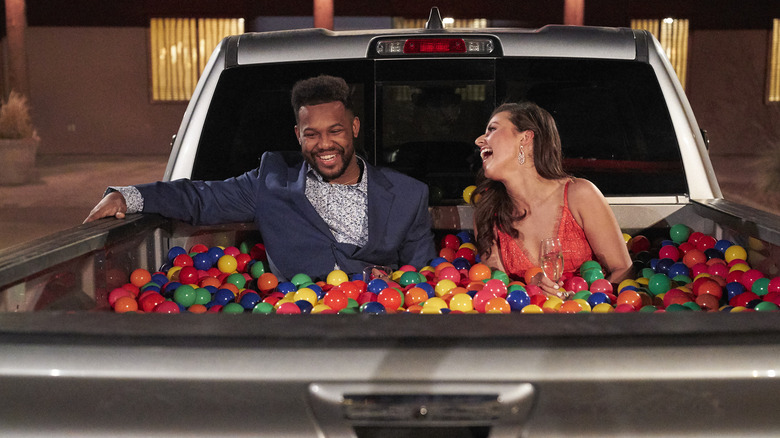 At the start of Matt James' season, Katie Thurston sent shock waves through Bachelor Nation by stepping out of the limo holding a sparkly vibrator. "It wasn't until after the fact that I realized how big of a deal it was — which excites me because I do believe it's 2021 and women should be comfortable talking about their sexuality," Katie dished on "Bachelor Happy Hour." In fact, her promo poster for the show pays homage to this bold move with the tagline, "See what all the buzz is about."
Therefore, it comes as no surprise that her season will take a sex-positive approach — which, in the past, was sometimes frowned upon. In fact, during Kaitlyn Bristowe's season, she was shamed for sleeping with Nick Viall, and she has since spoken out publicly in defense of female contestants' personal choices. As for Katie, she apparently made it her mission to test her physical chemistry with her very handsome contestants. She told People, "You can't be okay with me possibly getting engaged in two months but not kissing on the first date. I've got to use my time wisely!"
And in typical Katie fashion, she did not hold back when asked the question of whether or not she had sex as the competition heated up. "I have sex in the fantasy suites, so you heard it here first," she dished to ET. 
This man received the coveted first impression rose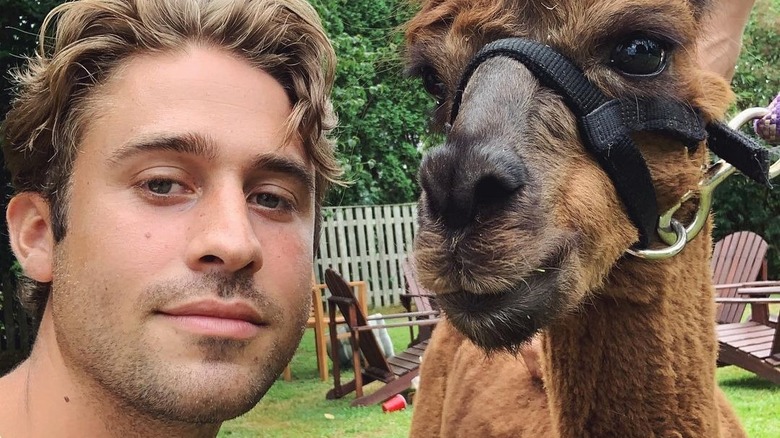 When it comes to dating, first impressions can be crucial, and, more often than not, our instincts are right. Therefore, on the first episode of every "Bachelor" or "Bachelorette" season, the lead presents one person with a first impression rose, which, as the name implies, means there was an initial spark that set that contestant apart from the rest. That rose can be very significant, and in fact, in the show's history, there have been a bunch of recipients who went on to win the entire season (via Us Weekly). 
The looming question of who gets Katie Thurston's inaugural rose has been answered by none other than Reality Steve. Back in April, he tweeted that it went to marketing sales rep Greg Grippo, a 27-year-old New Jersey resident. According to his bio, "He's handsome, kind, vulnerable and serious about wanting to settle down." Through his Instagram page, which is filled with photos of family and friends, it seems that he has his priorities in order. He's also athletic, having played college basketball.
Greg was originally slated to appear on the previous season of "The Bachelorette" in 2020. Since there was major drama for the contestants during that one, with Clare Crawley abruptly ending her run after falling for Dale Moss and Tayshia Adams being brought in as a replacement half-way through, it's safe to say Greg had a way better shot at love this time around.
Katie Thurston teased that she's starting a 'healthy relationship'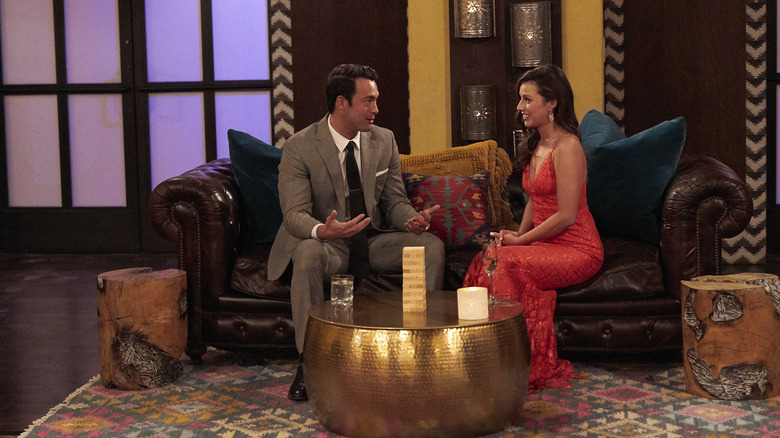 In late April, Katie Thurston sent Bachelor Nation into a frenzy when she coyly posted, "Can't start a healthy relationship without being healthy," on Instagram after getting her COVID-19 vaccination. That obviously led many to believe that she ended up in a relationship once filming wrapped. As for whether or not she is engaged, Reality Steve teased in mid-May that she "definitely" is. "Unless she breaks up before the finale, which I guess anything can happen … she's happy and engaged as we speak."
As far as who the lucky man is who received Katie's final rose, that's still a mystery. The brunette beauty, who has been active on social media after filming ended, did throw fans for a loop when she posted an Instagram photo at a restaurant in San Diego with the caption, "Something borrowed. Something blue." A Reddit user did some digging and discovered that contestant John Hersey used to work at the same eatery as a bartender. Katie took to Instagram to quell the rumors, when a fan said, "OMG is you moving to San Diego a teaser for your Bach pick?!" and she responded with, "Hahah naaah I'm not that messy" (via CinemaBlend). Reality Steve also confirmed that John did not win, saying, "I've learned that I was wrong about John making final 4. He didn't. He didn't even make Top 8."
Here's who the mystery contestant reportedly is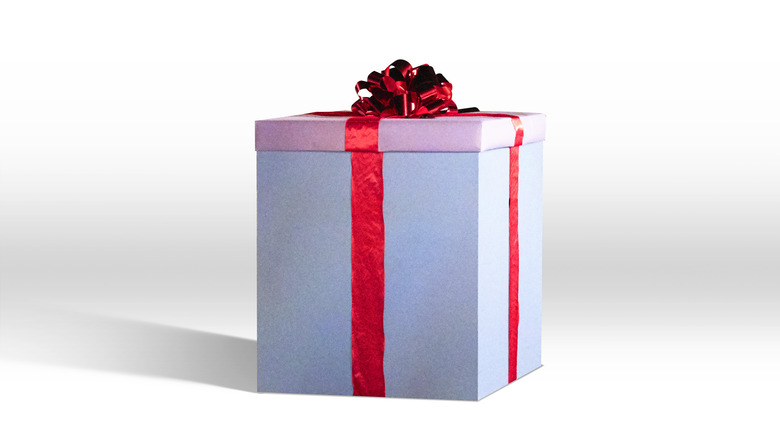 They say that dating is a numbers game, and when it comes to "The Bachelorette," the theme is always "the more the merrier." This season is no exception: Katie Thurston has a staggering 30 men to choose from, including one man whose identity wasn't initially revealed. 
When the powers that be at ABC announced the official cast, they decided to leave someone out, who was dubbed as the "mystery contestant." On the site, his information is missing, and instead of his headshot, there's a wrapped box. In lieu of his bio, there are only question marks. In fact, they even went so far as to place the gentleman inside a gift box to make his big reveal on the show.
To steal the network's thunder and ruin the surprise, Reality Steve issued a spoiler on who this elusive contestant is. "The guy who shows up on Katie's season in the box on night one is James Bonsall," he tweeted in mid-May. Although his bio on the show's site still has yet to be released, judging by his Instagram page, he likes to stay in shape.
Katie admitted that she 'fell in love more than once' during her season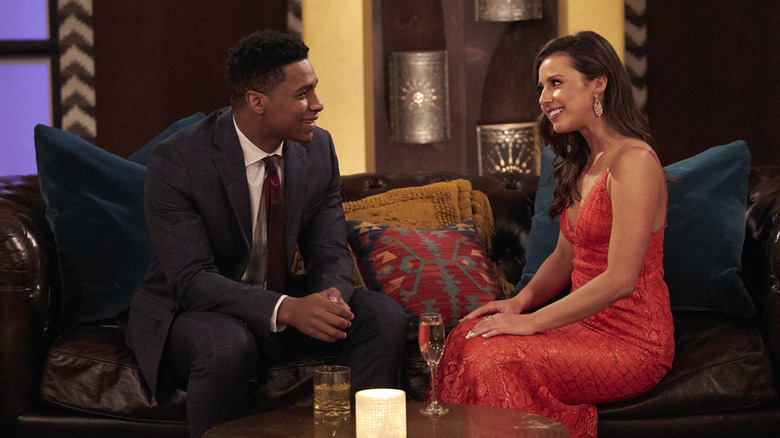 Before even stepping on set, Katie Thurston admitted that she "was scared there wasn't going to be somebody I was interested in" for her in this season's cast of characters (via "Live with Kelly and Ryan"). However, the reality star and her legion of fans can breathe a sigh of relief because the brunette revealed that she caught feelings multiple times on the show. "I fall in love more than once," she told ET. When narrowing down the men on her season, Katie dished that she was looking for qualities such as "a good sense of humor" and "kindness," so it's safe to say she found those characteristics in the "Bachelor" mansion. 
As for the men who made it to the final four, Reality Steve took to Twitter the day before Katie's season premiered to announce that roster. According to him, the last men standing are Justin Glaze, an investment sales consultant from Baltimore, Maryland; Austrian professional football player Andrew Spencer; first impression rose-recipient Greg Grippo; and Blake Moynes, a Canadian wildlife manager. A contestant on Clare Crawley's season, Blake actually crashes Katie's run on the show, holding a boombox outside of her window in classic rom-com fashion (via Us Weekly).
Source: Read Full Article