Makar Sankranti is incomplete without jaggery sweets.
Jaggery is an excellent source of nutrition for the body and unlike refined sugar, it has several health benefits too.
Kumudini Shetty offers two traditional jaggery-based recipes that will make the celebrations healthier for your family and loved ones.
Made from ground peanuts and roasted sesame seeds, the Til Peanut Laddoos are a cinch to make and can be stored away for days.
Karnataka's Holige, also known as Puran Poli in Maharashtra, have under their maida casing a soft, melt-in-your mouth stuffing made from jaggery and chana dal.
Happy Makar Sankranti!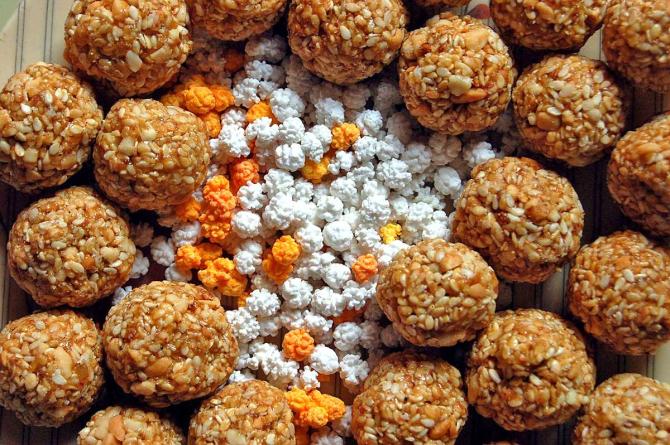 Til Peanut Laddoo
Servings: 8-10
Ingredients
1 cup til or white sesame seeds
1 tbsp ghee
1 cup jaggery
1 tbsp peanut powder, dry roasted and coarsely ground, optional
1 tsp or less green elaichi or cardamom powder

Ghee or oil for greasing your palms and the plate used to shape the laddoos
Method
Dry roast the sesame seeds in a heavy-bottomed frying pan or on a tawa for 5-10 minutes on low heat.
Keep aside.
Heat the ghee in a heavy-bottomed kadhai.
Add the jaggery and keep stirring until it melts.
To avoid impurities, strain the melted jaggery and ghee through a sieve and then return to the kadhai.
After the jaggery has melted completely, add the sesame seeds, peanut powder, cardamom powder.
Stir well for 1-2 minutes.
Grease a steel plate or thali with oil/ghee and transfer the hot mixture onto it.
Let it cool some, but not too much.
To make the laddoos, grease your palms with a few drops of water and ghee.
Pinch a small portion of the mixture and use your palms to shape it into a round/oval ball of the size or shape you prefer.
Repeat for the rest of the mixture.
Allow the laddoos to cool completely so they tighten up and hold shape.
Store in an air-tight container.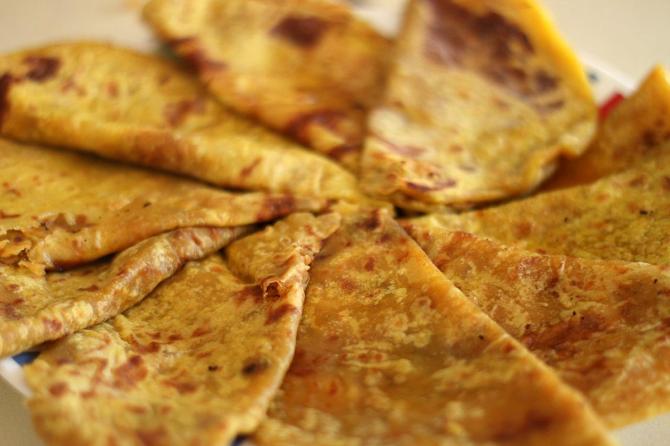 Holige
Serves: 2-3
Ingredients

1 cup maida or all-purpose flour
¼ tsp haldi or turmeric powder
¼ tsp salt
2-3 tbsp oil
Water, as required
Ghee, for serving
For the stuffing
1 cup chana dal or split chickpea lentils, washed and soaked in water for a few hours
½ tsp haldi or turmeric powder
1 cup jaggery
¼ tsp green elaichi or cardamom powder
¼ tsp saunth or dry ginger powder
Method
Knead the maida, salt, turmeric powder together in a large bowl with a little water and oil to prepare a smooth dough.
Add a few tbsp of oil on top and keep aside, covered, for an hour or two.
To make the filling, pressure cook the chana dal with 3 cups water for upto 2 whistles — the dal should not get too mushy or wet.
Take off heat, release pressure, drain off the water.
Keep aside.
Heat the cooked chana dal and the jaggery in a heavy-bottomed kadhai over medium heat till the jaggery melts.
You may also melt the jaggery in a separate pan and strain it to get rid of impurities, if any, and then add to the cooked chana dal.
As the jaggery and chana dal cook, it will get mashed and soften and come together.
Once you get the desired consistency, add the ginger powder, cardamom powder.
Mix well.
Take off heat and let the mixture cool.
Mash till it is a fine mixture and keep aside.
After two hours (when the maida dough is ready), take a small ball of dough and flatten it.
Take a smaller-sized ball of the stuffing and place in the middle of the flattened dough (like for making a stuffed paratha).
Close edges together into a ball, sealing the edges to secure the stuffing.
Using a rolling pin, roll the the stuffed ball lightly and carefully to make a round paratha.
Dust with rice flour or maida to be able to roll it thin.
Repeat the process for the balance dough and stuffing.
Heat a tava and place the paratha on it.
Sprinkle oil or ghee when small bubbles pop up on this sweet roasting stuffed paratha.
Flip and fry on both sides for a minute or two, till evenly cooked and it develops light red dots.
Serve hot with ghee, coconut and jaggery milk or sabudana payasam.
Note: For healthier Holige, replace maida with wheat flour.
Do you have any recipes to share? Please mail the recipe(s) to [email protected] (SUBJECT: RECIPE) with photographs/videos of the recipe, your name, location and a photograph of yours.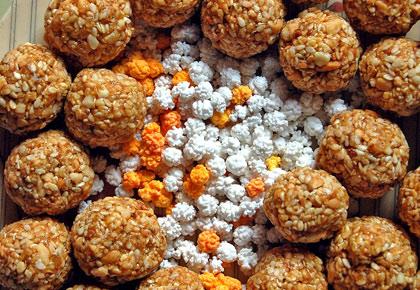 Source: Read Full Article