The 'Ghetto Gospel' rhymer warns young black men not to go down the wrong way after the attempted robbery turns deadly, claiming, 'I'm one of those people that is not going.'
AceShowbiz –Sauce Walka has a lot to say to young black men after someone died in a robbery targeting him. The Texas rapper warned the youths not to go down the wrong route after an attempted robbery turned deadly.
Sauce Walka first hinted that he almost became a victim of robbery via his Instagram Story on Friday, September 9. He shared a picture of his white Louis Vuitton sneakers covered in small blood stains. "F**KED UP MY LOUIS…..DUMMY," he captioned it.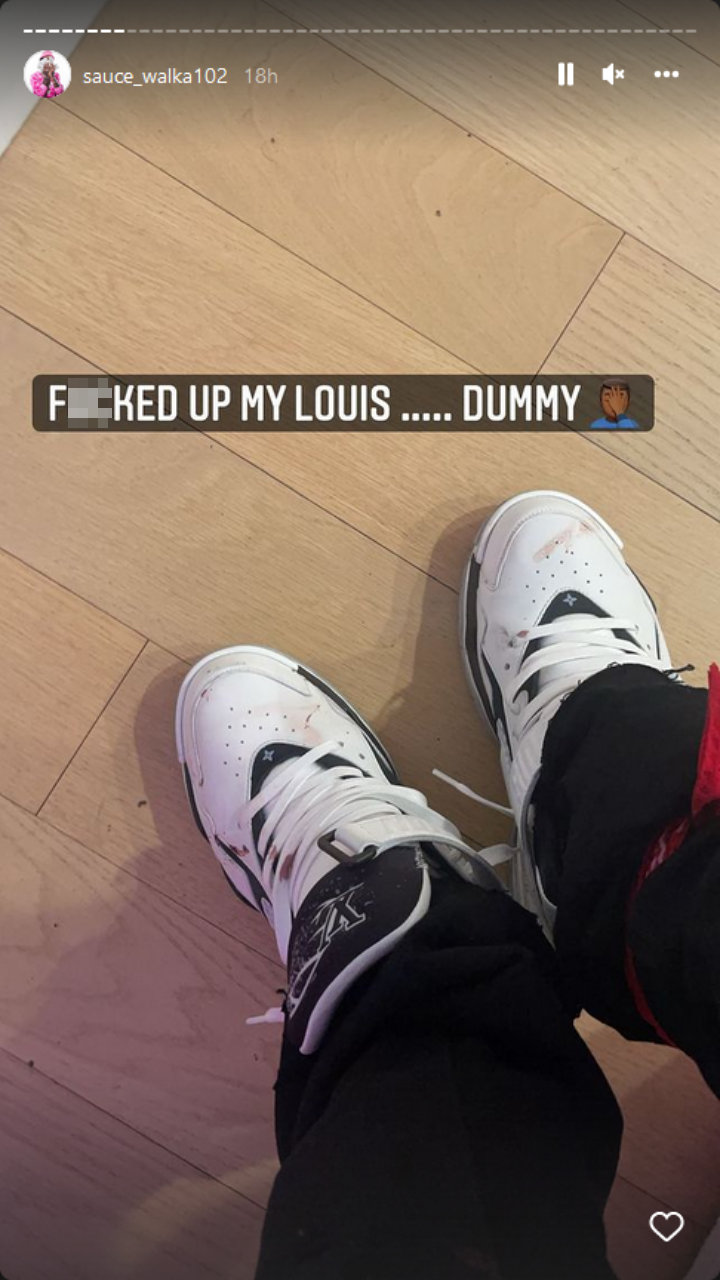 Sauce Walka posted a picture of his white sneakers covered in blood stains.
Sauce Walka then issued a stern warning on his Instagram video, in which he said, "Aye, man, I really ain't wanna speak on this s**t, but I know it's too many young black kings and young kings out there that's being misled and misguided wrong." He claimed, "Learning half of the game and not the whole game."
"So, y'all need to learn from this experience that I went through tonight," the 32-year-old from Houston continued. " 'Cause being a rapper is one of the most dangerous jobs in America and it's a lotta young men out here that wanna do this s**t but don't know everything that come with it."
Insisting that he's not one of those who picked the street life, Sauce Walka said, "But understand this, everybody ain't going and I'm one of those people that is not going." He added that someone was killed during the attempted robbery. "So, unfortunately, tonight somebody lost they life for doing something stupid," he said, adding that he still had all his jewelry and "everything I worked hard for" on him.
"I don't want you to go through these dumba** situations for doing something stupid that somebody taught you or led you to do," he implored, "Coz you can go be a king, you can go be LeBron James, you can be a lawyer, you can go be Sauce Walka."
In the caption, he wrote, "Don't kno who need to here this…. BUT EVERYBODY DONT GO!!!! We losing too many KINGZ's ova DUMB S**T!! Work hard for what you want kid ITS DA ONLY WAY TO ACHIEVE TRUE SUCESS AND MILLIONS DONT BE A FOOL."
Sauce Walka has since received support for defending his property. "Yall gone learn to quit playing wit MFs! Not everybody going fa dat s**t," one fan wrote. Another commented, "Got his brain snatched tryna chain snatch."
It's unclear who was killed and who executed the murder, while Sauce has not been charged with a crime so far.
Ironically, Sauce Walka was previously accused of being involved in a criminal street gang called "Mash Mode" in 2009. In 2018, Texas state court documents additionally described his independent record label The Sauce Factory as a "documented gang" and "known for criminal activity."
In response to the accusations, Sauce Walka, whose real name is Albert Walker Mondane, said, "I'm going to keep rapping because I know I'm not a gang. I know we're not a gang, I know that I'm a record label, I know that I'm an artist […] I'm not into gang activity or none of that stuff that's going on, I'm not worried about that, it's not what's going on."
Source: Read Full Article