The ex-wife of the Blink-182 drummer seemingly reacts to her former spouse's engagement by sharing cryptic post about hating someone on her social media account.
AceShowbiz –Shanna Moakler seemingly reacts to Travis Barker and Kourtney Kardashian's engagement. Taking to her social media account, the ex-wife of the Blink-182 drummer said that she's on "spiritual maintenance."
On Monday, October 18, the 46-year-old model took to her Instagram Story to announce that she's taking a break from social media following her ex-husband's engagement. In one post, she wrote, "Temporarily closed for spiritual maintenance." In a separate Story, she shared a quote attributed to late rap legend Tupac Shakur that read, "Before you ask why someone hates you, ask yourself why you give a f**k."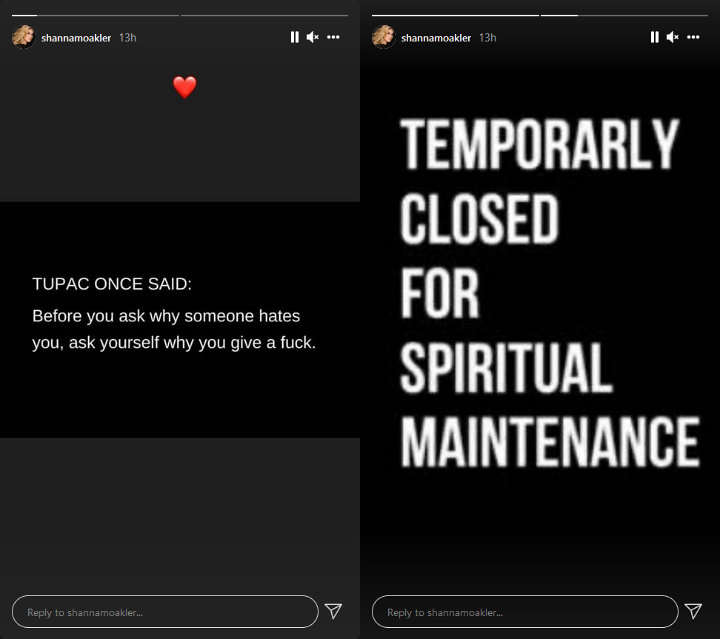 Shanna Moakler seemingly reacted to Travis Barker and Kourtney Kardashian's engagement.
This wasn't the first time Shanna commented on Travis' relationship with Kourtney. Back in May, she blamed the Kardashian family for her broken romance with the rocker. She said at the time, "My family's broken because of [the Kardashian] family and now my kids and I are alienated from each other because of another sister in the family, so yay for me."
"So, you know, this has all started since my ex started dating a certain person," Shanna added. Though so, she insisted that she "[doesn't] care about Travis and Kourtney in any capacity whatsoever." She said, "All I care about is my children, mending and healing my relationship with my children and moving forward in that capacity."
Shanna's Instagram cryptic posts came less than a day after Travis proposed to Kourtney at the Rosewood Miramar in Montecito, California. When popping the question to Kourtney, Travis got down on one knee on the beach, in the middle of a massive heart-shaped floral arrangement surrounded by candles.
Expressing her excitement, the former "Keeping Up with the Kardashians" star shared the photos of the special moment on her Instagram account. "Forever," she simply captioned her post.
Of the special day, a source told PEOPLE that "it was a complete surprise for Kourtney." The informant further revealed, "Travis told her family that he planned to propose, but everyone was great at keeping it secret."
"The Rosewood is their favorite for short weekend getaways. They often stay at the hotel. This is why Travis proposed there," the so-called inside source explained. "It's a very special place to them, but it was also easier to keep everything a secret by proposing there. Kourtney is of course ecstatic. She can't wait to marry Travis. She would also love to have a baby with him."
Source: Read Full Article