Sharon Stone remains a Hollywood A-lister after starring in a plethora of films including Casino, Basic Instinct, and Total Recall. With many of her movies having a steamy storyline, Stone has spoken on the inappropriate pressure she received from directors and producers. Co-starring with Billy Baldwin in the 1993 thriller Sliver, Stone described how the young actor may have been a bit out of his element when he joined the cast.
Sharon Stone was hesitant to take on 'Sliver'
In Sliver, Stone played book editor Carly Norris, who moves into an apartment building unaware that several female tenants were murdered by a serial killer. Carly soon begins a romance with building owner Zeke Hawkins (Baldwin), who becomes a top suspect of the grisly crimes.
Baldwin was trying to make a name for himself in the early 90s and get out of big brother Alec's shadow. Landing roles in films including Flatliners, Internal Affairs, and Backdraft, Baldwin considered being cast opposite Stone as a major boon in light of her major success in Basic Instinct.
Apparently, Stone wasn't jumping at the offer to play Carly. Producer Bob Evans reportedly tried taking a manipulative strategy with Stone, "knowing a woman's head about competitiveness with other women," he said, according to Entertainment Weekly. Telling her contenders such as Demi Moore and Geena Davis were vying for the role, Evans was finally able to secure Stone for the project.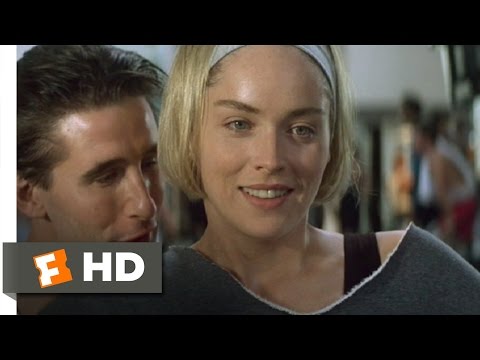 Billy Baldwin 'was still a kid' when 'Sliver' was filmed
Baldwin was 30 years old when Sliver was released, though Stone still considered him to be a novice in the industry. After dealing with dysfunction from producers on Basic Instinct, Stone felt more equipped than Baldwin to handle the bigwigs and their mind games when she began filming Sliver.
"Billy was so sweet and young and naïve," Stone told the New Yorker in 2021. "He had no idea what these monster men were up to. I was speaking studio-man talk very fluently by the time I got on the set of Sliver, and Billy was still a kid. They threw him in the deep, deep end of the pool."
With the explicit sexual content in the film, Sliver was almost given an NC-17 rating. Stone later revealed in her 2021 memoir the pressure she was subjected to by film industry giants that often crossed physical boundaries. She noted that Baldwin was also receiving some unwanted input from execs, but he didn't succumb to their demands.
"He was trying to be appropriate," Stone recalled. "But when I would say to him, 'Why don't you come to my trailer and we'll work on the scenes,' I don't think he realized that I really wanted to work on the scenes, because they were pushing alternative realities very hard on both of us."
Sharon Stone recalled working with Robert Evans
Evans was a Hollywood heavyweight behind the camera long before Sliver, where he headed blockbusters including The Godfather, Chinatown, and Love Story. Stone's memories of the studio exec on Sliver were not very fond.
"Once again, this was the olden days, and there were a lot of men who thought that they knew what they should tell me what to do," she explained. "I can tell you that Bob Evans was one of the most bizarre human beings I ever encountered in the film business, and one of the most inappropriate."
Stone added, "And the people around me, from my agent out, not any of them had all four wheels on the highway."
Source: Read Full Article