'Enterprises have become more demanding in terms of their productivity expectation from their employees.'
The year started with a bang for Yogini Patil (name changed), a techie from Pune, even as India battled against the highly transmissible Omicron variant of COVID-19. With multiple offer letters — some that promised phenomenal salary hikes of up to 80 per cent — Patil and her friends were spoilt for choice.
Big tech companies had made it bigger during the pandemic, employees were being rewarded and talent was in demand like never before. And then Russia invaded Ukraine. The pandemic, too, showed signs of receding. The outlook for the sector dimmed.
For Patil and her friends, the picture turned on its head: From being flooded with job offers, they now had layoffs looming on the industry. Suddenly, staying put with their current companies seemed to be the only sensible option.
2022 was a year of reset and readjustment in terms of work-life balance, too.
From an employees' market — when terms like 'The Great Resignation' and 'Quiet Quitting' entered the work-life lexicon — the controls are back in the hands of employers – and the uncertainty has spawned another phenomenon, 'Career Cushioning'.
The focus is on productivity and most IT firms have made it clear that they want employees back in office at least thrice a week. The top management in almost all IT firms is in office five days a week.
The numbers reflect the changing mood.
Data shared by CIEL HR Services, a mid-management recruitment firm, shows that eight months ago, 61 per cent of employees were willing to forgo highly paid jobs that required them to mandatorily come to office.
Today, only 40 per cent are looking for a complete work-from-home (WFH) option; the remaining 60 per cent are open to working from office (WFO), either in hybrid or complete WFO mode.
The survey, conducted last month, covered professionals from over 620 companies, the majority being IT firms.
The reason for the change in mindset is the global economic scenario and the stress in the job market, Aditya Narayan Mishra, managing director and chief executive officer, CIEL HR Services, explained.
From an HR perspective, 2022 has seen the most changes in work model as Omicron surfaced and abated: From WFH to hybrid to WFO. And then a change in the global business environment triggered 'The Great Return'.
"From an HR industry perspective, this year (2022) has been both complex and challenging," said A R Ramesh, director of managed services and professional staffing, Adecco India.
"Although we saw a renewed sense of hope, there was a lot of volatility within a very short span of time. The industry-related phenomena that we encountered this year would normally occur over 2-3 years."
Clearly, the work-from-anywhere model is not working for many enterprises, Kamal Karanth, co-founder of IT staffing firm Xpheno, pointed out.
"With the global scenario uncertain, enterprises have become more demanding in terms of their productivity expectation from their employees. The convenience of work-life balance via the WFH model is coming to an end."
Sample this: When Shantanu Narayen, CEO of Adobe, conducted a town hall on his recent visit to India, he encountered several empty chairs since the company was in WFH mode. Adobe promptly moved to a three-day workweek, said sources in the know.
The WFH and work-from-anywhere model also created another issue: Moonlighting. With business under pressure, companies are in no mood to give employees a leeway.
The tapering of flexibility is a global phenomenon.
According to an article in The Information, when in his weekly Q&A with employees, Meta Chairman and CEO Mark Zuckerberg was asked if Meta Days, the extra time off given to workers during the pandemic, would continue in 2023, he dismissed the question.
The report said that Meta had discontinued Meta Days.
Employees, however, are still looking for flexibility for at least a few days a week, Mishra of CIEL HR Services said. And that's irrespective of whether the industry belongs to the new or old economy.
"Is it a five-day workweek and is the company in hybrid mode — these are the two questions that we generally face these days while recruiting freshers," JSW Steel Joint Managing Director and Group CFO Seshagiri Rao said.
For a manufacturing company like JSW, WFH is not an option, he added. The firm has, however, come up with more employee-friendly policies and implemented a five-day workweek across its offices.
In November 2020, Tata Steel had introduced the Agile Working Models policy — where job positions were tagged under two models, 'Absolute Work from Home' and 'Flexi Work from Home'.
This was done as a pilot project for one year, but the policy has continued and will remain in place in the upcoming year as well.
"Apart from the high demand for greater flexibility at work, this policy also enables us in building a trust-based outcome-driven culture," a Tata Steel spokesperson said.
All the white-collared employees are covered under the model.
Around 4-5 per cent of them are operating under the Absolute Work from Home mode and around 10-15 per cent are working from home every day, while all of them have the option to be flexible, the spokesperson added.
Diversified conglomerate ITC has figured out that a balanced approach works best.
The pandemic was a time of several new learnings, and employees embraced working from a location other than the office, said Amitav Mukherji, head, Corporate Human Resources, ITC.
"This gave us the confidence to integrate this as a policy to promote flexibility, enabling employees to opt for the WFH facility for up to two days in a week when required."
Pharma companies were at the forefront of essential services during peak Covid. But with the wave of infections subsiding, most firms have gone back to the old normal.
A Mumbai-based large-sized drug maker said that it's a five-day workweek for them.
"We realised that when teams met in person instead of Zoom, there were more free discussions. So, we have resorted to working from office," said a senior executive.
On the other hand, Cipla has decided to continue with a hybrid model of work. Roche Diagnostics, too, has retained flexibility to work from home with the permission of the reporting manager.
Some, however, have made more permanent changes.
In June 2020, Chennai-based FMCG player CavinKare called for rental bids for its 40,000-sq-ft office space on Cenotaph Road and decided to go completely WFH for its corporate staff.
Two years on, the first two of CavinKare's five-floored office stand leased out to some firms, one floor is dedicated to the company and the rest to group companies.
The current work model is a flexible one, with sales and corporate teams coming in for meetings.
"We want to create flexibility by not forcing people. Ours is an open office now with no space allocated to anyone, including directors," P Rajesh, vice president and head of Human Resources, CavinKare, said.
With Covid flip-flop still on, the debate around the work model — hybrid or WFO — could continue into 2023, as will the demand for better work-life balance.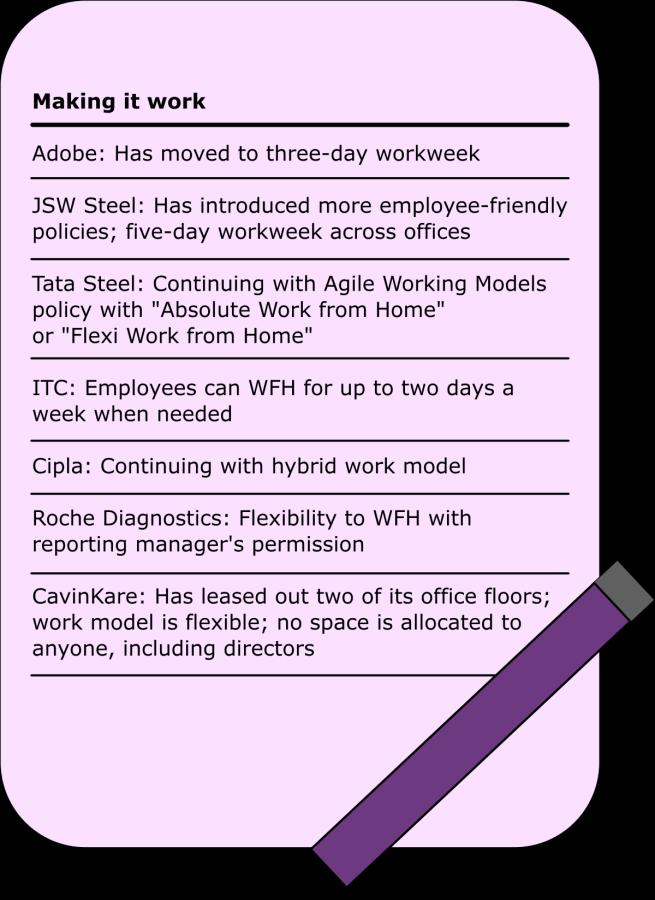 Source: Read Full Article