'…I am like I need to teach my dog to do potty.'
During the lockdown, Aditi Mittal kept us entertained with her online shows as Dr Mrs Lutchuke, a hunchbacked aunty with a hilarious accent.
Dressed in a sea green sari, Dr Mrs Lutchuke has been doling out advice about sex, bedroom woes and everything in between.
Aditi's Letters to Lutchuke are always a laugh riot and appear unobjectionable, because "if an old woman says something about sex, it appears non-threatening."
In the second segment of her interview with Anita Aikara/Rediff.com, Aditi reveals how Dr Mrs Lutchuke has been dealing with the lockdown, censoring herself on social media and why you can't be a happy woman online.
Part 1 of the Aditi Mittal Interview: 'Stand-up is like a muscle in your body'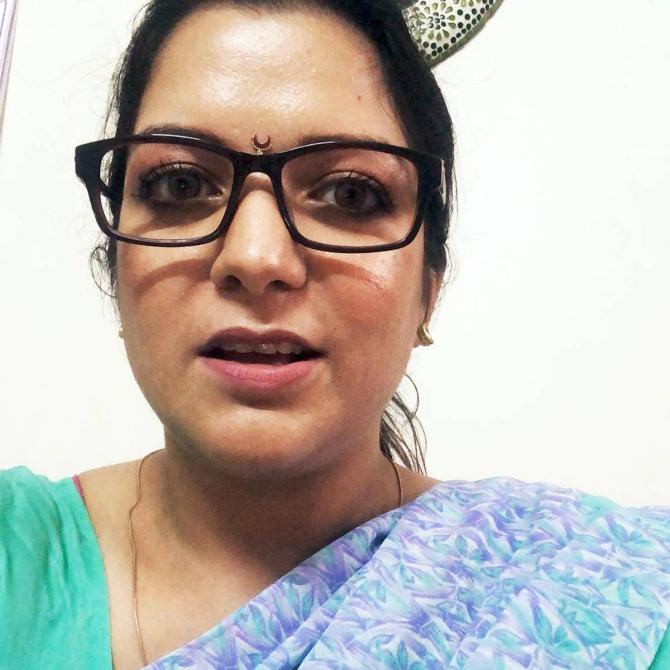 How has Dr Mrs Lutchuke been through the lockdown?
Just put this down as my favourite question. Thank you for asking.
Dr Lutchuke joined me when I performed Unreliable Narrator recently at Esora, Mumbai.
But she was there only for a couple of minutes because poor thing, she is old and her knees are all f**ked up.
In fact, during the lockdown she was very busy. She started making these videos called Letters To Lutchuke and started answering all young people's problems.
She has discovered the Internet and loves it. She wants to talk to all the young people on the Internet.
Have you done a show recently? How was the experience?
I did an open mic recently and I was watching everyone in the audience laughing with their masks on, and it is a little bit disorienting.
As a performer, you depend on the energy the crowd gives you. You want to see their smiling faces so that you know they are having a good time.
With the masks on, everyone looks like Cobra Kai. I keep asking myself where is the laughter coming from. It really throws you off.
Are they some issues you wouldn't joke about even today?
I can't think of anything. Not in an obstinate kind of way.
If you're not making fun of the already oppressed, then you can joke about it.
If you are pointing out absurdities of imbalance and power, then you can make fun of it too.
What's the future of stand-up comedy in India?
I do not know! Thank the Lord that the future of comedy is not dependent on me.
Yaar, mereko khud ko future nahi dikhta, mein comedy ka future kaise bataugi (I can't see my future, what will I tell you about the future of comedy)?
However, I feel going ahead, as people we are going to be able to laugh at tougher things.
Especially with the lockdown, we are going to reach deeper into ourselves and become more open and honest.
Because we have been locked up inside, we are going to reach further out into the world.
To be honest, this year has made me realise how interconnected we are.
In a world that is so polarised, where left hates right, white hates yellow, a disease came along that gave each one a thread to keep the other healthy.
You are now responsible for other people's health. If you wear a mask, you can keep the other person safe.
Censoring yourself on social media…
Things get lost in translation, so you need to think more before you type.
I know this because I have spent most of my life with my foot in my mouth.
You have to tailor yourself for an online space. I have started restricting my social media use.
In the morning I'm on Twitter for 30 minutes, and then update myself by checking the news throughout the day.
In the beginning it restricted my natural flow. But then social media has its own flow.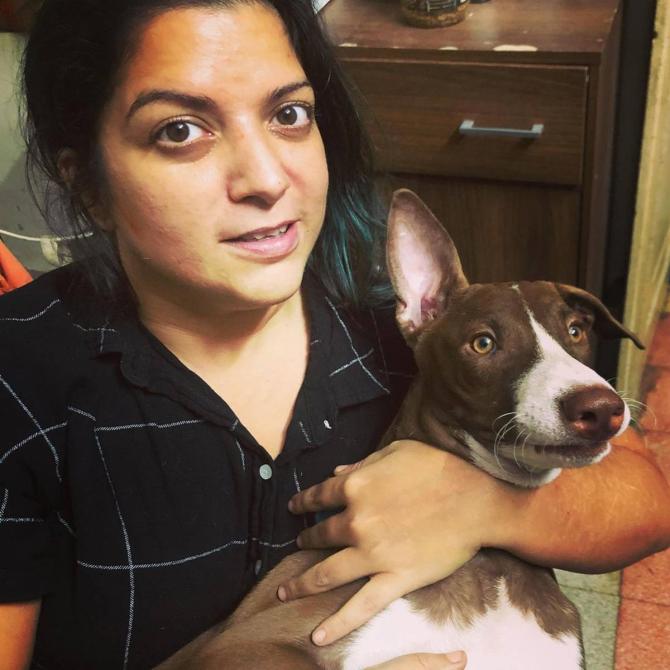 How do you deal with trolls?
Initially it was crazy with so many people misunderstanding or understanding me at the same time.
But I just ignore. You can choose to ignore or block, it is a sane way of going about it.
I block liberally. I would recommend that. Please just block a person s/he is harassing you.
It is not your responsibility to listen to someone yelling at you.
Initially I was like 'yeh kya chal raha hain, mein pagal ho rahi hu ya woh pagal ho rahe hain ya sab pagal ho gaye hain? (am I becoming mad or are they going mad, or is everyone going mad?)'
Then I developed a thick skin. To be a woman with a mouth or just to be a happy woman online irks many, many, people.
Earlier it used to affect me. Now I tweet and log off.
I didn't mention this earlier, but one of the good things that happened to me during the quarantine was that I got a dog.
My whole personality now revolves around him. I get up at 6:30 am to take him for his susu and potty.
I roam with him for 25-30 minutes outside the house at 6:30 in the morning in my nighty, and for 30 minutes he will sniff everything super urgently.
Then he will come back and does potty inside the house. This is my current struggle that I have been occupied with.
So when people are going mad online, I am like I need to teach my dog to do potty.
Advice for aspiring comedians…
Get on stage and just perform. You may goof up. That's ok because you know darr ke aage jeet hai (victory is beyond fear).
One of the most solid pieces of advice that somebody had given me was that the only way to it, is through it.
Practice if you want to do stand-up. Zoom shows are still going on for those of you who don't want to get out.
In factm there's a bunch of comics that have started on Zoom shows during the pandemic and are doing spots today as venues are opening up.
Source: Read Full Article