As World Idli Day was celebrated on March 30, we bring you a special recipe from Lahu Kapduskar/Rediff.com.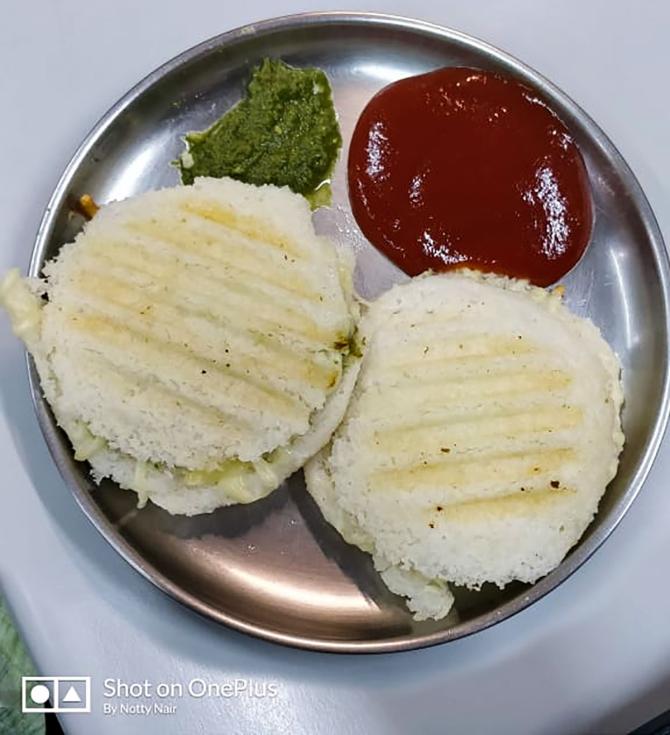 Working all day makes journos incredibly hungry and definitely very snacky by 5.30 or 6 pm.
Lahu Kapduskar is always under pressure to produce something marvellous and piping hot daily.
On a rainy day, he was running short of ideas and options, when inspiration hit.
He had some leftover idlis from breakfast on hand and whipped up delightful idli sandwiches.
The recipe has become a favourite in office and at home. Here it is with a few tweaks.
Lahu's Idli Sandwich
One serving
Ingredients
For the green chutney
Half a bundle green coriander or dhaniya leaves
3 green chillies
½ cup mint or pudina leaves
4 pods peeled garlic
Salt
For the sandwiches
2 large, flat but thick idlis (idlis ordered from outside will do just as well, even if they are doughy or not so great looking or stale — a day or two old)
1 tbsp podi or gunpowder chutney
1 tbsp green chutney
2 tbsp grated cheese
2 tsp butter
Method
Grind all the ingredients for the green chutney in a mixer with as little cold boiled water (you can use bottled water too) as possible.
Carefully slit each of the idlis in half horizontally with a sharp knife and keep together as pairs.
Butter both sides of each idli slice — the top and bottom and inside surfaces too.
Smear first the green chutney on one inside half of a slit idli.
Then sprinkle the podi next and then the cheese.
Close the sandwich with the matching idli half.
Repeat for the second idli.
Grill, ideally, in a manual or electric sandwich maker (or on a tava with a weight on top) for about 5 to 10 minutes on low heat or until the cheese has melted and the top of the idli is golden and crusty.
Serve hot cut into bites sizes.
Note: You can smear coconut chutney inside the sandwich in addition to the green chutney too.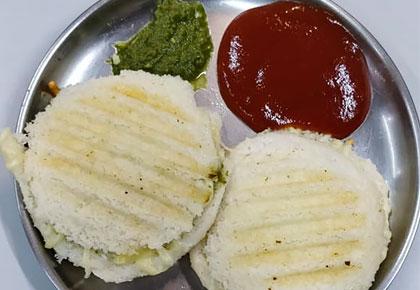 Source: Read Full Article