BSP chief says EC should ban pre-poll surveys 6 months before elections.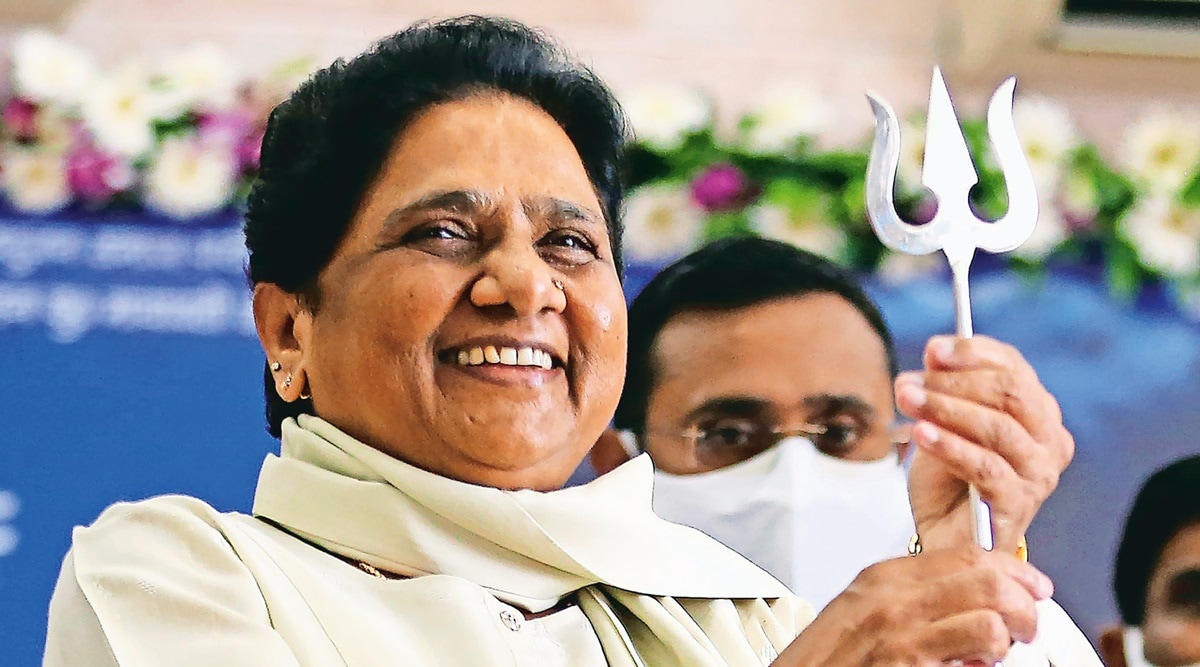 Bahujan Samaj Party (BSP) chief Mayawati on Saturday said that BSP, if it forms the government in Uttar Pradesh after next year's Assembly polls, will not work with a "vengeance" and will not stop projects and schemes started by the present BJP government in the state, including religious ones in Ayodhya, Varanasi, Mathura.
"Ayodhya, Varanasi, Mathura wah anya dharmik sthalon par logon ki suvidhan ke liye BSP ki sarkar ke padchinnon par chalkar vartman sarkar ne jo bhi karya kiye hai unhe badle ki bhaavna se roka nahi jayega balki pura karaya jayega (In Ayodhya, Varanasi, Mathura and other religious places, public amenity works started by this government following the footsteps of previous BSP governments will not be stopped, and will instead be completed)."
Citing the example of West Bengal Assembly elections to point out that Mamata Banerjee's Trinamool Congress performed contrary to all pre-election surveys, and that such surveys do nothing but misguide people before the polls, Mayawati also said her party will urge the Election Commission to impose a ban on pre-poll surveys six months before all state elections.
Addressing a huge rally in Lucknow on the occasion of the death anniversary of BSP founder Kanshi Ram, Mayawati said her party does not announce an election manifesto, but gave what appears to be a sneak peek into the road map ahead of state elections scheduled next year in Uttar Pradesh, Punjab and Uttarakhand.
While she took on both BJP and opposition parties such as Samajwadi Party, Congress and Aam Aadmi Party (AAP), which is trying to carve out a space in UP, Mayawati asked people to not waste their votes on other smaller outfits, and warned that it will lead BJP back into power.
Warning BSP workers that there will be attempts to damage the party from the time election dates are announced until the last vote is cast, she asked them not to be misguided. The BSP chief said, "We will soon write to the EC and urge them to ban surveys by all agencies whenever there is Assembly election in any state — from six months before the polls until the voting process is completed — so that elections are not affected."
Slamming pre-poll surveys, Mayawati said, "Bengal mein jab Vidhan Sabha ka chunao chal raha thha toh wahan par result aaney se pehle survey-wale Mamata Banerjee ko bahut peechhe dikha rahey thhey. Lekin jab result aaya to ulta aaya…jo satta ke sapne dekh rahey thhey unka sapna chakna-chur ho gaya aur Mamata Banerjee bhaari bahumat se punah waapas aa gayi. Isliye survey…inke behkave mein nahi aana hai (Before Bengal elections, all surveys showed Mamata Banerjee trailing. But the results turned the tables on those who were dreaming of coming to power, as TMC won with a big majority. So you should not come under the spell of such surveys)."
With a few senior BSP leaders having joined the SP recently, Mayawati, without naming any party, asked her supporters not to be misguided by such parties "who bring people from other parties to increase their clan".
Accusing ruling BJP of trying to give a "communal colour" to most issues, she said, "Yeh party aakhir mein iss chunao ko Hindu-Muslim sampradayik rang dekar uski aar mein rajnaitik fayeda utthane ka karya kar sakti hai (they can turn the elections, too, into a Hindu-Muslim issue and take political advantage)."
She took on previous Congress governments, accusing them of not doing enough to stop migration of people from Uttar Pradesh to other states, as well as the Yogi Adityanath government in UP, the MVA alliance in Maharashtra, and the AAP government in Delhi for purportedly not doing enough for migrants during the Covid-19 pandemic. She said even the AIMIM of Asaduddin Owasi did nothing for migrant workers from the Muslim community, even though all these parties, she added, will now make big claims before the UP polls
Due to the UP government's failure to provide them jobs in the state, migrant labourers again returned to other states in search of jobs, Mayawati said. She said the main promise of her party in the upcoming election would be to provide work and employment to the poor and the unemployed youth in the state so that they are not forced to leave UP.
Targeting the previous Samajwadi Party government in the state, Mayawati promised that all those "gundey wah mafia (goondas and mafia)" who harassed people will be put in jail when her government comes to power.
Expressing confidence that the BSP would form the next government in UP, she asked party workers to start working from October 21 not just in the state but also in Punjab and Uttarakhand, but keeping Covid-19 protocols in mind.
Promises for UP under a BSP govt
Will restart schemes for the deprived launched during four BSP governments in the past but stopped by the last two governments (under SP and BJP)
Will provide security, progress and respect, especially to people from the Brahmin community, as also to people from the Muslim community and other religious minorities
A commission will be constituted to resolve service-related issues of employees and teachers in UP for quick disposal of their cases and complete ongoing education, health and infrastructure projects before starting new ones
Source: Read Full Article