Chinese Foreign Minister Qin Gang on Tuesday attacked the United States' Indo-Pacific strategy, saying that it aims to "encircle" China with a regional version of NATO by forming "exclusive blocs" and is bound to fail.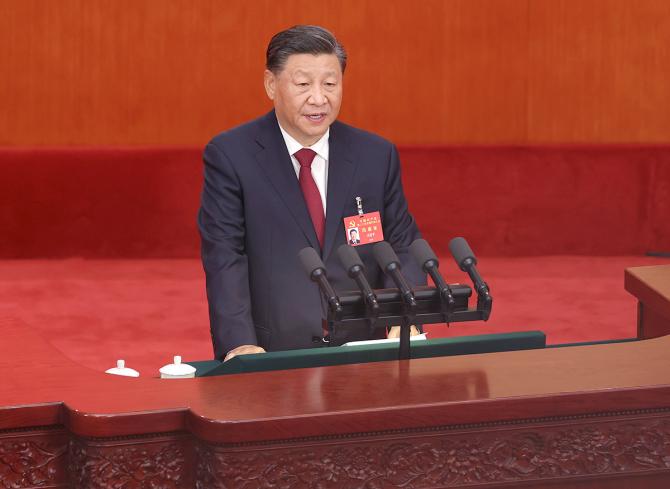 Since its formation, China has been criticising the US Indo-Pacific strategy as well as the Quad grouping consisting of the US, India, Japan and Australia besides AUKUS comprising of Australia, the United Kingdom and the US alliance, saying that they were aimed at containing its rise.
"The US Indo-Pacific strategy while purportedly upholding freedom and openness to maintain security and prosperity in the region is an attempt to gang up to form exclusive blocs to provoke a confrontation by plotting an Asia Pacific version of NATO and to undermine regional integration through decoupling and supply chains", Qin said.
NATO is a leading intergovernmental military grouping of 30 member nations that was established in the aftermath of World War II. The grouping functions under the framework of collective security. The headquarters of NATO is in Brussels.
"No Cold War should be reignited and no Ukraine-style crisis should be repeated in Asia", he said addressing his first annual press conference on the sidelines of China's Parliament.
"The US claims to shape the strategic environment China operates actually reveals the purpose of its Indo-Pacific strategy that is to encircle China," he said.
"Such an attempt will only disrupt the ASEAN-centred open inclusive regional cooperation architecture and undermine the overall and long-term interests of the regional countries. It is bound to fail," Qin, who in last December succeeded Wang Yi, said in answering a question on the US Indo-Pacific strategy.
The Association of Southeast Asian Nations (ASEAN) is an international organisation that has 10 member countries in Southeast Asia: Brunei, Cambodia, Indonesia, Laos, Malaysia, Myanmar, the Philippines, Singapore, Thailand, and Vietnam. The US, India and several other world powers have been talking about the need to ensure a free, open and thriving Indo-Pacific in the backdrop of China's rising military manoeuvring in the resource-rich region.
China claims nearly all of the disputed South China Sea, though Taiwan, the Philippines, Brunei, Malaysia and Vietnam all claim parts of it. Beijing has built artificial islands and military installations in the South China Sea. China also has territorial disputes with Japan in the East China Sea.
In his nearly two-hour-long press conference in which Qin took questions on China's ties with Russia, the US, the EU, and Japan but did not take any questions on India in his highly-choreographed press conference.
"Recently, I noticed a number of leaders of regional countries have stated that ASEAN should not be a proxy for any party and stay clear from big power rivalry," Qin said.
"As a pacesetter in global development, Asia and Asia Pacific region should be the stage for win-win cooperation rather than a chess board for a geopolitical contest," he said.
"As per whom to rely on in terms of security and economy, I believe it is necessary to stand together in the face of difficulties and jointly pursue development and work together to build a close community with a shared future in the neighbourhood," he said.
"Some are concerned about China's outlook, I think it is quite unnecessary," he said referring to apprehensions about the downturn in the Chinese economy, the second largest in the world which contracted to three per cent last year.
International institutions recently revised upwards the forecast for China's economic growth this year, he said.
"Our projected growth target is around five per cent which is far higher than other major economies," he said, adding that last year's paid-in foreign investment to China was up by eight per cent and it remained a top destination for foreign investors", he said.
"In the recent exchanges with my counterparts in the regional countries, development is what we all hoped for the most and cooperation is discussed more than any other subject", he said.
"I believe as China accelerates, high-quality development promotes high standard opening up and fosters new development paradigm, it will surely bring new opportunities to countries in the world especially regional countries", he said.
Source: Read Full Article