From Twitter to Facebook to Spotify, everyone it seems is clambering aboard the social audio bandwagon.
Neha Alawadhi reports.
Just before the hotly contested West Bengal elections in April this year, a leaked chat made news for Mamata Banerjee's poll strategist Prashant Kishor, who said Narendra Modi was popular in the state. Though Kishor said the conversation recording was leaked out of context, he could not prevent the mini social media storm that followed.
No less significant is that the talk was hosted on a platform called Clubhouse, which, along with Twitter's Spaces, has been attracting attention in an increasingly buzzing space on social media, collectively called social audio. These are just two offerings; many more global and local apps are jumping on this hot new social media bandwagon.
The trend took off with the invitation-only, iPhone-only app Clubhouse, launched in March 2020, by two California-based co-founders — Rohan Seth, a former Google engineer, and Paul Davidson, an entrepreneur.
It now has over 2 million users in India alone, its co-founders told a television channel. Globally, the number was 10 million weekly active users, as of March 2021.
Clubhouse is often described as a live podcast on different subjects. These "talks" or podcasts are hosted in what are called Rooms. There are also Clubs — groups of users interested in the same topic.
For instance, a Club called "India Startup Club" has about 62,000 followers. This is similar to a Facebook Page.
Within the club, members can host Rooms on different subjects, such as "Quit 9 to 5 & Build Business Around Passion".
You can also use clubs to find or connect with Clubhouse users with similar interests.
Invitations can be sent by a Clubhouse user. Initially a user has two invitations, which increases as you keep using the app.
Clubhouse started gaining traction, (it opened for Android users in May) partly because of its exclusivity and also because celebrities such as Elon Musk and Mark Zuckerberg started using the platform.
In India, the same happened when Nandan Nilekani and Vijay Shekhar Sharma spoke in sessions or Rooms.
The current limit of the number of users in a Room is 5,000 but that can be turned off at Clubhouse's discretion.
Social audio, made popular by Clubhouse when it was launched last year, now has tech giants working on building their own social audio products seriously.
Some examples:
Naturally, competitors have followed thick and fast.
In November last year, Twitter announced Spaces for a limited number of users, and had a full-fledged launch in early May.
In April, news reports said Facebook was working on a host of features, including short audio posts, sound effects and "voice morphing", and live chat rooms, similar to Clubhouse and Twitter Spaces.
Facebook has been publicly testing the audio rooms feature in Taiwan with public figures and creators since May, and recently CEO Mark Zuckerberg hosted its first public test of Live Audio Rooms in the US.
The streaming service Spotify also launched Greenroom for iOS and Android users, allowing anyone to start a room to host conversations.
Interestingly, unlike other major live audio platforms, Greenroom will allow the audio chat to be recorded and mailed to users. It also allows text chatting.
Closer home, regional language-based social network ShareChat also built and helped its creators monetise a live audio product called Chatrooms. It was launched in April 2020, and claims to have 1.2 billion minutes streaming on the platform monthly.
This list is nowhere near exhaustive. Other big names that are planning to dabble in the live audio space are Reddit and LinkedIn.
There are also local Clubhouse competitors such as Leher, which was built in 2018 by Vikas Malpani, co-founder of real estate platform CommonFloor (later sold to Quickr), and has over 100,000 installs on Google Play Store.
It is an audio-video platform, unlike Clubhouse, but works on the hope of building a global social network.
In a recent post on social audio, NPR, the non-profit US radio network, said an important piece of the puzzle for Facebook and other social networks was building tools for creators to be able to make serious money from audio. Most of these services are still free, but are helping creators make money.
Clubhouse, for instance, raised new funding in February this year, leading to a current valuation of $1 billion since its launch, according to US online newspaper Techcrunch.
In April, Clubhouse activated a payments feature that lets people pay creators directly.
Twitter launched a feature called "Tip Jar" in May for popular accounts and is also exploring the concept of "ticketed Spaces".
"Social media companies have a lot to gain from winning creators' loyalty. Audio chats could keep people on their apps longer. And the companies could eventually take a cut of the revenue their audio stars generate," NPR noted.
"These places are a great way to network with people you may not have known on the more popular social media platforms, and you can create a separate network for yourself. Existing social media platforms are already saturated in terms of creating new networks … Another reason is that people are able to just go online and talk, across their political spectrum, thoughts or ideologies," said Kazim Rizvi, founder of policy think tank The Dialogue.
Because most of these platforms work on the concept of live audio, moderating content and possibly hate or problematic speech are issues that often get flagged.
Clubhouse, for example, does not allow recording a Room in the app. But as Kishor realised, these rooms are not entirely private.
"Irrespective of the technical security measures, users must be informed that any person on the Clubhouse call can manually record and share the audio publicly. Public awareness on this issue is extremely important and Clubhouse must consider having a notification about this or a label every time a user enters a room," said Rizvi.
Twitter Spaces is also working to allow recording of sessions.
Also interesting is how these services are finding unique uses in India.
A Twitter user recently put up a screenshot of a Clubhouse Room hosting a "satsang", or spiritual discourse.
Among the most interesting uses of the chatrooms, ShareChat found, were satsangs, antakshari, and even celebrating birthdays at midnight.
Astrology and radio shows are among the formats and segments ShareChat is exploring.
The question is whether this trend will last beyond the pandemic, when lockdowns curtailed social lives.
Many users feel it will wane, others think it will sustain due to habit and the relative freedom of not having to type out everything.
Feature Presentation: Ashish Narsale/ Rediff.com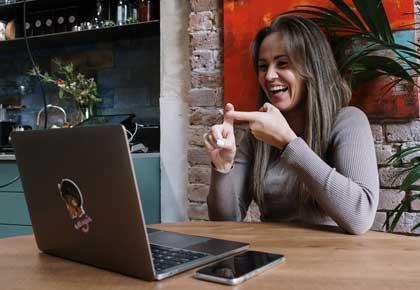 Source: Read Full Article