'The Congress is trying to cover up their anti-incumbency by highlighting the Dalit CM factor.'
"There are no vote banks — Sikhs, Dalits or Hindus — on the basis of exclusivity in Punjab."
"Punjab is a very inclusive society. Every constituency has different sections and elements and any political party has to balance them if it wants to win power," explains Dr Pramod Kumar, director, Institute of Development and Communication, Chandigarh.
Dr Kumar discusses the Congress manoeuvres in Punjab and the peculiarities of state politics with Rediff.com's Archana Masih.
The Congress is riding high on the fact that it has made history by appointing a Dalit CM. How much benefit can the Congress derive from this move?
In the public domain, the Congress has said that Punjab will have a Sikh, not a Hindu, as chief minister.
The Congress can have a Sikh as PM of India, but won't have a Hindu as CM of Punjab! This has exposed the Congress's opportunistic secularism.
They did not make a Jat CM (Sunil Jhakhar) and finally appointed a Dalit CM. Then Harish Rawat said Navjot Sidhu would be the CM face of the election.
This shows that the Congress is in a self-destructive mode. It is alienating itself from Hindus, Jat Sikhs and also conveying to the Dalits that they are only a mukhauta (mask).
Having a Dalit CM is good symbolism, but it won't get votes.
But by appointing a Dalit CM, the Congress is confident of garnering the votes of Dalits that are one third of Punjab's population.
Punjabi society is not divisive or polarised. The caste system, at least, at the behavioural level was almost eliminated due to the influence of Sikhism and the Arya Samaj.
There exists some structural inequality because the caste system is not totally eradicated, but it is definitely diluted.
That is why there are castes amongst the Sikhs and Dalits.
For example, the Bahujan Samaj Party took birth in Punjab, but had to settle down in UP.
Mayawati lost her first election in Punjab and the BSP could never get more than an average 4.5% vote share.
When the BJP fought alone, it never got more than 5%-6% vote share in Punjab.
When the Akali Dal fought alone, it never got enough votes to even form a government pre-1992.
All this shows that there are no exclusivities in Punjab.
Punjab is a very inclusive society, there is no exclusivity. Every constituency has different sections and elements and any political party has to balance them if it wants to win power.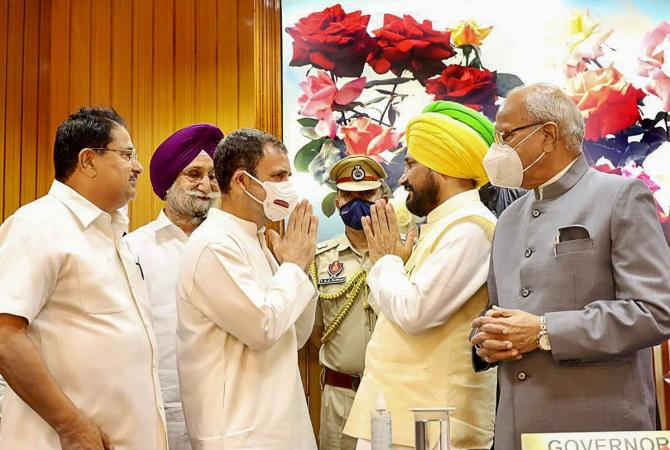 So a Dalit CM may not bring a sizeable shift of Dalit votes to the Congress?
A Hindu is the prime minister of India, but does that mean that all Hindus vote for him? People vote keeping a variety of factors — ideological, political, historical, hegemonical.
There are no vote banks — Sikhs, Dalits or Hindus — on the basis of exclusivity in Punjab. The Congress is trying to cover up their anti-incumbency by highlighting the Dalit CM factor.
Punjabi society is inclusive and that is why you find a Arun Jaitley losing in Amritsar at the peak of Modi's popularity.
The Congress wanted to resolve its internal conflict. In that process, it created new fault lines and fissures in Punjabi society which actually does not have currency in Punjab. This is the biggest blunder of the Congress.
The Congress has activated discrimination which was lying dormant.
Politics is much more than a game of numbers.
Two days after he stepped down as chief minister, what will be Captain Amarinder Singh's next move?
One needs to understand the context of his exit which was on the anvil for the last two years.
He showed scant attention towards the details of politics and governance. Both governance and politics had been outsourced to a retired civil servant.
The perception was that he was not pursuing his political ambitions actively. His government was crippled due to non-performance.
When he took over as chief minister in 2017, he said that this would be his last term and he would not continue in politics. But sometime in the middle of his tenure, he indicated that he was back in the game to fight for another term.
Subsequently, it was evident that the Congress's stakes were declining and the party was no longer popular. The party high command communicated its displeasure at the CM's non-performance.
The captain told the high command that some members of his own cabinet were not performing and were corrupt. Hence, the chances of the Congress winning the election were already suspect.
All these factors induced massive anti-incumbency which forced to the Congress high command to find an alternative.
The perception in Delhi politics and media is that Captain Amarinder Singh is the tallest leader in Punjab, but his popularity had waned on the ground. There was a disconnect between him and the people.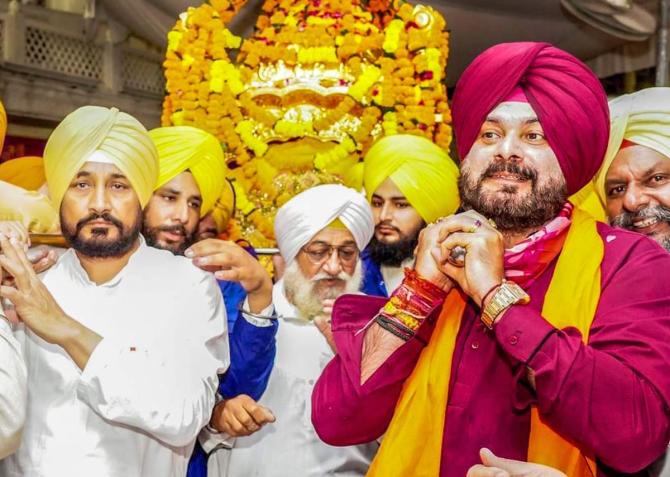 What support does he have within the party and how can he leverage that support?
Now that he has been removed, he will not have much support within the party because the Congress culture is such that MLAs will side with the high command.
Captain Amarinder Singh has no politics of his own. He did not identify with any specific group, instead he identified with everyone. He felt he was leading everyone; he was everyone's leader. This doesn't give you any leverage in politics.
The role that he can play now is that of a margdarshak. I don't think he has the capacity or inclination to mobilise people from his own party to form a separate party.
He has taken an ultra-nationalist position which brings him closer to the present political dispensation at the Centre. He may or may not join them; he may periodically support them or may form a small group which may ultimately help them.
Seeing the position he has taken, his only choice would be the BJP.
Do you think he is likely to join the BJP?
I don't think so. People in power tend to be less rational and the BJP might think he will be the party's Sikh face in Punjab.
But his joining the BJP may not benefit the party because he faces anti-incumbency.
Feature Presentation: Aslam Hunani/Rediff.com
Source: Read Full Article