'We hear about Chanda Mama from our childhood.'
'I am excited by the idea of seeing it with my eyes.'
Gaganauts are not the only Indians gearing up to venture into outer space.
Dev Joshi, a 22-year-old Gujarati actor, and Kerala-based entrepreneur and state planning board member Santhosh George Kulangara are ready to follow in the footsteps of Rakesh Sharma, who became the first and the only Indian citizen to travel in space way back in 1984.
At a time when the Indian Space Research Organisation (ISRO) is rigorously training four Gaganauts or astronauts set to undertake its ambitious Gaganyaan human mission to space, the duo may well conquer the skies and even the Moon's orbit ahead of the space agency's flagship project.
Joshi, the lead actor in the popular fantasy television series Baal Veer, will be travelling around the Moon's orbit for six days on the spacecraft, Starship, developed by Elon Musk's SpaceX.
On the other hand, George has tickets to fly into space aboard Richard Branson's Virgin Atlantic, which will make him one of the first space tourists.
Joshi's hopes are now raised to end a phase of uncertainty.
After a failure of its test flight on April 20, SpaceX rolled out Booster 9, the latest version of its Starship Super Heavy vehicle, on July 20 at its Starbase facility launchpad in South Texas.
The fresh test flight follows a roadmap drawn by Musk one month ago, when he said the new launch may happen within 'six to eight weeks'.
George, too, is upbeat as Virgin Galactic came out with its list of the first three passengers on July 17.
The trio will be part of its inaugural private astronaut mission in August.
George is part of the first batch of space tourists, having booked his journey with Virgin Galactic back in 2007.
Last month also bode well for the country's Gaganyaan mission as ISRO and the Indian Navy entered the second phase of the space mission's crew module recovery trial operations at the Eastern Naval Command in Visakhapatnam.
Kid superhero to 'touch' Chanda Mama
The story of the selection of Joshi, who played a superhero in the Baal Veer series, goes back to 2018.
It was then that Japanese billionaire Yusaku Maezawa bought all the seats of a SpaceX trip to the moon and back.
Maezawa decided to bring together eight artists from across the world as crew members for this journey, and announced a competition to pick them.
Joshi was among one million contestants who participated in the competition called the dearMoon project.
There were several meetings and the selection process took place during the Covid pandemic.
"We had meetings with the SpaceX team and former astronauts as well. They made us understand the risks associated with it and how we will be taken through Starship," Joshi told Business Standard.
"We were given tasks and also situations during the selection process. Logical thoughts, psychological evaluation, science tests — we had to go through it all," he added.
At the end of it, the project selected people with an artistic bent of mind, and also mentally and physically unique.
"Their main goal was to select artists to analyse the moon through their creative vision," he explained.
The deadline for flagging off the journey is 2025. Ahead of it, Joshi is expected to go to the United States for a six-month training programme.
During the selection rounds, Joshi also travelled to Russia for a meeting with Maezawa, who is funding the project.
"We hear about Chanda Mama from our childhood. Our culture gives much importance to the moon. I am excited by the idea of seeing it with my eyes," Joshi added.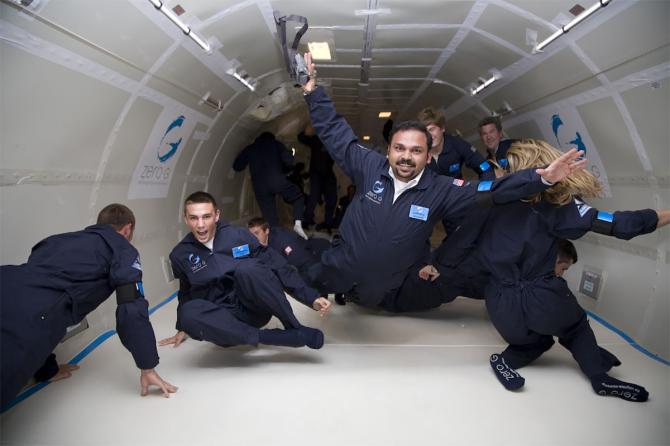 A new stop for Kerala globetrotter
Santhosh George Kulangara is a household name for Keralites.
From starting and still directing the country's longest running travelogue, Sancharam (from 2001), to being a broadcaster, editor and publisher, George has worn many different hats.
He is also an expert member of the Kerala State Planning Board.
The 51-year-old entrepreneur, who has travelled to around 140 countries, is most likely to find space as one of his next destinations.
Branson and Virgin Galactic were little known in India, when in 2007 George booked a seat for a sky-high sum of $250,000 as the first space tourist designate from India. He was 35 then.
George has already undergone a few rounds of training at the Kennedy Space Center in Florida.
These included a zero gravity test conducted at a height of 40,000 feet above the ground.
"They have not confirmed when my turn will come. I am waiting for a call for the final round of training. I got to know about this from a news item, while I was travelling abroad," George told Business Standard.
"The Virgin Galactic team is in touch with me every other day through e-mails and other groups for tourists," George added, explaining that his excitement had ebbed because of the 16-year wait since his booking.
"I think in a few years, space travel will become a normal thing," he said, expressing hope that if he gets the opportunity, viewers might be able to watch an episode of Sancharam from space soon.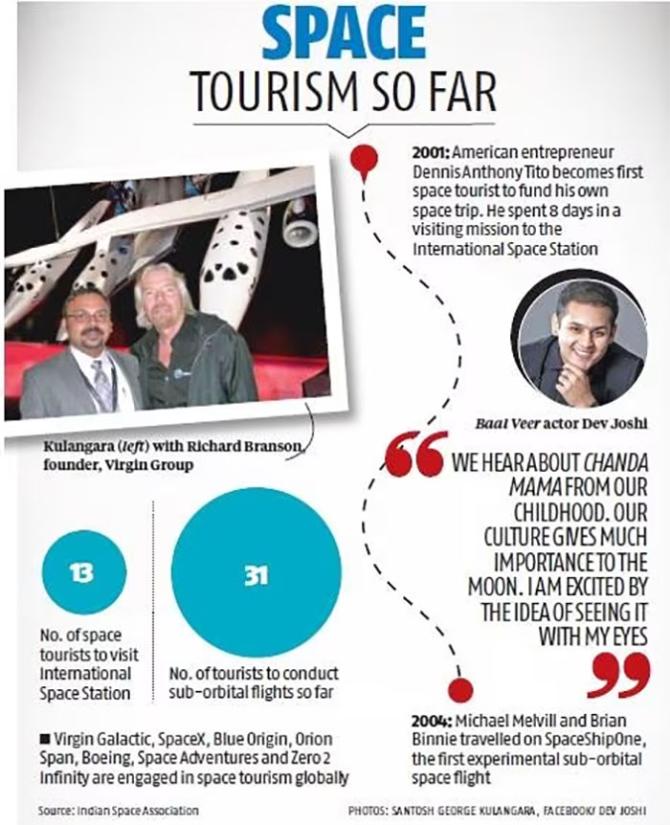 Gaganyaan team shoulders country's pride
Aside from the space tourism strides, India's ambitious Rs 10,000 crore (Rs 100 billion) Gaganyaan mission is aimed at demonstrating the country's human spaceflight capability.
The mission will launch a three-member team into a 400-kilometre orbit for a three-day mission and safely bring them back to the Earth.
In 2020, the country selected four astronauts for its human space mission, but COVID-19 delayed their training.
Although the initial deadline of the project was 2022, it is likely to commence late 2024 or in 2025.
There were reports that the four selected candidates are Indian Air Force fighter pilots. However, there is no official information.
In March 2021, they completed a training programme in Russia. Now, the chosen astronauts are expected to get further trained by the US and be part of a proposed flight to the International Space Station, in accordance with an India-US agreement recently signed during Prime Minister Narendra D Modi's visit to that country.
'This particular activity is something that the US wants and India also finds it beneficial for the Indian space programme because once an Indian prepares to go to the ISS they will undergo a training programme in the US and they are going to come back and discuss how the training and skills were imparted and this will help design our Gaganyaan better,' ISRO Chairman S Somanath said recently.
Feature Presentation: Ashish Narsale/Rediff.com
Source: Read Full Article