Stocks of alcoholic beverage makers have corrected over the last few trading sessions on worries that taxes, competition and costs will hurt sales and profitability.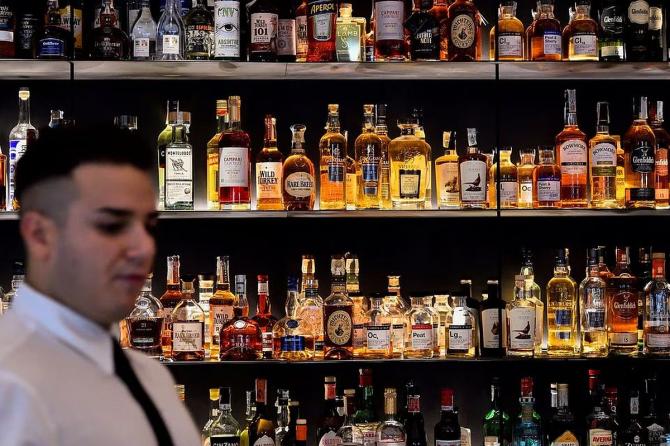 The recent trigger for the decline is Karnataka, which accounts for 15 per cent of overall liquor consumption, increasing duties.
The state increased by 20 per cent the additional excise duty on Indian-made foreign liquor (IMFL) on all slabs.
It increased the additional excise duty on beer from 175 per cent to 185 per cent.
The changes take effect from August 1.
Reacting to the rate hikes, United Spirits, India's largest liquor firm, fell 3.1 per cent while United Breweries and Radico Khaitan slipped 2.5 per cent and 1.8 per cent, respectively, on July 6 before recovering a bit.
Nuvama Research believes that state elections this year and the contest for Lok Sabha in 2024 may prompt political parties to announce subsidies for wooing voters.
This could lead to higher taxes on alcoholic beverages.
The brokerage prefers consumer names such as Godrej Consumer, Britannia, Nestle and Dabur to liquor stocks.
How liquor firms' stocks react will depend on the June quarter (Q1 FY24) results, management commentary on competition, and costs.
For United Breweries, Kotak Research expects flattish year-on-year (y-o-y) volumes at 63 million cases compared to a growth of 3-4 per cent y-o-y over the last two quarters.
Flat volumes are on account of disruptions in select markets as well as the impact of heavy rains in North India.
Net sales are expected to rise by one per cent y-o-y given slight improvement in realisations.
Elara Capital says that United Breweries has lost market share in Tamil Nadu, Delhi and Karnataka due to competition and regulatory changes.
However, the brokerage does not expect a further loss in United Breweries' market share as competition is lower in beer compared to spirits.
United Spirits is expected to post an overall 11 per cent decline in revenues in Q1 FY24, given the sale of select brands in its popular portfolio three quarters ago.
Adjusted for the same, it is expected to post a 15 per cent y-o-y growth, which is slightly lower than the previous quarter's sales growth.
Higher costs will continue to weigh on margins of the liquor majors.
Krishnan Sambamoorthy and Sunny Bhadra, analysts with Nirmal Bang Research, expect commodity inflation to persist as the price of extra neutral alcohol (ENA) , glass bottles and other essentials remains high.
Kotak Research expects the gross margin of United Breweries to fall by 215 basis points y-o-y and 825 basis points compared to Q1 FY20 due to the consumption of high cost inventory (barley and glass) and adverse state mix.
On a sequential basis, gross margins could improve 350 basis points aided by price hikes.
For United Spirits, gross margins are expected to be flat sequentially as price hikes would be offset by continued inflation in ENA and glass prices.
United Spirits has over the last three months outperformed compared to the Nifty50 and Nifty FMCG indices, giving a return of 21 per cent.
United Breweries is trailing with a return of 7 per cent.
Given the uncertainty about taxes and raw material costs, investors should wait for clear trends and corrections before considering the two liquor majors.
Source: Read Full Article