'We first collected samples from all the bomb blast sites.'
'We had to find what was common among them.'
Dr Rukmani Krishnamurthy, 74, is India's first lady forensic scientist. She took up the endeavour at a time when most people did not even know what forensic meant.
A friend of hers used her chemistry lab in college for forensic research. He talked about what his work involved. Her interest was awakened and when she got the opportunity she seized it and went to work for the Forensic Science Laboratory in Bombay in 1974.
When she joined the lab, she was the only lady there, but when she left 20% of the staff were women.
Dr Rukmani is now Chairperson and CEO of Helik Advisory Limited, Mumbai, and an Academic Council member, National Forensic Science University, Gujarat.
She advises PhD students and has also written two books on forensic science.
Why did you choose forensics as a career?
I had a master's degree in chemistry. I had applied for three jobs and got offers from all of them.
The Reserve Bank of India offered me a clerical job; I had a teaching job and the job of a research assistant at the Forensic Science Laboratory in Mumbai.
A friend of mine used to do forensic research in my college lab and I found his work very interesting and thus took up the job.
I was the only lady in the office those days.
Tell us about your first case.
The first case that came to me was a dowry death case.
A man had poured kerosene on his wife and burnt her. I was horrified imagining the suffering the woman might have gone through.
My boss told me that in our field we would come across worse things, I must keep my emotions in control and do our work to help the police.
Tell us about your work in the Mumbai blasts case in 1993.
Another case involving kerosene was when the Matunga train fire which killed many came to us.
We found traces of kerosene in the debris and also a cigarette butt which had caused the fire.
We realised that someone was carrying kerosene which had ignited by a carelessly thrown burning cigarette butt.
On our advice the government banned inflammatory materials from being carried in public transport.
I was heading the department that carried out investigation in the Mumbai bomb blasts case in 1993.
My brother was in hospital. I was visiting him when I heard two blasts. They were carrying the injured and dead to the hospital.
I took the bus from the hospital to go home at 6 pm. I reached home at 2 am as all the roads were blocked.
The next morning we started work. We first collected samples from all the bomb blast sites. We had to find what was common among them.
We painstakingly worked for three months to put a report together.
We gave a very good report which helped nail the criminals.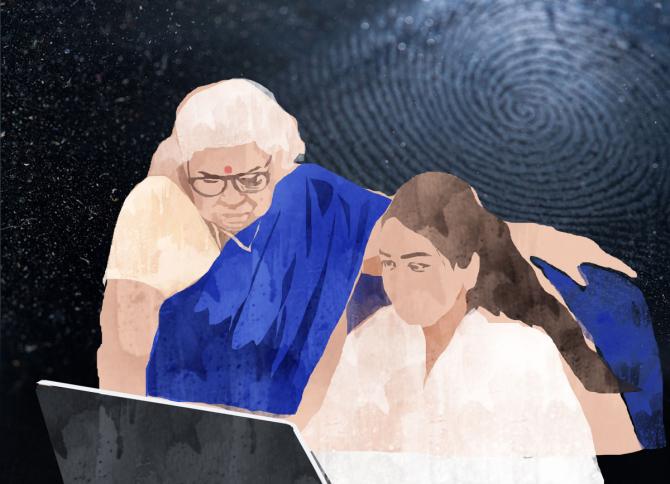 How did you help solve the Neeraj Grover murder case in 2008?
It was a high profile case as TV stars were involved.
They had killed the victim, chopped up his body, and then set fire to it in the jungle. They had painted the wall to hide the blood marks in the room.
We found traces of the victim's blood on the wall and also in their car which helped us confirm it was a murder.
Could you tell us about any particularly difficult case that you have handled?
The Telgi stamp scam was very difficult to prove. He had used government seals so the print was exactly the same.
We worked on it for three years. We found that the paper he used was different from the government paper.
The Supreme Court praised our work.
How many years did you work at the Forensic Science lab?
I worked from 1974 to 2008.
I joined as a research assistant and retired after being the Director for eight years.
The 26/11 terror attack investigation was under my watch.
Apart from crime, what other work did you have to do?
The forensic lab deals only with crime.
What would your advice be to any youth who wants to study forensics?
You should work with full dedication. You should be aware of latest developments in your field. You should stick to your stand in court.
Is Forensics an exact science or can the same data be interpreted differently?
It depends on how you test the sample. Sometimes you use Physics, sometimes Chemistry and sometimes Toxicology. The analysis is by experience.
What is Helik Advisory Limited?
It is a company I set up after retirement. We are consultants to the government and companies when they approach us.
Tell us about your biopic.
They felt that my story needs to be told as I was the first women forensic scientist in the country.
I had also dealt with several high profile cases and so they found it interesting.
Feature Presentation: Ashish Narsale/Rediff.com
Source: Read Full Article