Narayan Rane — a recent entrant to the BJP — was the first Cabinet minister sworn in last week.
Clearly, the BJP hopes Rane, who has a long standing feud with Uddhav Thackeray, will marginalise the Shiv Sena in its political bastions in the Konkan and elsewhere in Maharashtra.
How did Rane and Uddhav, whose families once holidayed together, fall out?
Narayan Rane reveals all in this fascinating excerpt from No Holds Barred: My Years In Politics.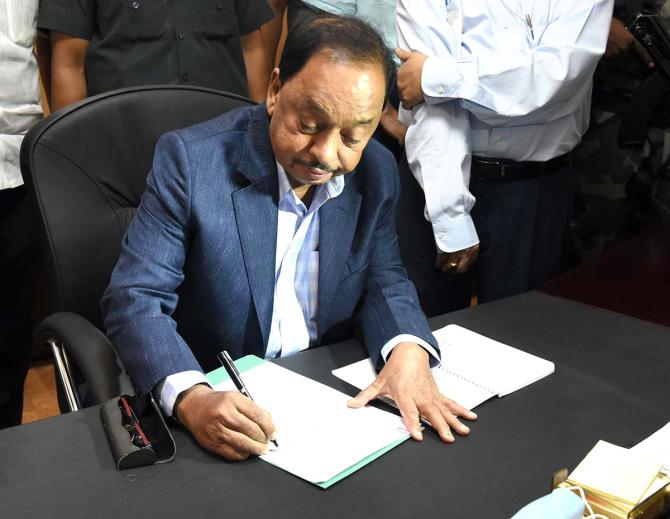 I wasn't even invited to important party meetings. I was certain this was because Uddhavji and his men wanted to keep me out. So, I decided to focus on the government and my job as the Leader of Opposition.
Teen tigada kaam bigada. There was a trio in the party that wanted to bring me down. I knew that Manohar Joshiji resented me as he had had to step down in 1999 from the chief ministership to make way for me. Some of his actions, I still believe, are majorly responsible for the state of the party today.
He became increasingly close to Uddhavji, and I saw him as the perfect yes-man. As Uddhavji's role in the party grew, Joshiji slowly and tactfully convinced him that an insider from the new order must replace me as the Leader of Opposition, and negotiated the appointment of Subhash Desai for my job.
Even though I was barred from these internal discussions, I was certainly privy to the exchange of information in the fort, thanks to my network of loyalists within Matoshree (the Thackeray home) and Sena Bhavan (the party headquarters).
I got wind of the fact that the day was coming closer when Uddhavji would propose my ouster as Leader of the Opposition. Quite honestly, I felt let down, neglected and insulted. I had given my everything to help build the Sena and didn't like the treatment meted out to me.
All was well on the surface, but the underlying tension pushed me to a point of no return. Then, one day, I made up my mind. I wanted nothing to do with the Sena any more. Nothing. I just wanted out. Desperately.
Let me clarify, as I have multiple times in the past, that Saheb (Balasaheb Thackeray) had no role to play in my exit from the Sena. He was nothing but gracious to me; it was this trio of Uddhavji, Joshiji and Desai that was responsible.
***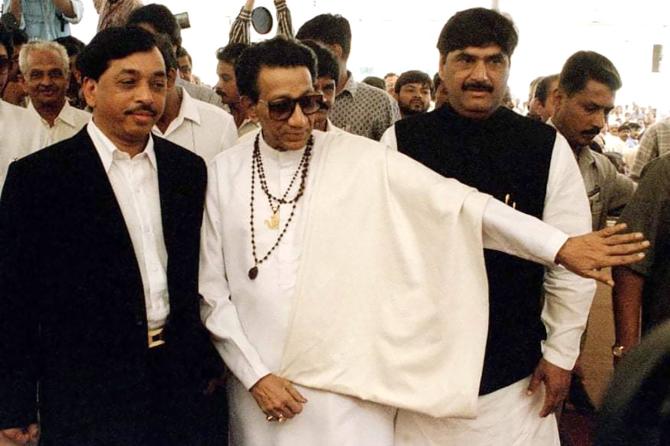 After Uddhavji's coronation at the 2003 Mahabaleshwar gathering, all hell broke loose. He and his men held the reins for not only the day-to-day functioning of the party but also the distribution of tickets for the 2004 assembly elections.
I believed that tickets were thoughtlessly given out to whoever was willing to pay the price the new leadership put on them. Neither was the political credibility of the candidates taken into account nor their history and capabilities.
This was very disturbing to me. Even though I had disassociated myself from its functioning, I had, after all, poured my blood and sweat into the making of the party. For a long time, I tried to be nonchalant and keep mum, only to see my party face an insulting defeat in the 2004 polls. It lost even in pockets which were its stronghold, thanks to the candidates who were picked for the wrong reasons vis-a-vis those who had mass support. This is when my patience ran out.
At a party meeting at Ravindra Natya Mandir in Prabhadevi on 14 April 2005 — Ambedkar Jayanti — I disclosed the dirty methods of those in charge of running the party. I hoped to show the Sainiks the true colours of their new boss, because they deserved to know the truth. After all, it was the ordinary, hard-working Sainiks who were at the beck and call of Balasaheb, and it was they who truly made the Sena. They deserved to know that the Sena was no longer the party of Saheb's dreams.
Naturally, following this explosive event, Uddhavji got Saheb to 'expel' me.
***
I am certain that Uddhavji grudged me my success and that was what made him call up leaders in the party and make sure they didn't attend meetings I was hosting. If I had a public appearance scheduled, I learnt that he would call his loyal karyakartas, helped by Milind Narvekar — Uddhavji's personal assistant — Joshi and Desai, and instruct them to not only avoid going to it but also to not bring any crowds to it. In my view, they played petty politics, which hindered the progress of their own party, to stroke their own egos.
I would try to bring this to Saheb's notice time and again, and he would also reprimand Uddhavji, but in vain, because Joshiji and Desai would keep fuelling Uddhavji's hatred for me. I was sure of this.
You know, what happened in 2005 was really sad for me and Neelam because we truly believe that Uddhavji and Rashmi bhabhi, his wife, are great human beings. We used to be family friends. We would go out for dinners together with the kids. If we were travelling abroad, to London or Singapore, and knew that we were all in the same city, we would make it a point to spend time together even on our holidays.
I still remember, when I would have late nights at Matoshree, talking to people and attending party meetings, Rashmi bhabhi would take great care of me. I thought of their home on the third floor in Matoshree as though it were my own.
Due to health issues, I had strictures about the times at which I would need to eat my meals and multiple food restrictions. At 10 pm, Rashmi bhabhi would always have word sent to me that I should come upstairs and eat dinner, which she would have got prepared keeping in mind all my restrictions, before continuing with the rest of my official engagements.
There were several times when I felt that Uddhavji and Saheb quarrelled because of me. I often tried to broker peace between them. When it got extreme, I felt that I shouldn't be the reason for a rift between father and son, and that guilt was a major reason behind my decision to leave the Sena.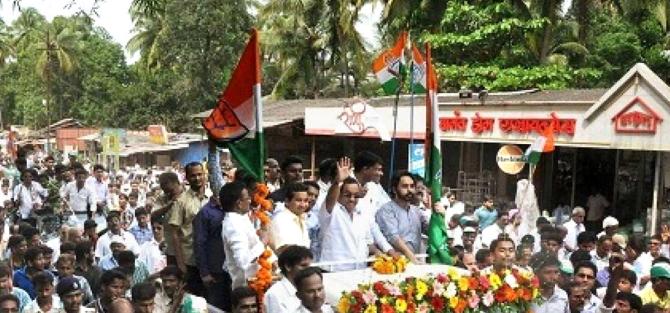 When the guilt and the snubs became too much for me to handle, I wrote an informal letter to Saheb, putting all of it down. I had specified that I would leave the Sena and sit at home. I was not interested in joining any other party.
It was an emotional letter written to a man who was the most important person to me in the world; I used to think of him as mazhe daivat, my God.
After submitting that letter, I went out of the country for fifteen days. When I returned, I was amazed to see reports all over the media that I was leaving the Sena and joining the Congress-NCP! When I enquired about the source of these reports, to my surprise I was told that they were sown in the media by Narvekar, Joshiji and Desai.
The next morning, I asked my staff to draft three resignation letters. Seeking Saheb's time, I went to see him in the evening at Matoshree and handed them over to him — the first resigning from the Shiv Sena, the second from the post of the Leader of Opposition, and the third from the assembly.
Saheb was flabbergasted. He immediately summoned Uddhavji and gave him a piece of his mind, trying to explain to him that he had no authority to treat a senior leader like me the way he had, and that amends must be made to pacify me since the Sena needed me.
Uddhavji denied the allegation and proceeded to explain to his father that all was well and that there was nothing brewing against me. However, I had made up my mind and was in no state of mind to withdraw my resignation.
Saheb sent me home and advised me to sleep over it.
In retrospect, that was the last time I saw Saheb in person.
He lovingly called me the next morning and asked, 'Kaay, Narayan, tuzha raag kami zaala aata? (Has your anger subsided now?)'
But I was stubborn about my decision and explained to him that there was no turning back for me. From my loyal Sainiks, I got to know later that as soon as Uddhavji learnt that Saheb had called me in the morning to make amends, he had come running downstairs to see him and said angrily that there was no need to call me back that now that I had decided to leave.
'Either he stays or I do,' he had said. He had followed it up with an ultimatum, 'Jar Rane pakshaat parat yetil, tar mi ani Rashmi Matoshree sodnaar. (If Rane comes back to the party, Rashmi and I will leave Matoshree).'
For an ageing man who had lost one son to a car accident and was estranged from another, a threat like this broke his conviction about doing anything against the third one's wishes.
***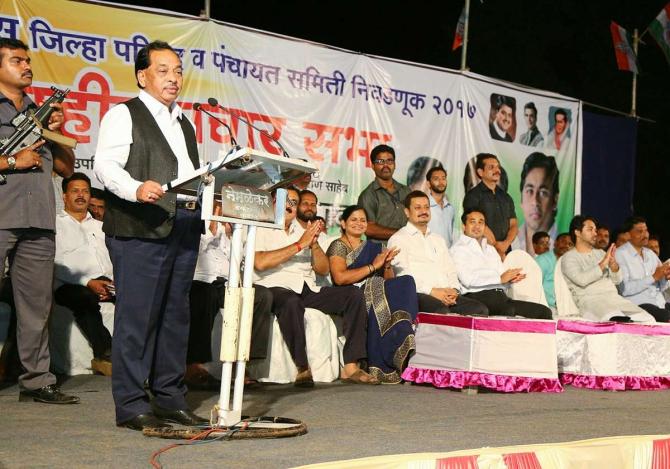 Even today, I maintain my stand from 2005 that there is no future for the Shiv Sena under Uddhavji's leadership. He may be a great human being, but he's a terrible leader. He acts as per the whims and fancies of a few yes-men who surround him. He lacks the passion, intrigue and persona that Saheb embodied and the unfathomable love that he showered on the Sainiks. Uddhavji often tends to be suspicious. When someone in his team does a good job, instead of praising him, Uddhavjji becomes wary.
I hear from my sources that ministers and party leaders fight in his presence and don't fear him. Nobody had the guts to even raise their eyes before Saheb; people were that scared of him. There's no discipline in the Sena now, and a party without discipline is bound to disintegrate – sooner rather than later.
In my view, Uddhavji is so high up in his ivory tower that he cannot connect with the people on the ground. To be honest, I don't think he wishes to either. Take, for instance, the time when, soon after Uddhavji was made the party's executive president, Saheb advised him that to be able to connect with the grassroots workers, he must make himself available to the masses every Tuesday at Sena Bhavan at a fixed time.
Uddhavji diligently followed Saheb's instructions for about two weeks! When Saheb reprimanded him for stopping a necessary tradition, he argued that the two times he went, the same man came to him with the same problem, so he didn't see the point in continuing.
What's worse was that he proudly told this tale to two Rajya Sabha members, who relayed it to others. To me, Uddhavji's closed-and-locked-door policy was in stark contrast to that of mass leaders like us, who still strive to have an open-door policy for visitors.
The problem with Uddhavji's Sena is that it is confused, with a clear lack of sense of self and identity. In an attempt to stand apart from his two aggressive brothers and a towering Raj, Uddhavji adopted an intellectual, gentlemanly persona.
When Saheb made him the undisputed heir, Uddhavji set out to change the Sena's style of functioning to suit his own acquired demeanour. Although this sounds great in theory, it doesn't work in practice.
The problem — in my opinion, and there are many who will agree with me — is that the Sena has always played the politics of hate and believed in the ideology of 'thokshahi'. It is well known that Saheb had a strict no non-violence policy!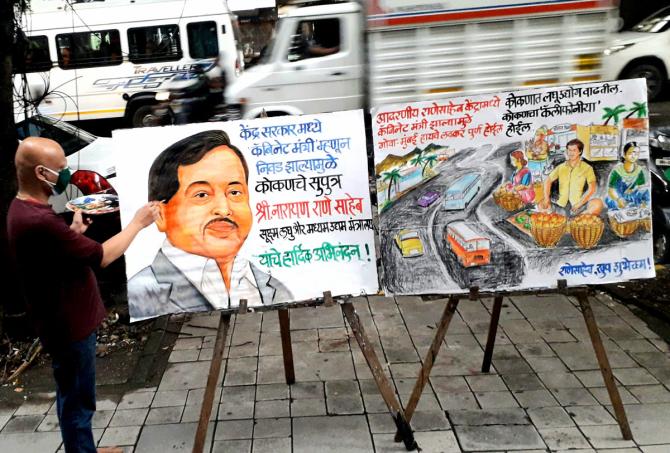 Any political historian will tell you that the Sena was born as an anti-establishment body; that it first incited the Marathi manoos against immigrants, then Hindus against minorities by propagating the idea of a Hindu Rashtra. When it was in opposition in Maharashtra, it loved to hate the government of the day.
Then in 2014, when it allied with the BJP to form the state government, it realized that it didn't have any more issues. So, owing to its lack of a solid political ideology, it began to play hate politics against its own ally and its own government!
This was inevitable as the Sena has historically believed that it can continue to retain its political base only if it succeeds in keeping the common man on edge.
What it doesn't realise is that voters are more aware now. In the age of technology and information, it is difficult to fool voters into believing that you're a victimised ally when you're very much part of the government and unwilling to give up the hot seat. In fact, it makes voters distrustful. It confuses them because of the lack of a clear message.
Sadly, Uddhavji doesn't realize that and his cronies too are now looking for avenues to park themselves outside the Sena. The most debilitating outcome of this confusion is that it has not been able to recruit the youth into the party.
This edited excerpt from No Holds Barred: My Years In Politics by Narayan Rane has been used with the kind permission of the publishers, HarperCollins India.
Feature Presentation: Aslam Hunani/Rediff.com
Source: Read Full Article