'There were many, even in the BJP, who were not only eager to disown him, but also desired the termination of his political career.'
'Whilst I was busy defending him on television, I received a phone call one morning.'
'I couldn't identify the caller immediately, but the voice seemed to be that of an OSD in Prime Minister Vajpayee's office…'
In Fly Me To The Moon, former MP Prafull Goradia provides fascinating insights into Narendra Modi:
It was evident even in those early days that Modi had enormous leadership potential. That, however, lent him no early advantage and his ride in politics was far from smooth.
While his organisational capabilities and grasp of the nitty-gritty of political work was much in demand, his persona and spontaneous influence over the rank and file of the party was a niggling worry to the entrenched satrapy.
Former chief minister of Gujarat Keshubhai Patel made good use of Modi, though, to keep his arch rival in state politics Shankersinh Vaghela down.
A bitter struggle eventually ensued, in which Vaghela's machinations first forced Keshubhai Patel to quit office and finally, Vaghela himself formed his own Gujarat Janata Party and became chief minister with Congress support from outside. Eventually, he merged his party with the Congress.
Once Vaghela had been eased out from the BJP, Narendra Modi ceased to be Keshubhai's favourite.
Modi had outlived his utility for Patel. Keshubhai wasn't content with merely sidelining Modi, though; he had him transferred to Delhi as organising general secretary of the BJP.
This was no ordinary political transfer.
Keshubhai had enforced a stipulation that if ever Modi visited his home state, he would not meet any politician or journalist and would confine himself only to personal matters.
Modi was cut up indeed, but swallowed the humiliation.
* * *
Keshubhai's machinations and the alien Delhi environs weren't the only issues Modi had to contend with. He had no proper residence in the capital and had to stay on an ad hoc basis with his friends who were members of Parliament.
When I was elected to the Rajya Sabha, an apartment would be allotted to me, which I suggested Modi use as his residence.
Several weeks passed before I finally obtained possession of an apartment in the capital's North Avenue, but it was a not very satisfactory one.
'Aa to bahu saro nathi (this one is not very nice),' I said to Modi, telling him that I was putting in a request for a better flat.
In a few weeks, I did get a more pleasing apartment allotted to me.
Narendrabhai and I went to see the place together. He seemed happy with the place.
I then said I would have the flat painted and cleaned and equip it with some furniture.
When leaving, we put a lock to the apartment. I gave one key to Narendrabhai and kept the other with me.
Before the renovation could take place, however, I had a phone call from the RSS chief K S Sudarshan.
'Namaskar Prafullji!' he said. 'You must have by now been allotted a new apartment.'
'Yes, sir,' I said. 'I have been allotted an apartment in North Avenue.'
'Bahut accha,' he said. 'You can then kindly pass it on to Seshadri Chari.'
'Chari?' I asked.
'Yes, yes,' he said, 'the editor of The Organiser. He is a good man and in need of accommodation. I know you will not move out of your Sunder Nagar bungalow.'
'Yes,' I said. 'I am not planning to move out of Sunder Nagar, but Sudarshanji, I have promised to give my flat to Narendra Modi.'
'Narendra?' the RSS chief said. 'That is not a problem. No problem.'
'Narendra is a bachelor. He can be given one room. Chari is a family man, so he can have two. There are three rooms after all.'
The Sarsanghchalak was determined to press for his protege.
I held my ground and said, 'I have given my promise to Narendrabhai.'
After promising to ring back in two days I got back to Modi.
I told him categorically, 'I can call and tell Sudarshanji that I have already given my word and now cannot go back.'
Modi said, 'No let it be.'
I said, 'I have no inhibitions. I can easily give my regrets.'
But Modi advised me to drop the matter.
He was clear in his mind that he did not want me to take up cudgels on his behalf with the RSS chief. Thus my apartment went to Seshadri Chari.
* * *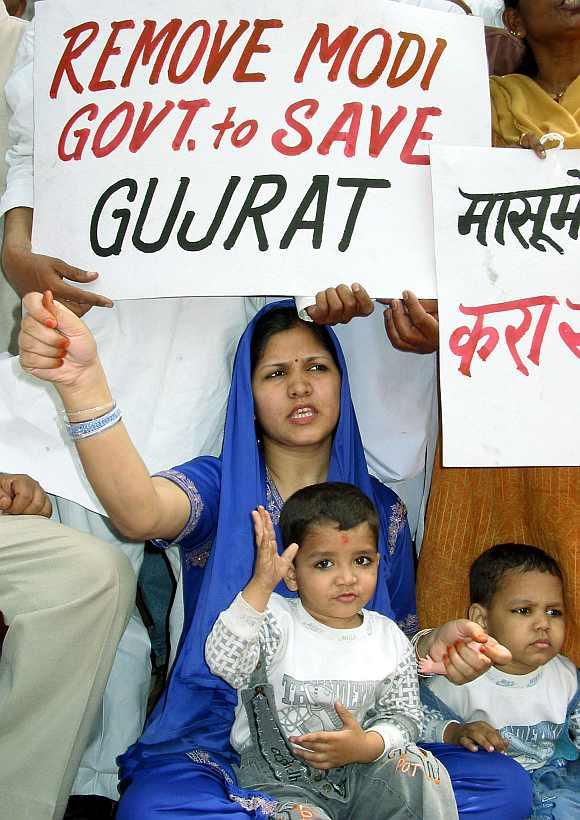 It was the day of March 3, 2002. I happened to pay a visit to Chief Minister Modi at his bungalow.
Before that, I had sat with a few BJP MPs and others for about an hour; they were clearly anxious about the rioting.
They were of the opinion that the Hindu retaliation should be controlled forthwith. They and others might have been pressing Modi to do so.
When I asked how, no one had an answer. Little wonder the chief minister appeared preoccupied.
My meeting with the CM lasted not more than 10 minutes, during which he asked me point-blank, 'Kern lage chhe? ('How do things look?')
My reply was: The situation looked explosive.
The Modi Interview: I won't apologise for the 2002 riots
* * *
Back in Delhi, I was Chief Minister Narendra Modi's most vociferous defender in the electronic media, when he had virtually none.
The entire secular media was gunning for him and clamoured for his ouster, with vitriol being poured on him in a manner unprecedented as far as any Indian politician is concerned.
Among other programmes on the subject, I appeared on the television channel NDTV in its weekly feature called The Big Fight less than a month after the Godhra incident.
The Modi Interview: The nation is waiting for a strong, experienced leader
* * *
To the assertion that Modi should be dismissed, my loud and stinging riposte was: 'Narendra Modi is not your branch manager; he is the elected chief minister of Gujarat.' This is even today remembered in Gujarat among television-watchers.
Modi later told me that though he'd missed watching that particular episode on NDTV, he had heard about it from others.
That was believed to have been among the strongest and most vociferous defence of Narendra Modi on the English language television channel.
It bears iteration here that there were many, even in the BJP, who were not only eager to disown him, but also desired the termination of his political career.
Whilst I was busy defending him on television, I received a phone call one morning.
I couldn't identify the caller immediately, but the voice seemed to be that of an Officer on Special Duty in Prime Minister Atal Bihari Vajpayee's office.
He told me, 'Modi is no bhai or bhatija, no brother or nephew, of yours; why are you sticking up for him?'
In other words, this was a warning from the topmost echelons of the party that I was jeopardising my political future by siding with Modi.
There was an impression in Ahmedabad as well as Modi's sympathisers in Delhi that Pramod Mahajan was antagonistic towards the lion of Gujarat. This is perhaps natural for someone who dreads future competition.
I do not know if Mahajan had a hand in instigating the prime minister. In any case, Vajpayee, in his penchant for appearing fair and 'secular', did want to chide Modi for his commitment to nationalism.
* * *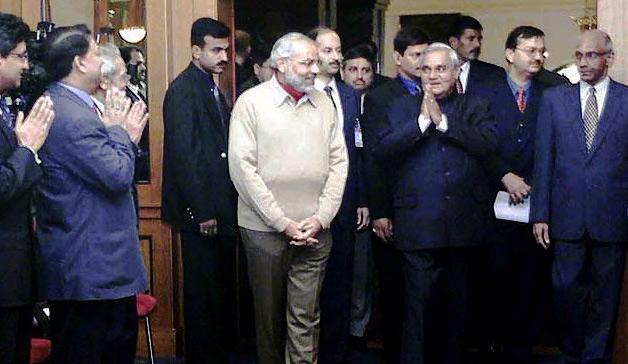 There is no one I have met who is as wholly focused on the future and does not appear to dwell on the past.
The fixation with the future is of enormous advantage to Modi and to the country as long as he is PM.
While Modi has some outstanding qualities, his judgement of human character is uneven. I doubt if he ever suspected that Keshubhai Patel would use and then discard him so pitilessly as to send him out on political vanvaas.
Nevertheless, I am convinced that Modi as prime minister will manage India better than any other before him.
He follows the federal principle in spirit. Among one of his administrative measures is to allow the states ample leeway to manage their own finances.
No Indian PM has taken cognizance of the fact that no country with central planning has ever prospered.
Modi realised that long back, and central planning was consigned to the archives as soon as he took over as the head of government.
Narendra Modi is an introvert and does what he wills.
Being a thinker, there is a great deal that he wills and does so with total conviction. And when he is forced to deviate from that, he makes his embarrassment apparent.
However much an introvert Narendrabhai might be, he is also outward-looking enough to have a remarkable finger on the pulse of mass psyche. His oratory and political victories are proof of his sense of the people's mind.
He can be aptly called an ambi-vert. I rate him as a political genius; the only one I have met. I wish he had an equally sharp nose for the economic as he has for the political.
Excerpted from Fly Me To The Moon by Prafull Goradia, with the kind permission of the publishers, Bloomsbury.
Source: Read Full Article