'Agri reforms need to go beyond the limited concerns of these three laws in improving agriculture productivity in cereal and crop diversification and production patterns'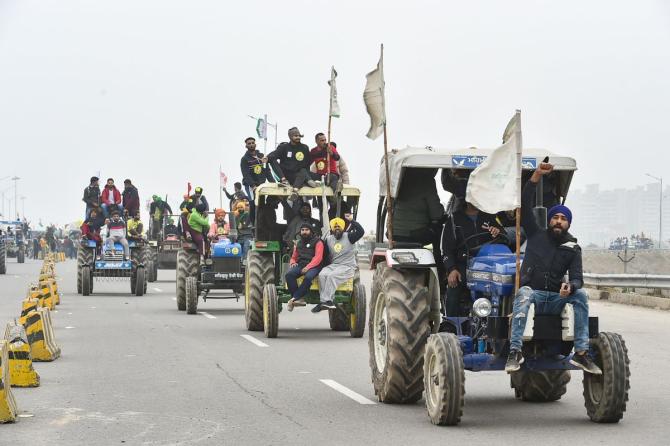 "Policies must enable trade to become an important engine of growth," Nand Kishore Singh, chairman of the 15th Finance Commission who has penned his five-decade journey in his book Portraits of Power: Half a Century of Being at Ringside, tells Utkarsh Mishra/Rediff.com in the concluding segment of an exclusive interview.
Part 1: 'A strong, decisive leadership is what India needs'
You mention that DPranab Mukherjee was disappointed after not being selected for the PM's post in 2004. How different would hace been the decade of 2004-2014 with him at the helm?
And if he was made the PM in 1984 itself after Indira Gandhi's assassination, do you believe India could have averted the balance of payments crisis and we would have seen economic liberalisation without being pushed to the wall?
This is problematic because the most proximate reasons for the 1991 BoP crisis were not connected with issues of leadership or party management, but rather the policy of fiscal profligacy, which was pursued in the proximate years before the 1991 crisis.
Pranab Mukherjee was undoubtedly one of the wisest and sagacious leaders of post-Independence India.
However, belief in fiscal rectitude has been rather fleeting in a country which has greatly believed in the multiplier effects of public outlays.
This is more particularly in the dominant Socialist psyche which, in post-Independence India, most leaders had imbibed.
What was necessary to revert the crisis was to pursue policies which believed in overall macroeconomic stability.
Narasimha Rao is always praised for his decisiveness in taking up the economic reforms. But the same decisiveness he didn't show in preventing the Babri Masjid demolition.
You mention that you were with the home ministery when L K Advani began his Rath Yatra. Former home secretary Madhav Godbole has written in his book that Rao did not take any action on his plan to deploy central forces to prevent kar sevaks from assimilating in Ayodhya. What's your take?
There is no doubt that P V Narasimha Rao has not received the credit which is legitimately due to him for providing extraordinary leadership for the 1991 economic reforms, which changed the course of India's economic trajectory.
In hindsight, whether he should have acted in other ways to prevent many other internal security issues is a different matter.
People writing about it can have their own perspective.
From the viewpoints of economic policies, he stands among the tallest of economic reformers in post-Independence history.
You have written that you prefer free trade over protectionism, the tendency for which is rising among major economies.
How do you see situations when bilateral trade has to bear the brunt of fallout in political ties?
I do not believe in undiluted free trade over-protectionism. I do believe, however, that policies must enable trade to become an important engine of growth.
And exports as well as export-related activities increase the total factor productivity of the dominant sectors as well.
It is equally important to strengthen multilateral institutions, which, unfortunately, in recent years has tended to languish.
An example from the viewpoint of trade policies is the decline of the World Trade Organisation being made virtually dysfunctional.
This is a regrettable fact and hopefully this is only a transient phenomenon.
We need a freer world but we need a rule-bound freer world where the multilateral institutions can play an important role.
No one will prefer unbridled protectionism or unbridled trade.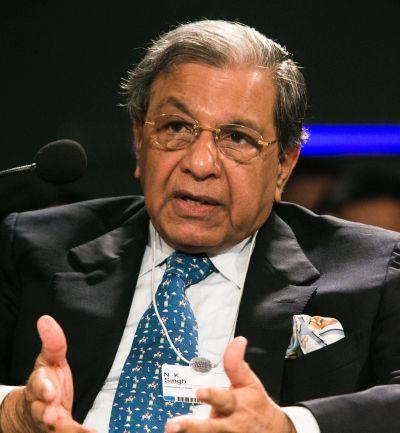 One will seek a trade policy regime which enables maximisation of factor endowments and gains from productivity for enabling gainful employment opportunities being created through emphasis on export drive.
This needs a multiplicity of factors, particularly improving the cost quality of infrastructure, a fair exchange rate regime and regulatory laws pertaining to the ease of business on land, labour and capital, namely factors of production, for efficient export promotion activity.
If countries are efficient in exports, their domestic factor productivity will also improve significantly, which has other multiplier effects.
You have given several reasons for the migrant crisis post the March 2020 lockdown. But isn't it a fact that policymakers missed out on this detail while planning a nationwide lockdown?
Moreover, knowing how the majority of the country's population lives and anticipating the devastation that a pandemic would bring to such people, should the government not have thought of alternative measures to prevent the spread of COVID-19 in India earlier?
I think that all decisions for a lockdown have to be sudden, prompt and decisive. The choice is always between life and livelihood and the first priority must be given to protect lives.
Subsequently, action relating to livelihood should be a little further down for purposes of economic revival.
The leadership acted with alacrity and vision in time for a sudden lockdown with the interest of human life.
Many countries have applauded India's decision for a stringent lockdown of 85 per cent of the economy, which prevented the spread of infections.
This enabled local authorities to improve health infrastructures, which also enabled us to better address the crisis.
No doubt, on the issue of migrants, the employers had perhaps let down the workers who faced this great hardship.
The government, no doubt, rightly decided to strengthen the public distribution system, to increase the Jan-Dhan accounts, to enhance the MGNREGA program, to increase free food rations and proteins for several months.
No doubt, their journey to home through better means would have been preferable.
But in hindsight, it does look that some of the state governments could have improved on quality and facilitate the workers in a manner which could have been quicker in addressing the difficulties encountered by them.
Furthermore, the need for an insurance scheme and the obligation of employees towards the migrant workers is an area of long-term serious policy concern.
You also list major reforms we need to take up in the health sector, especially after the pandemic.
What are your views on universal healthcare?
Should the government not provide right to basic healthcare to all? What would be the limitations of such a plan?
Certainly, the healthcare sector has been neglected in India's overall policies.
I have outlined some factors which require correction, like enhancing public outlays for the Centre and states, ensuring more equitable distributions, improving engagement of grassroots, namely primary healthcare centres, and enhancing the reach and capability of doctors and paramedics not only to address the current pandemics but future health crises which may arise.
You have written about the stints of your father and sister in the agriculture ministry. How do you see the policies of successive Indian governments towards agriculture?
Your views on the three contentious farm laws that were recently passed and the protests they have triggered.
I have mentioned the stint of my father and sister in the agriculture ministry. On the issues of reforms in agriculture, these need to go beyond the limited concerns of these three laws in improving agriculture productivity in cereal and crop diversification and production patterns.
We also need to address the changing consumer preference and adequacy of production to meet the challenging needs of our public distribution system without wasteful storage in inefficient go downs.
It also requires other measures like the subsidy regimes, direct benefit taxation, stabilisation efforts against volatile behaviour of agriculture prices, insurance of farm income and ensuring that those engaged in agriculture activity have incomes which would be fair and reasonable.
Given the fact that the contribution of agriculture to India's GDP has shrunk over time, although it continues to provide employment to over 40 per cent, this needs alteration.
Agro-based activities as well as the strengthening of the manufacturing sector for taking away labour force in engagement of agriculture are important priorities over the medium term.
There is no magic bullet to agriculture reforms.
It requires a constellation of actions over a wide range of issues to improve India's agriculture productivity.
From Portraits of Power: Half a Century of Being at Ringside: How Vajpayee made India a nuclear superpower
Source: Read Full Article